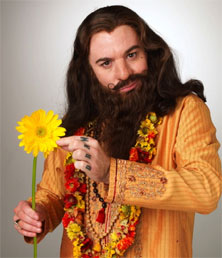 Recently I made a new penpal in America.  Here's a copy of the first letter I posted.
Dear Holly Wood,
I hope you are doing well. I know you have been awfully busy trying to come up with all sorts of movies, and I understood from your last letter that you are feeling extraordinarily stressed out by superhuman expectations. Hmm, I don't know how that feels. Why don't you shut down for sometime? Anyway, I was flicking channels two days ago, and the movie Signs was playing. The scene had a TV showing news and a shot saying "Bangalore" cropped up. I can't congratulate you enough on the realistic portrayal of my city. Bravo! Since you are so interested in my life. I thought I'll explain to you a few nuances of Indian life. So grab yourself a beer, lie down on your sofa and place this on your potbelly. Its a looong letter.
I wake up everyday, wear my saree, fight with my Dad who is an orthodox villian, and go to office on a bullock cart on a filthy road, on which there are atleast 10 cows, 15 hawkers, 20 pigeons, rainbow colored hoardings and enough sunlight to make a thousand papads in two hours.
I come from a long line of snake charming ancestors (male) and tightrope walking ancestors (female), and a monkey eating, skull garland flaunting great grandfather, you know the same guy Indiana Jones was ranting about, but sadly these days my family is increasingly focussing itself towards selling your friends toilet paper and helping your illiterate aunts and uncles to restart computers. My cousins Guttu, Pintu, Chotu and Ritu work in a call centre, because their families are so big that they cannot fit into their thatched huts.
Speaking of family, I also have an uncle who wears a turban, and an aunt who covers her head with a saree. I have relatives in the US who have grocery stores in Springfield, and are called "Apu" for convenience. And I have to stress on the fact that they have a dozen kids, because you know that's what we do, that's why our land is so over populated and these kids also have to spell very well, because you see the next spelling bee is just around the corner, and of course, that's the only sport we are encouraged to participate in.
My relatives indulge in garish weddings which are definitely not tastefully done, and most often, I wear a loose uncoordinated salwar kameez, and dress up my face like some idiot. We also break into impromptu jigs at any time of the day, owing to our overt adoration for "Baallywood" movies.
We are all decently brown and I know how you play your foolish tricks and try to replace us with Brazilians, but except for Bipasha Basu and Mallika Sherawat, none of us are quite okay with that. Try Chinese next time.
I also most certainly have a 'Guru' as apparently you think every Indian has a Guru. This Guru wears orange clothes, and keeps saying Aum very often and is acrobatically creative. This Guru has a huge Ashram on the outskirts of the city or sometimes has enough unploughed land in the heart of the city itself. Anyway, the point is that this Ashram, where we all gather and pray for world peace, whilst we throw in our money into one of the volunteers's gunny bags, is my second home.
We also read a lot.  Yes, you guessed it right! Kamasutra. It is the only book that we all read, write, practice and use as makeshift pillows. What the hell are Mahabharata, and Ramayana, they are just ripped off from the Game of Thrones! But Kamasutra, it is definitely a book found on every Indian bookshelf.
I also have a weird accent, that somewhat sounds like what comes out of Ajit's mouth when he suffers from loose motions. He won't be able to say Raaaaaaaaaaaaaaaabert then, he'd just say Raabert, you know more "fluidly." That's exactly how I speak
Now I'm a little thirsty. You know, I drink water from filthy wells of the neighbourhood, due to which I get cholera, and the best location to suffer from diseases is either Mumbai or Calcutta, because of Dharavi and Mother Teresa precisely in that order. If I go there, I'd be treated by one of your amazing  hunky doctors, but I should do it soon, before the Black widow takes him away.
Make sure you write to me by next week, because you know, it is time for my yearly vacation to Taj Mahal, and I try to spend most of the year there, so that it is convenient for you to know which country on Planet Earth we have been talking about.
Now I'm going mad trying to grasp my own ridiculous personality. You see, it is tiring living in a country where temperature is always hovering above 45 degrees. I have to go now, Holly. You know I use open toilets, and I need to outrun all the other kids so I'd better run, better run!
B'bye!
PS:  Anyway, Holly Wood just give it up. You cannot capture the essence of an Indian in your atrocious streotyping. No, not because we are so exotically different but because you are too lazy to care and we are too busy to notice.
So just give up. We already have Bollywood, and TV soaps that clearly paint our lives in the most insane ways possible . We certainly don't need you.
Keerthana AK  is a listless Engineer, a restless writer, a directionless traveller, a useless guitarist, an endless movie watcher, and a careless talker. She is basically an eternally confused soul who goes to every place in search of a story.