Love. Who believes in it? Show of hands please? I believe it when I see it for real. In lives like Imroz and Amrita. Nargis and Sunil Dutt. Patrick Swayze and Lisa Niemi. Agassi and Graf. At a certain age, love was cinema, literature, music and what they tapped into. The raw material of hope, expectation, pain and  the capacity to love and be loved that all living beings have. Today, I don't get moved so easily. There has to be a lot more. So a green leaf  breaking through a concrete crack is love. When real people in impossible relationships are willing to work through all odds, that is love. Sunlight in dark corners is love. Rain falling on parched earth is love.
***
All the love stories we love are about surmounting mountains and staying in love despite them, living or dying in full knowledge of the consequences. The master templates have been  provided by stories like Romeo and Juliet and in contemporary times, Fitzgerald's The Great Gatsby and Malamud's The Assistant sum up exactly what the Capulets and Montagues have morphed into now. The privileged rich and the ambitious upstarts. Jews and Gentiles. To name a few colliding worlds. For those being hunted for love or murdered for honour  in subterranean India, there are gotras and castes and angry Khap Gods to answer to.
***
And then there is the idea of eligibility that is deeply entrenched in India, be it cinema or life.  Especially when it comes to women. Single women of a certain age , women with children or with a past are considered ineligible for long term relationships though if they are attractive, there will be enough attention, most of  it curious. Just to see how willing they are to be treated as momentary distractions. Till the more eligible option walks in. When was the last time for instance when you saw a Cheeni Kam with a gender switch.. between a Tabu and maybe a Ranbir Kapoor? The death of Dimple Kapadia in Dil Chahta Hai was a clever plot device to remove her from the life of the younger hero so he could go to Goa six months later and fall in love with an exotic tourist in a meadow.
***
Marriages in India too seem only be guided by age, family background, earning capacity, domesticity, skin colour, the ability to "adjust", and to talk convented English. Love does not fit into the equation.We do not like to take chances with family test tubes  with a stray chemical like love because what if the two do not get on well together? Perhaps that is why relationships are arranged in India. Love is not considered necessary for  a couple about to start a lifelong journey together. Because love can crane its neck and look beyond what is possible, permissible, acceptable, logical, safe and convenient. That is why matrimonial columns are stacked along boundaries that must never merge.  Watch Hindi soaps. Most of them are love and hate affairs between a woman and her in-laws. Inconvenient love stories are rare.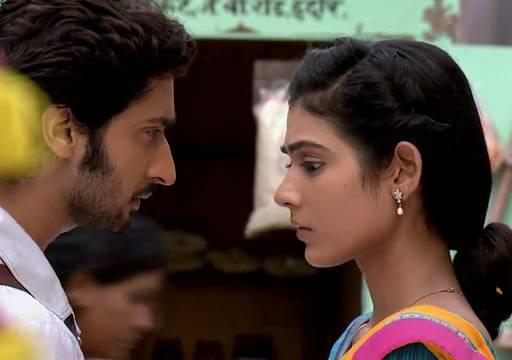 That is why the idea of Na Bole Tum Na Maine Kuch Kaha on Colours was so radical when it began. When the promos said it was  the ….interesting story of one Mrs Vyas and a Mohan Bhatnagar..the word 'love'  was not mentioned as if to convey the incongruity of the idea and yet the story went where no TV soap had ventured before.  To that moment when love arrives as an  impetuous crime reporter on the  trail of a scam and runs right into Mrs Vyas or Megha, the widow of the prime accused. Convincingly enough because this moment and what followed was not hurried, over seasoned  with soggy sympathy or melodrama even though we felt for the young widow in a joint family when she was made to cook an extra subzi for a spoilt nephew while her own kids were denied simple pleasures like a cricket bat or a bowl of instant noodles. How a tragedy like widowhood can disempower a woman in her  marital home even if she is self-dependent was depicted sensitively in a recent scene where Megha comes home exhausted from work and her sister-in-law instantly manipulates her into going in the kitchen and frying some pakoras to go with the rain.
***
And we still remember, exactly when Mohan sees Megha not as an inconvenient impediment in his plans but as a person with immense moral courage. It  was when she said that the only proof she has of her dead husband's innocence, is her faith. "Chahiye?" She asks.
***
It was then that  the wheels began to spin within the mind of a man who is open to adventure, danger and truth seeking across logical trails but has shut his heart to the possibility of deathless relationships because he has been betrayed once  by a seemingly perfect love. And like he says later in the story, "Pata hi nahin chala.."  how he began to connect with a woman who is on the surface all wrong for him. There is the initial guilt and ensuing protectiveness because he has unfairly condemned her dead husband's integrity in print and so he risks his life to save her from a stampede, reunites her with her lost daughter, wards off a lustful boss and also realises that while he is rescuing her, she is rescuing him too. Because, this is a woman who does not bail out of relationships at her convenience. Like he says once to his remorseful ex- girlfriend, "Rishte hai Rashmi," you cannot mess with relationships  for your convenience.
***
And when Rashmi wistfully asks him over the phone if he is happy, he looks at a serene Megha watching from a distance and says," yes." Even though, she is not his. Not yet. Somewhere, around the time Mohan began to fall in love with Megha, I realised just what had been achieved either by design or just unwittingly by the serial. The gentle but complete demolition of the notion that a woman cannot be loved whole-heartedly if she does not tick all the eligibility boxes. A point brought forth again and again by Mohan's mother who keeps throwing the words 'Vidhva' and 'do do bacche' to warn Megha against falling in love with Mohan.
***
Still, the fact that a credible love story was achieved between the wrong woman and the right guy and gathered 57000 odd followers on Facebook , each one of whom want the two to be united, speaks of a radical shift in both story telling and in the way audiences have begun to welcome that shift and accept it without questioning especially because Megha is unlike any television heroine. She is not caked with makeup, or bewigged, or decked with multiple sets of jewellery and gaudy clothes. She is dressed in sedate sarees,  carries a drab leather bag and wears chappals that tend to give away when she runs. It is her minimalism that Mohan falls for  perhaps after his flashy relationship with Rashmi. There is her lunch box he loves digging into. Her hair that he wants to free from bondage. She represents everything he has never had. The sense of coming home. Of stability. Peace. Lasting commitment. Love that won't change with the seasons because she is loyal to her memories, her family, her job, to those who are even remotely connected with her. He ofcourse represents the rain that will wash away her past. The joy that will unshackle  her  life and give her another chance to not just trust life but to celebrate it.
***
However most of the credit for making Megha this worthy of a grand passion goes to Kunal Karan Kapoor. He is also the primary reason why we believed despite being cynical and world-weary that a tragedy scarred mother of two could be loved with passionate adoration, soul fever, complete surrender and total acceptance. Without question. Without doubt.It is his conviction as an actor  that makes him transcend the skin of a character to become the heart break, the anger, the pain, the desperation that the story demands from Mohan Bhatnagar.  What a journey, he has taken us on.  And there were no grandiose moments in the beginning. Just little things that convinced us that this was love. The way he says,"Hai na?" when Megha says love can never be found if you look for it.
***
The way he plays with the dangling bead of her lost earring. And this piece is being written specifically to acknowledge the journey from  gentle moments ripening like golden wheat stalks under sunshine to the shuddering furnace of two extraordinary episodes this week. When Mohan after having his soul broken to pieces and trampled upon, in mad  desperation leaps over walls to confess his feelings for Megha before her in-laws. That performance as he stood in the gaze of a disbelieving audience, shedding almost sublime agony from every pore of his being…that performance..made me believe in love even though it was just unfolding on a television screen. If love can be conveyed with such integrity, such depth, such heart-breaking courage, it must exist. Somewhere. Maybe in our imagination. Maybe in the real world and maybe it is just a matter of time before we run into it in real time.
***
If an actor can achieve this in a performance, what more can you ask of him? As for the subsequent events on the show, I will hold my peace. But if the makers have chickened out and failed the premise of the show by orchestrating  Mohan's wedding with a girl that in conventional terms is more eligible than Megha than we would have reached the dead end of a journey that began so promisingly. But even if that happens, I am glad to have discovered that for all the wisdom gathered over the years, I am still a naive believer deep down, in the possibility of green shoots breaking through concrete. And am glad to have discovered an actor who I know will not fail the story. Even if  the story fails him. Beyond right and wrong, dead ends and failed promises, we will still believe in something beautiful and lasting in a field of possibilities and untarnished dreams.
***