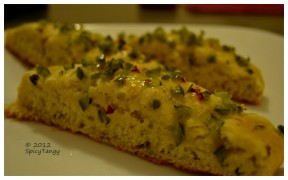 There is nothing like freshly baked bread hot out of oven. If you have a free evening, put your baking cap on and try this wonderful recipe.
Ingredients:
For the bread
1 cup ………… plain flour (maida)
1.5 tsp ………. dry yeast
1/2 tsp ………. sugar
1 tsp …………. dried oregano
1/2 tsp ………. salt
2-4 cloves …. garlic
2-4  …………… green chilies
1 tbsp ………… olive oil
For the topping
1 ……….. small capsicum
1 tsp ….. chilli flakes
1 tsp ….. olive oil
1 tbsp … butter (optional)
Method:
Take 1/4 cup warm water in a bowl. Add the sugar and mix till it dissolves. Add the dry yeast and mix well. Make sure the water is just lukewarm and not hot. Hot water will kill the yeast. Cover the bowl for about 15 minutes till the mixture is frothy.
Chop the garlic and green chilies finely. In a large bowl, add flour, oregano, salt, garlic and chili. Mix well. Add the frothy yeast water and mix well. Knead to form a soft dough. You may add warm water if required. Add the olive oil and knead again. Your dough should be nice and smooth now. Cover the bowl with a wet cloth and let it rest for 1.5-2 hours. The dough will rise and double in size.
Once the dough has risen, knead again to remove the air. Take a baking tray and put your dough on it. Flatten the dough so it makes a rectangle about 2 cms thick.
For the topping, finely chop the capsicum and spread it on top of the dough. Top it with chilli flakes and olive oil. Let it rest for about 30 minutes more. The dough will rise again.
Pre-heat your oven to about 200 C. Put your baking tray in and bake for about 10 minutes in the center rack. Shift the baking tray to the top rack and bake it till the top is golden brown.
Take it out of the oven and top it up with melted butter. Slice and serve hot!
Shuchi Vaishnav Gandhi is a jewellery designer, lover of crafts and a big foodie. She lives in Bangalore with her husband and drew early culinary inspiration from her father, who was a great cook and always got the best out of her.  She loves to cook different cuisines and startedhttp://www.spicytangy.com in 2008 to overwhelming response. You can also mail her at shuchi@spicytangy.com