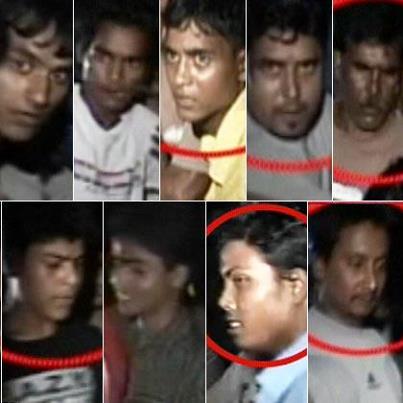 Here it comes again – another gory incident; a barbaric, heinous, inhuman and despicable act that has put the whole nation to shame. A young girl was molested by 20 men, in the open, in front of the eyes of many more standing there, or passing by. And we say we are living in the 21st century when this country is boasting about having moved from the group of developing countries to that of the developed countries. The whole world is made to consider India as an emerging economic super-power, so much so that it has staked its claim for a permanent membership of the UN Security council!
***
But this is merely the outer crust, a make-up, a mask. You just scratch a little and you'll find a very savage, ruthless and contemptible system eating into its roots. In spite of all the glorious achievements, we still remain a nation where women are not safe. They are not safe on road, nor are they safe at their work-places, at public places, in schools or colleges; they are not safe even in their homes; and so much so they are not safe even in the mother's womb. And still we say that India is a very progressive country?
***
The Guwahati incident is a big slap on the face of the whole nation. And it must… I say it 'must' enrage the whole nation. This is not the time to remain quiet, or to look the other way. It is time to raise our voice against violence inflicted on the women of this country. But…but can we expect any good at all from the people who are having a leisurely stroll in the corridors of power? I very much doubt it. We have seen the fate of Women Reservation Bill on the one hand; whereas on the other, we have all the Khap Panchayats issuing Taliban-like diktats crushing the rights of women to a pulp. A panchayat meeting at Asara village in Baghpat district of Uttar Pradesh has barred women up to the age of 40 from going to the market unescorted, using cell phones and going out without covering their heads. How ridiculous! They think that this is the solution to the whole problem! What they are trying to say is that women should not go out because a number of dangerous animals are on the prowl that can attack them; thrash them; tear their clothes; molest them; rape them; throw acid on their faces and even kill them. But these animals cannot be controlled, caged, or punished.  So instead of taking some stringent action against the alleged perpetrators involved in the crimes against women, the panchayat has decided to keep tabs on the women!
***
How long can we take it? It's high time we came out of our comfortable shells and condemned the incident vociferously, forcefully and effectively. Let there be another  revolution. Let the whole world know that the day women rise to fight the atrocities committed against them, their marching feet will raise a dust-storm that will turn the whole sky black! But why has the crime-rate against women not come down in spite of so many legislations? The reason is that few offenders have actually been given very harsh punishments for such crimes. Stringent punishments repeatedly will come as an eye opener to the others. But it rarely happens in India.
***
Today there were 20 men involved in this particular case; there may be hundreds of thousands of others indulging in same activities, whose doings have not been caught and reported. These are perverted, mentally sick people for whom imprisonment seems to be too soft a punishment. They need to be punished in such a way that nobody will ever think of doing such a thing again. I think  I once heard of a word called 'bobbitization'.
Narinder Jit Kaur is a retired Associate Professor from Patiala, who taught English Literature for 31 years in various Government Colleges of Punjab. A writer and a translator, she has five books of translations, from Punjabi into English, to her credit including Voices in the Back Courtyard(Rupa & Co.) -an anthology of short-stories by Punjabi Women Writers. She writes articles, poems and short-stories in English, Punjabi and Hindi. You can read more from her on narinderjit.com