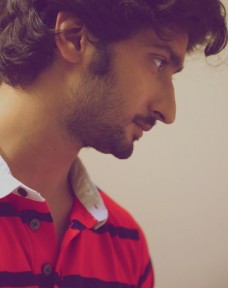 It is a bit surreal to hear Kunal Karan Kapoor telling you over the phone, "I have just come home. Let me order some food and I will call you back."  This is an interview that has been in  the works for some time and today somehow, after a delay for which he has not stopped apologising profusely, things have fallen into place. I tell him as an actor who is going to be a very big star, he will be expected to keep people waiting and nobody will mind but there is no answering titter from him. He is obviously not looking forward to that moment. People, even if they are just voices are real to him, not just incidentals. Atleast for now. As we talk, the fan girl who has been exchanging YouTube links featuring Mohan Bhatnagar realises she is talking to a real person. A working actor who slogs around the clock. I wonder, if  he thinks occasionally about what this moment in time means to him. About this cusp between success and what could be mega stardom. About this amount of investment into a role.
***
I realise he is not Mohan Bhatnagar but an articulate, well read, well- travelled young person whose life has never been formulaic but a journey full of surprising discoveries. His responses to my questions (even when the questions ramble) are not formulaic either. He says what he wants to as if  he trusts that you will not misunderstand or misread. But yes, as someone who has struggled for long, draining years to be an actor, he will not talk about what it has cost him to come this far. "That is another story for another time," he says in a quiet voice, not willing to dramatise the "story of my life." Because, "I don't think I have grown that much to talk about it."  Yes, he is different.
***
I ask him about the method and the madness in his performance in Na Bole Tum Na Maine Kuch Kaha (Colours). The detailing. He says, "Honestly, I went with the flow, with what was on the paper. There were inputs from producers, the director, the writer and then the instinct kicked in.  I am rather confused as a person. If you were to ask me to define myself..I will probably take 15 minutes and then say one sentence through the haze . But when I confront a character, I know the character. There is clarity. That is what I mean by instinct."
***
For a Chembur boy, to get a small town journalist pat was not as hard as it could have been without that instinct. He says, "For Mann Ki Awaaz Pratigya (where he played a paan chewing baddie), we shot in Allahabad and I strolled out of the hotel and walked into a theka (a hooch shop) and it was interesting to sit and watch and hear how people conversed. I don't consciously study such things but if I can retain five percent of the body language, the mannerisms, the accents, it is enough. I love to travel and if I am in Indore, in one day, I will start talking like an Indori and pick up the nuances." And the quirks, ofcourse.
***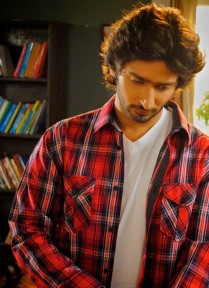 The kind he has put into Mohan's mannerisms and his patented exclamations. Does he realise he has created a cult following for Mohan Bhatnagar? There is a faint incredulous laughter on the other end. He says, "I honestly don't know if it is a cult character, We are shooting all the time but I do notice people noticing me a lot more on the road and in malls. And when Sudhir sir (Sudhir Sharma, co-founder of Sunshine Productions) called me about this character, it really sounded nice. Maybe it was the aura of the man.  I wasn't really doing much at that time and he explained to me that this is a rustic character, "aise bolta hai..aise rehta hai," see what you can do with him." We did  a look test, a kind of a show reel where I wore a Ganji and was pouring tea and even then the shot taking, the freedom I was given to improvise felt right, it felt good."
***
Has the success sunk in? "Well, I get offers I never got before.To endorse brands. To cut ribbons! But workwise, not much because everyone knows all my time is committed to this. Frankly, I have never worked so much in my life. I have itchy feet and I always made some money and took off and travelled but that was a few years ago. I also sat at home for an year and that was not pleasant. "
Talking about his obvious connect with Mohan and with the other characters on the show, he says, "We do story readings, look tests and people pick up cues about what or how a character will be. I give a lot of credit for how we come across to the writers.  It is a well written show and the  makers have a clear picture of what they want it to be because the story is very close to them."
***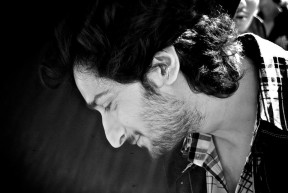 Cinema?
He responds, "I honestly don't know if I will get to do it some day but I would love to. My future, I would like to believe will have exciting, adventurous moments but am a floater basically. I don't have any solid plans. And in the last one year, things have happened (on their own)." And maybe, more will unfold in the future on its own too. The state of Indian television, barring a few exceptions, including his own show bothers him. He talks about it without bitterness or malice or superciliousness but it is clear that as an artist who likes to take his time over nuances, this industry and its rough shod ways disturb him. He says, "Honestly? I don't like television or the way it is handled. It is a factory, a machine where actors after a while are not even expected to act but to just deliver because the episode has to be finished. I am fortunate that I work with a sensitive creative team but I wish the television industry would get rid of the pressure to complete episodes, and get into the format of seasons. I wish, it would not pull you down and give you time to develop and grow. The rut can kill you."
***
But if despite the pressures to chase TRPs, a genuine actor, a committed cast and a good story (despite occasional lapses) can survive the rut and inspire fierce loyalty in their followers, there is hope. One also hopes that he will soar on the wings of more opportunities and will travel within and without, as much as he wants. Because here is an absolute fact. Kunal Karan Kapoor is not a one splash wonder. There is a world within him that we have not yet glimpsed. And it would be an absolute privilege to see the unlived characters waiting for a life breath on a screen big enough for him.
Reema Moudgil is the author of Perfect Eight (http://www.flipkart.com/perfect-eight-9380032870/p/itmdf87fpkhszfkb?pid=9789380032870&_l=A0vO9n9FWsBsMJKAKw47rw–&_r=dyRavyz2qKxOF7Yuc