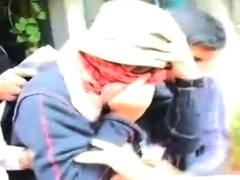 And yet again in a case of sexual child abuse, a three-year-old girl is raped, by her FATHER. Not once, not twice but several times. And as if it was not enough that the child was violated by someone who created her, the police had to further add insult to the injury by conducting not one but two tests to DETERMINE rape. All this after several, obvious injuries were found near her genitals, the mother shouting hoarse that her daughter was raped and the daughter crying in pain because her genitals hurt. Oh, but how could all that determine rape? Well, because our law abiding cops and judiciary NEVER go against the system.
***
Elsewhere, two innocent housewives/mothers, caught partying, have been remanded to judicial custody for 21 days. One of the oldest schools in Mumbai shivers in fear for their students/teachers who could be molested/kidnapped/raped any day, as the school is bang in the centre of an area where  sex is a trade.  568 rape cases right under the nose of the Parliament, and not even half convicted. Keenan Santos and Reuben Fernandes' murderers are yet to be punished (their trail has not even been sniffed at) and the doctor duo in the Beed female foeticide scam, actually have the gall to strike a pose for the camera.
***
Can we just assume that in India,  a rape victim will not be given justice even if her genitals are bleeding and the rapist caught on top of her (as in the case of a five- year- old in the slums of Mumbai)? A serial child rapist can freely roam the streets of Mumbai on bail by just dishing out Rs 5,000?  An accident victim will not be given medical aid until the police arrive? A dead body will not be moved from the tracks until the panchnaama is done?  And French consulate official Pascal Mazurier will possibly enjoy special treatment while the government is figuring out the sensitivity of their diplomatic ties?  But all this is not enough for cops like Vasant Dhoble, the  Assistant Commissioner of the Mumbai police to pick up his bat and go after real crime since he is busy targetting juice centers because orange juice or pav bhaji kiosks operating at 1 a.m are really dangerous to society.
***
Meanwhile, the cops of our country are also having a field day with another rape accused, Pinki Pramanik -gold medalist, once the pride of the country and a celebrated sportswoman till her live-in partner accused her of rape. Did rape actually happen or was it consensual sex? Nobody bothered to find out. Why? Because there was a much more entertaining question at hand-Is Pinki a man or a woman? So right now it is more interesting to humiliate  her in public by speculating if  she is a woman and raped her partner. Or if  she is a man who had sex with his partner. Or maybe she is a not a complete woman or man and hence we have every right to trample upon her dignity and run it into the ground.
***
Whatever the outcome for Pascal or Pinki, I am forced to ask-have we become brazenly emotionless as a society? Are all our emotions just limited to our films and TV serials? Will we have to see a Karan Johar movie someday to remind us what being a family means? Will we have to watch a Rowdy Rathore to reinstate our belief in the police force?  And Mr Dhoble, I believe  is going away for a marriage? Let's just hope he does not arrest the baaratis for drinking alcohol, dancing or wearing low-cut blouses. India in the meanwhile, bleeds on.
Insia Dariwala is a graduate from F.I.T New York (Advertising and Mass communications), loves to tell stories and is a filmmaker. 'The Candy Man'  (www.youtube.com/watch?v=sSr0ne-iizs) her hard hitting debut film on child abuse won her two 'Best Director' awards in India (2009, 2010) and also got nominated at Barcelona International Film Festival and the New York Short film Festival in 2010.