There is no particular reason to remember Hrishikesh Mukherjee today but in the context of nostalgia, of  remembering how we were, how simple our cinema was, how moving, how heart-felt, how innocent, his is the first name that one remembers. The  best tribute to Hrishikesh Mukherjee would be to smile in gentle recollection. His cinema was like him. Modest, humane and good-humoured.
The Hindi film industry is full of swagger stories. Of people who talk loudly about their success and treat cinema and themselves like a commodity. For Hrishi da however, cinema was a purveyor of humour, wit, good sense and integrity. His cinema created light and laughter in the darkest corners of human existence and was as wholesome as the khichdi cooked by Babu Moshai's househelp in Anand.
***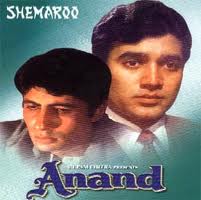 Hrishi da was from the Bimal Roy school of filmmaking but his films were lighter and frothier and with writers like Rajinder Singh Bedi and Gulzar, he gave us some of the best written lines in Hindi cinema. What also stands out today when we nostalgically unearth and dust Anupama, Mili, Abhiman, Chalte Chalte, Anand, Guddi, Khubsoorat, Bawarchi and more of Hrishida's little gems, is the joyous human dialogue he created between the unlikeliest of protagonists. In Anand, a talkative cancer patient (Who does not remember Rajesh Khanna in this one?) brimming with an incredible joie-de-vivre strikes an unexpected friendship with a taciturn doctor (a striking AB on the verge of a career defining moment) and soon they are sharing more than just khichdi. They are recording impromptu skits and poems, laughing over the inane things we forget to acknowledge as we fret over the big snarls, both present and impending. Long before the new age gurus got into the fray of teaching us the art of living Hrishi da and his philosophy of Anand (joy) taught us to live in the moment and to celebrate life.
***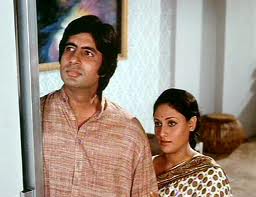 Mili, the female  version of Anand battles leukemia with a wrinkled nose, a naughty smile and a song on her lips. She even targets a `dusht rakshas' (Amitabh Bachchan playing the building's evil ogre with bloodshot eyes and frightening bitterness), a cynical alcoholic in her building with her spirited retorts till he learns from her to let go of the past and connect with the ever present, small and big blessings of life.
***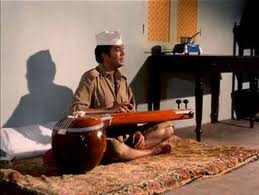 In Bawarchi, a mysterious cook and man of many parts (Khanna again) glues together a cantankerous family, teaching them that life is not the sum of the big things but of the laughter we share in the kitchen, the music we make in our yards with old songs and new rhymes. He taught us that happiness is not something to be had but something to be created. In Khoobsurat, a grim lipped matriarch learns to tamper discipline with humour when a young house guest (A sparkling Rekha in schoolgirl plaits) sparks off a revolution of card games, music and dance and fun poetry in the joyless, suppressed household. In Chupke Chupke, a self-aggrandising barrister (a delightful Om Prakash) learns a lesson in humility when he is fooled by his family and a happily conniving Pyare Mohan/Parimal (Dharmendra at his comic best).
***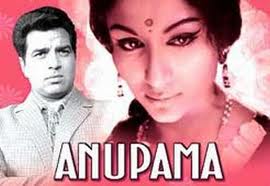 In Anupama, a cloistered, mother-less, unloved heroine (Sharmila Tagore) is taught to open herself to love and life by a poet, writer (Dharmendra). Jaya Bhaduri's Guddi learns that real life is far more exciting and fulfilling than filmy fantasies. Golmaal made fun of the stubborn older generation that disallows freedom of speech and thought to the young.
***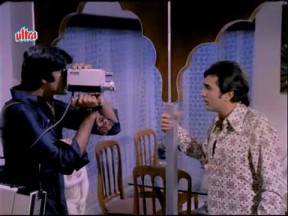 Class divides could not keep Hrishi da's protagonists from helping or healing each other. In Anupama, Dharmendra's cash strapped Ashok and his family share deep emotional ties with a London returned Deven Varma. In Namak Haram, Rajesh Khanna and Amitabh Bachchan are virtual soul mates despite their hugely disparate economic and social backgrounds. There were no scoundrels in Hrishi da's world. A die-hard vamp like Bindu became the golden-hearted other woman in Abhiman. Aruna Irani became Mili's outspoken champion.
***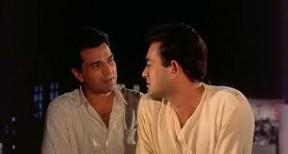 There was something utopian about Hrishi da's cinema but he was not an escapist. In Musafir, his debut film, he showed us the strife of a jobless young man (Kishore Kumar) and the unspoken love between a widow (Usha Kiron) and her silent suitor (Dilip Kumar). Namak Haram anticipated the onset of corruption, commercialization and violence in our world. Satyakam showed us the struggle of an idealist to hold on to his integrity in a morally disintegrating society. In Anari, a terminally innocent Raj Kapoor gets caught in the tragedy unleashed by a rapacious industrialist.
***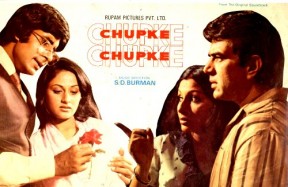 Still, Hrishi da's films showed us that the world with all its miseries cannot break the resilience of the human spirit. That we can laugh at our tears and live with our values intact and our heads held high, if we only choose to connect with each other and with ourselves. Today, when we all have become severed islands of cold cynicism, Hrishikesh Mukherjee's empathetic  cinema will be missed more than ever.  As will be the message, "Zindagi badi honi chahiye..lambi nahin."