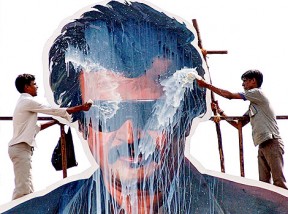 Heard of the itch that must be scratched? Indians have many such itches. Cricket. Politics. Films. Film stars. Views on religion. Food. Sentiments. To name a few, serious!  But across all the languages we speak in this country, officially or unofficially, the language of cinema is loved like no other. We take our movies very seriously, we cry and laugh with them and quote them, we worship the stars, build temples in their names, pray when they injure themselves, sell and buy tickets in black  for the first day, first show (although the movie script WILL NOT change if you see it on day 2, 3, 4, 5 etc!), and of course, we have hello tunes that are popular songs, we hum them, we have reality shows and singing contests that run on the fodder that the film industry provides. But is this post about Indian cinema? No. It's about Indian people.
***
Recently, I had the opportunity to visit an Indian village – you know, those kinds they show in Swades, where dirty kids run in mud and dung and are fit as fiddles, their immunity levels super high, while we sneeze with allergy, and end up with food poisoning and viral infections. Despite sanitizing and all. The kind where there is no dispensary, no post office, but there is a liquor shop tucked in a dark alleyway.
***
The kind where there are no bathrooms and toilets in any house, where the lakes swell up with sewage, where children play all day and ride buffaloes to the fields. Where there is no potable drinking water. But they all have a radio that plays the latest numbers from the regional movies. Where there are no good streetlights to save you from stepping on something fatally infectious. But the TV is a household companion and families cluster around it every night to watch Nagarjuna kill 20 people in one sweeping karate kick. We city people, we are no less. A couple of us jumped out of the cabs we took to the village to dance in sunflower fields, Yashraj style, and some even broke into 'Tujhe dekha to yeh jana sanam'. Most of us took photos. Most of us played Antakshri. Most of us sang ourselves hoarse. Most of us wanted to go see a recent mega hit Telugu movie in a shady cinema hall  after buying  50 buck tickets…although 15 out of 18 people did not understand Telugu. Big deal, they said. "Just laugh when the crowd laughs!"
***
This is a movie obsessed land. Above all arts, above music bands, above reality shows, above sensational news, above tragic news stories, above milestones achieved by the ruling government…above it all. Show us one good movie, with give us some killer music from a Rahman, a Harris Jayaaj, an Ilayaraja, a Nadeem-Shravan, an Ismail Durbar, even Pritam. Some sappy story that reminds us of our mother/brother/father/sister/long-lost best friend/wife/girlfriend/husband/boyfriend/pet dog/stray cat. Get us to laugh and cry and that's it. You have a hit and we are followers for life.
***
Of course, there are those off-beat Kamineys,  Wake Up Sids. The genre isn't important – touch our heart and we are sold. I am so freaking proud to be part of such a mad, mad, mad land where nothing makes sense but still falls in place at once.  Atleast in the movies. Here is to 100 more years of movie madness.