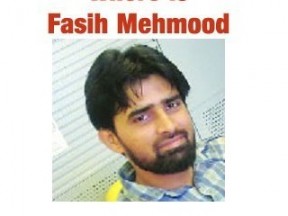 It has been over 10 days since Fasih Mahmood practically disappeared from his residence in Jubail, Saudi Arabia, where he worked as an engineer. On  May 13, Sunday, Mahmood was taken away by a group of Indian and Arab men, all in civil dress, and their house searched, while his wife, Nikhat Perveen, was held in a room by an Arab woman.
While his wife and family have received no official communication from the Indian government, speculation has been rife in the press that Mahmood has been arrested—a wholly wrong usage, as it can only be termed illegal detention—for being financier of alleged terror plots. While pleas of Nikhat seeking the details of her husband's whereabouts are falling on deaf ears, unnamed 'sources' are zealously leaking allegations against Mahmood to the press. So far, MHA, MEA and NHRC have all obstinately stonewalled Nikhat entreaties, feigning ignorance. The Home Secretary has refused to give any assurance to Nikhat that her husband would be produced; indeed, he claimed to have no information on him.
Fasih Mahmood's illegal detention in an undisclosed location, possibly on foreign land, is in gross violation of all established legal procedures.
We demand that Fasih Mahmood must be immediately produced in an Indian court, and that the Indian government officially own up to this illegal 'arrest'.
Fasih Mahmood must be given immediate access to his family and lawyers.
PLEASE SIGN THE ONLINE PETITION AND SHARE WIDELY
Kamayani Bali Mahabal is  a clinical psychologist, lawyer and human rights activist who pitches for human rights , health rights, women's health and women's rights, and other issues of social justice. She blogs athttp://kractivist.wordpress.com/