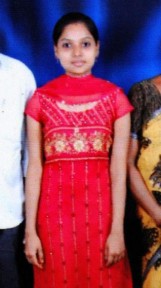 A girl was hacked in my neighbourhood two evenings ago. This morning, a girl of about the same age who comes to teach my son, walked in with fear all over her face and asked, "Did you see the newspaper, maam? I walk through the same market every evening after my classes. Yesterday, I saw blood spots where this girl was hacked. With sand covering it."  She added, "I haven't told my parents in Bihar about it or they would have been worried sick."
***
The story came out then which could be the story of thousands of girls living in big cities across India. She grew up in a small town near Mughal Sarai and went to Jaipur to study engineering. "I am the eldest one in the family, good in studies and always wanted to do something and thankfully my parents did not stop me. It was my dream to come to Bangalore and work, this being an IT hub." For the last six months though, she has not been able to find a job. Her inability to speak fluent English is one reason, as is the recession so she is holding on, sharing accommodation with other struggling friends, working as a tutor and now adding a diploma to her degrees. It is a hard life and there are days, she is too tired to study but she dreams of a break-through and till last evening, the idea that there are other dangers stalking girls like her in cities of dreams, did not strike her.
***
Now she will second guess everything. The route to her home. Her timings. Her tendency to make friends easily and her trust in life and its workings. She wondered why this could have happened and was upset by the way the crime was reported in newspapers where the victim's relationships with two men were speculated upon as if they could somehow explain the fact that a young girl returning from work at 6:30 in the evening was hacked with a machete before hundreds of bystanders. If this could happen to one  of us, it could happen to any of us. "Because its always the girl's fault, " said my guest.
***
There was also the case of a volley ball player recently who was sprayed with acid and disfigured by two men. I worried for this girl too. For the fact that she walks alone late in the evening. And because, she lives in a city she is just beginning to be familiar with. The struggle for girls like her is not just that they now have to be bread winners for their families, carve a future single handedly, live in possibly hostile cities but also worry about safety and answer questions like, "What must I do to attract the least amount of danger?" Because, really, who can answer why you could be chosen as the next victim of misplaced rage? Who can answer what drives men to kill women over hurts, real or imagined and this is a question that must be answered before we start looking for answers in the way the victim dressed, who she chose or said 'no' to.
***
Nothing can justify murder, rape and disfiguration. Or even eve teasing. Or stalking. Why do these things happen and why do newspapers focus on the back-story of the victim beats logic but maybe there is a logic. For some reason, women, especially who have voices and strong wills are treated as provocateurs. What about the back-stories of men who get provoked by something as simple as a 'No?' We should investigate the crime motive rather than the so called cause. Analyse the criminal rather than the victim. Ask why women are expected to conform to mental images they have out grown. How many men of "easy virtue," a term most associated with victims of rape and sexual crimes, are found in burn wards with acid wounds? How many pay for their 'sins' with stab wounds and violation? Why is it so tough for a generation of men to accept women as equals? Why this need to show who has more power? Who can have the last word? Who must be heeded? Who must always be feared?
***
Why can't women be left alone to function as individuals with volition? Why must they always be cut to size, sometimes literally? These questions have been asked before but the media that prides itself for its ability to now trigger and lead quasi revolutions must sensitise its crime reporters to shed gender bias and archaic notions about sexuality and provocation and responsibility. In the end, murder and rape are committed. Not caused.
Reema Moudgil is the author of Perfect Eight (http://www.flipkart.com/perfect-eight-9380032870/p/itmdf87fpkhszfkb?pid=9789380032870&_l=A0vO9n9FWsBsMJKAKw47rw–&_r=dyRavyz2qKxOF7Yuc