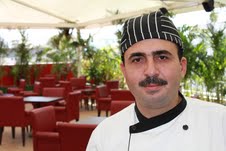 Chef Ali Mkram has the kind of face that reminds you of orange orchards and happy family picnics. A face of contented joy and peace. That he is from Syria, working in Bangalore as a chef for possibly Bangalore's only authentic Lebanese restaurant is one of the many paradoxes you will see at The Ranoosh. For one, it is not exactly a restaurant with glitzy middle-eastern interiors. It is a no fuss, no frills and unprepossessing place. But like most happy surprises, it reveals itself without bells and whistles. I am no authority on food, leave alone on Lebanese food but what hits my palate is an unmistakable combination of fresh, sub-textual flavours I haven't tasted before. Being a vegetarian limits my choices further but when I taste what am offered, I can actually pick out different notes of crushed spices, the tang of lemon, yoghurt, vegetables and fruits. This is not food in a hurry but an experience that grows on you with every mouthful. You are reminded of many micro-cultures within cultures we are oblivious to in a region that we remember only in times of violence and decimation.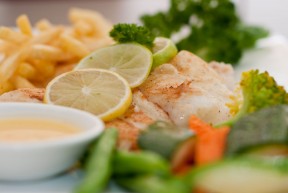 ***
I feel heavy with wistfulness for history, food traditions, generations of family recipes that are fading away from every part of the world because of the imprint of the West on everything, right from our food habits, our lifestyle to our politics. What happens to a country like Lebanon after decades of violence? What happens to its people? Can people in such spaces ever cook or sit down to a meal without being reminded of some loss, some tragedy? The chef tells me about his family still in his olive farm in Syria..not completely away from political upheavals but he would rather talk about the food. He promises me, none of the dishes have been tweaked to the Indian palate out of respect for authenticity and in a city where Lebanese food is just a cliche being sold on the streets, this food, at The Ranoosh is a leisurely exploration of an entire cuisine. He cooks here, he says, like he would in his own kitchen, for his own family. Though he chuckles, "the wife won't let me cook as much as I want to!"
***
The food he says is easy to love because it speaks in familiar notes like semolina, black pepper, coriander, cardamom, bay leaf. The processes and the uniqueness of certain spices are different. The marination techniques, the slow cooking are typical to the cuisine. He runs me through the salads and appetisers or cold Mezze. Hummus, Moutabal (roasted eggplant mixed with tahini and topped with olive oil) , Baba Gannouj (oven grilled eggplant with tomato disks, bell pepper and coriander). Dolma (grape leaf rolled with parsley, rice and tomato, steamed in olive oil and lemon juice), Tabbouleh (fine chopped parsley mixed with olive oil and broken wheat kernels with a touch of lemon), Fattoush (cubes of tomato, lettuce, and cucumber tossed in pomegranate molasses with Arabic bread) and a spread of surprising, refreshing salads created out of lettuce, cucumbers, green beans, fine sour cream, beetroot, fried potato, aged cheese, basil and more.
***
And then ofcourse, the eternal favourites, the hot Lebanese starters or hot Mezze. From Falafel, Shawarma, Fatayer, the mixed puffs and counting. There are soups, sea food, grills, staples and specials and biryanis and melt-in-the-mouth desserts that deserve to be tasted without too many words to interrupt the joy they leave in their wake. Right from Baklava, Mahalabiyah (Milk simmered with rose water), Umm Ali (Puff pastry baked with cream and nuts), Shabiet (crispy fillo sheets baked to a golden brown with ashda cream on the inside) and a few more. As a parting gift, the genial chef  shares a few prized recipes..and I leave hoping to share his love for a beautiful food culture with the readers.
***
Fatoush
Ingredients
1
/3 cup lemon juice
2 teaspoons sumac powder
salt to taste
1 head romaine lettuce, torn into bite-size pieces
1 medium cucumber, diced
2 large tomatoes, diced
4 white onions, chopped
1/4 cup chopped fresh mint
1 green bell pepper, seeded and chopped
1/2 (5 ounce) package arugula
4 pita rounds, toasted and torn into pieces
10 ounce Olive Oil
Pomegranate Sauce
Pomegranate
Fried Bread
Mix lemon juice, sumac and salt. Refrigerate until ready to use.
In a large bowl, toss together the lettuce, cucumber, tomatoes, green onions, , mint, bell pepper, and arugula. Toss with the dressing, and serve with pita.
***
Mahalabiyah
Ingredients-
4 cups whole milk
6 tbsp corn starch
1 cup sugar
1/5 tsp rose water or orange blossom water
1/2 chopped pistachios
your favorite warm fruit
cinnamon or powdered ginger
Prep-
Mix corn starch and 3 tbsp of the milk in small bowl, set aside.
Pour rest of milk into small pan and bring SLOWLY to a boil, stirring constantly with a whisk.
Add sugar once milk starts to boil, stirring constantly, scraping sides and bottom.
Once mixture returns to boil, gradually add in corn starch, stirring constantly.
Stir until it starts to thicken.
Remove from heat.
Add rose/orange water and stir.
Pour into bowl(s).
Refrigerate overnight.
Top with pistachios and warm fruit.
Sprinkle a little cinnamon or ginger on top of the fruit.
For more..just go over to..
The Ranoosh:
120-125, KH Road (Double Road, Shanthinagar), Bangalore.
Ph: 080-43452222