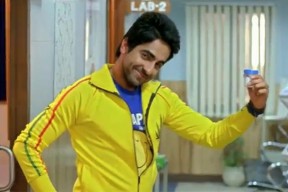 Difficult to say sperm (or sparm - as the good Doctor Chadda (Annu Kapoor in an err.. seminal performance) pronounces it), without the mind travelling to  where it comes from. All right, I picked up that line somewhere. Yet, here is an entire movie from Bollywood that revolves around the word without making you go queasy in the stomach even once. For which itself, Vicky Donor deserves a standing ovation.
However, let's start at the beginning. Vicky Arora is a virile Aryaputra (his genes have come all the way from Persia with Alexander the Great, having crossed the Hindu Kush to finally "sattle" in the Refugee Kalo-ny (get used to the Punjabi-isms) of Lajpat Nagar). He is spoilt, single, jobless with a dead great grandfather who sired 19 kids. The last is what makes the shrewd Dr Balbir shakal-dekh-kar-sperm-pehchaan-leta-hun Chadda sit up and incredulously ask: "Kinne?" Chadda runs a "chotta sa" infertility clinic and sperm bank in Delhi's Dariyaganj. His clinic is facing shut down because his rich, infertile clients are going back unhappily unfertilized. He is quick to realize that if anyone can save him from going out of business, it's the virile Vicky. Now he just has to convince the breezy Punjabi munda in tight jeans and bright Ts with 750 friends on Facebook and a "jitna mil jaaye kam hai"  attitude towards sex to not waste his "time" and "sperm" on girls and become a donor instead.
Almost all the characters in the movie are perfectly pitched (including a Mallu nurse who dutifully checks if Vicky has filled up the life giving bottle with an expressionlessly polite "Dane (done) sir?" and Biji (Vicky's whiskey-guzzling aaj-chad-nahin-rahi-puttar grandmother) who ticks him off for getting her a "solah GB" iPhone ("Ae kee? Mainu 32 GB chahida see"). Or even the leading lady's aghast Bengali father who tells his daughter (determined to marry a Panju), "But beta, they have no kaal-ture. They drink and dance at weddings. They don't even remove the price tags on their clothes." Or Vicky's sardarni mom who tells her son, while furiously frying in the kitchen, that she will not tolerate a "machli khane waali, kaali Bangali bahu". She wants a "gori chitti" Punjabi lass.
It's not difficult to understand what the suave, stylish, independent-minded, divorced Bengali working girl Ashima Roy (a pretty Yami Gautam) sees in the unbelievably crude and crass, one stop short of sick lech Vicky. His ridiculous explanation for why her Bengali husband didn't tell her that he loved another woman is: "Fattu hote hain, Bongs. Fattee hai unki." Yet she falls in love with him, just as we do, because his heart is in the right place. "Sperm se thoda upar aakar dekho, heart naam ki cheez hoti hai" – he tells Chadda in an emotional moment.
Yet, if you ask me, the film belongs to Annu Kapoor. It is in his paunchy, wide-smiled, untidy haired, fertility-obsessed paapdi/kachodi/golgappa gobbling Dr Chadda, that he brings alive the perfect Punjabi caricature. When Vicky drags him to his girlfriend's house to discuss marriage, he gleefully nods his head to the girl's dad's "I hate Panj-bees." (Han jee, haan jee, I under-istand. Ham thode diff-rant type ke log ho-tte hain).
The films tends to drag a bit after the interval in the emotional sequences but it can be tolerated and, yes, as always the songs were really not required. But I must tell you that the best part of my Vicky Donor experience was watching it in a hall full of whistling and guffawing Sardar families in Mogha, or Moghe as we call it in this part of the world. When we drove back home in the falling dusk, crossing the rustling wheat fields of Punjab, laughing over the exquisite one-liners, what we also marvelled at was how the audience had taken the jokes so sportingly. The most endearing quality about a culture, just as a person, I feel, is the ability to laugh at yourself. Only when we learn to do that can we savour the flavours of India's delightful multi-cultural society instead of letting these build walls between us. Full marks to Bollywood for tracking the trend.
Rachna Bisht-Rawat is a journalist and writer. She is also mom to a nine-year-old and gypsy wife to an Army officer whose work takes the Rawats to some of the most remote corners of India. You can read her blog at rachnabisht.com