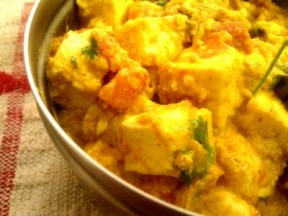 Many, many years ago, when there was no such thing as ready-made ginger-garlic paste, saas-bahu flicks on TV, when Mumbai had one standard climate for all seasons (hot, sucky, humid), when I could not tell Malayalam from Tamil from Kannada from Telugu…my mom got a recipe from her office colleague, Rose Aunty. Rose Aunty, like her name, was sweet, had a smile to-die-for, and shared the most awesome recipes of course. Her recipe became a major hit in the house and we had no specific name for it. If we wanted it, we asked for Rose Aunty's Paneer.
Then one day, I left home and went off to another city to study and mom gradually stopped making Rose Aunty's Paneer. As was destined, she forgot the recipe too. And Rose Aunty got transferred and we lost touch with her. And with that, we also lost the recipe.
For several years, I tried to recall the taste and the ingredients but did not succeed in getting the full list down. I tried to make mom remember the recipe…but she would not, she did not, she could not. I was right depressed about it when one day, after what seemed like decades, Rose Aunty called. And I shouted with joy and asked mom to take the recipe from her.
Rose Aunty was in a hurry to hang up by then…and she just said one thing. "Oh, it isn't my recipe, its a Tarla Dalal." And the phone dramatically disconnected. Tarla Dalal? Gulp? That plump and cute little Gujju woman who has seriously complex recipes in her books? But she cannot have churned up the recipe, it is too simple to be a Tarla Dalal recipe, I exclaimed.
Five years hence, married and culinarily-confident, I set about hunting for that paneer recipe. I hunted, hunted, spending hours together in the cookbooks section of Crossword's and Odyssey's and every other possible bookstore but in vain. Until one day, on www.flipkart.com, I stumbled upon a paneer recipe compilation that had Tarla Dalal recipes.
Predict my behaviour. Yeah, I ordered the book. Right off. it came in 2-3 days, the longest 2-3 days of my life. And when it came, finally, finally, finally, I found a recipe that looked similar to the one Mom used to make…that Rose Aunty used to make, that Tarla Dalal's husband is fortunate enough to demand at any given point in time.
Men. Are. So. Lucky.
Guys, this is the most delicious, mind-numbingly beautiful, gut-wrenchingly easy to make, quick-to-fix paneer recipe ever. It's precious, it's priceless, it's so good, it will make a halo appear around your head. make it, please…and yes, I know I have gone on too long with this story but well, the NEXT thing after this post that I will unleash on you is the recipe itself.
Until then, thank god, the stars, the planets that are so perfectly aligned that Rose Aunty gave me the recipe, that Tarla Dalal invented it, that mom made it and that I decided to pen it. You. Guys. Are. So. Lucky.
Name: Paneer Malai Korma or Rose Aunty's Paneer
Prep Time: 10 minutes
Cooking Time: 15 minutes
Recipe Source: Tarla Dalal
Serves: 2
You need:
200 gms of paneer cubed
1 big onion, ground to paste in the blender
2 tomatoes, blanched, deseeded, chopped to bits
1 tsp turmeric powder
1 tsp red chilli powder
2-3 green cardamoms, removed from the pods
1/2 cup of fresh cream
Lots of coriander leaves, chopped
Oil
Salt
- Heat some oil in the kadhai – I use ghee but by all means, suit yourself. Add the turmeric powder, red chilli powder, cardamom, mix well.
- Add onions. Stir till the raw smell goes away and the oil separates.
- Now add tomatoes. Add salt. Mix well. Allow the tomatoes to get cooked.
- Now add paneer. Stir it in gently, allow the masalas to coat it well. Cover and cook for 3-4 minutes.
- Now add the cream. Blend it in well. Adjust salt. Cover and cook for 5 minutes.
- Turn off the heat. Add coriander leaves chopped. Serve hot with rotis.
Bliss.
Reema Prasanna is a personal and corporate baking coach from Mumbai, blogs about her experiments in the kitchen, records recipes from India, and in another parallel dimension, she is also a Search Engine Marketing Professional, fiction writer and maniacal utensil & kitchen tool collector.