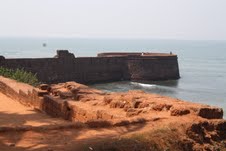 Two people met, became friends (not sure when love happened) and decided to get hitched for the better. Like any other inter-caste marriage, this Assamese-Bengali alliance also went through a lot of high drama before it could culminate into a marriage ceremony that seemed interminable as rituals followed rituals to appease  Assamese and Bengali sentiments.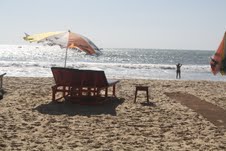 The wedding most-awaited by both the families ended on a high note and like any other newly-wedded couple very much in love, our excitement was at an all-time high as we inched closer to our pre-planned honeymoon destination. Much planning, browsing and budgeting happened before we decided to withdraw our international holiday plans and settled for Goa.
Unlike other honeymooning couples, I assume, our trip was of a different kind. It was not the privacy that we longed for, but rather the adventure and exotic fun that Goa offers. A neatly planned six-day trip – four days in the adventurous North Goa and two days in serene and idyllic South Goa seemed to be the perfect adventurous honeymoon recipe.
A pre-paid taxi from Dabolim airport transported us to Calangute in North Goa.  Calangute-Baga area is a busy commercial place with lots of  hospitality and shopping options for tourists.  A fine welcome at the resort, hassle-free check-in and a delicious platter of noodles, prawns and mayonnaise eggs for lunch happened in quick succession. A power nap followed and we were all set for an evening at Baga beach.  Surrounded by Calangute and Anjuna beaches, Baga is a busy and happening beach with a pulsating nightlife. A Goan platter of fish, prawns and rice was our delicious dinner.
Well, if one is on  the lookout for an adventurous sojourn, a Goan street map is a must-have and is easily available at all departmental stores. Not in my wildest dreams had I imagined that we would be exploring Goa on our own with just the map as a perfect guide. But here we were, carrying a backpack stuffed with the digi-cam, a sunscreen high on SPF,  extra pairs of clothing and the map.  That's all one needs to explore Goa. While taxis are available on hire to show you around, we chose to hire a Scooty for Rs. 300 a day. There weren't too many petrol pumps around the place. But, unlike other places, almost every shop in Goa sells petrol. So even if your bike happens to run out of petrol (which did happen to us), no big deal!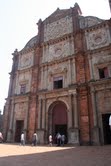 Beaches are aplenty in Goa. But it depends on what exactly is one looking for.  Well, we were  seeking serene, tranquil beaches sans prying hawkers and noisy tourists. Morjim, Ashwem, Candolim, Sinquerim are few of the beaches in North Goa that seemed to fit the bill and hence followed bike trips, sun, sand and sunbaths much to our delight.  Heavenly breeze from the Arabian Sea shores, gushing waves, and yummy food melted away  the post-wedding fatigue as we blissfully lazed in the beach shacks. A visit to Fort Aguada, Dona Paula, Basilica of Bom Jesus in Old Goa, Wednesday Flea market at Anjuna, Dolphin cruise and numerous water sports are few of the things we did not miss out.
Talking of Goa and how can Feni not find a mention? Feni has a very heady whiff and therefore Feni-based cocktails are only recommended to first timers. Food wise, Goa offers food for every palate.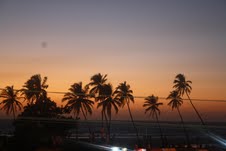 After an adventurous four-day stay in North Goa, we moved to Colva in South Goa. Unlike North, the southern part of Goa is quiet and introsepctive. South Goa is laid-back.  The white sandy Colva beach is picturesque, outlined with coconut palms- a sight rare in beaches of North Goa. Mobor and Cavelossium beaches are more ideal if one wants to stay clear of crowds. Infact these two beaches have a good number of beach shacks serving delicious food and numerous water and adventure sport activities like para-sailing, biking, banana rides, jet ski, speed boat rides etc.
Beaches apart, an interesting thing quite obviously was that most of the shops, restaurants, beach shacks and Ayurveda dealers have Russian translation on their signboards which clearly reflects a strong Russian presence in Goa.
With a huge number of foreign tourists thronging Goa during the peak season, being in Goa is no less than being in a foreign land. Lazy, adventurous and fun, Goa has something to offer to every individual-from those seeking leisure to those in the lookout for bohemian culture. Be it a family holiday, an adventurous sojourn or a romantic getaway, Goa doesn't seem to disappoint. It is a place where you'll want to keep coming back for more and more.
Sayanika Dutta is a media professional who has worked as a TV producer and has dabbled with multiple creative streams including reporting, editing and writing.