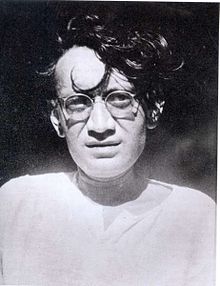 I am fishing for the right quote by Manto to begin this write-up. As I unearth some old books from my college days, I realise that Manto is not someone, who can be put away between the pages of  history forever. It was hard to ignore the man when he lived and it is hard to ignore his stories after his death because of his impeccably clear writing, which according to him was a reflection of the society, but such an original portrayal that it remains unmatched to date. In his signature far-sighted fashion, he wrote his own epitaph that does not appear on his actual grave but these lines are immortalised in the world of Urdu literature and hold far more value than the ones etched in stone –

Here lies Saadat Hasan Manto and with him lie buried all the secrets and mysteries of the art of short-story writing….
Under tons of earth he lies, still wondering who among the two is a greater short-story writer: God or He."

On the evening of May 8, Manto surely must have smiled from the heavens because an excited bunch of people had gathered at Prithvi theatre in Mumbai – a city he loved and missed – to celebrate his centenary birth anniversary where his verses, stories and anecdotes flowed with masala chai. The Mehfil at Prithvi invites an unusual mix of people every month, bound by the common love for a language that is now a distant echo heard occasionally in an Urdu play or when you chance upon Mughal-E-Azam on a lazy Sunday afternoon. Arwa Mamaji and Priya Nijhara aptly call themselves the Urduwallahs and organise this tete-a-tete with the Urdu language where the learned, the learners and the plain curious ones interact in an informal setting. Arwa and Priya, drawn by passion, learnt Urdu for a year, but soon realised they could not keep the language alive without conversing with other Urdu-speaking people and so Mehfil was born. The setting for a guftagu(conversation) of this nature could not have been any other place than Prithvi that is nothing less than a shrine for the aesthetically inclined.

Each Mehfil has a pre-ordained theme and the topic of conversation for the May Mehfil was undoubtedly Manto, May 11, 2012 being his centenary birth anniversary. In the pretty-as-a-picture balcony of Prithvi House the audience sat on the jute-carpeted floor waiting for the stalwarts to initiate or do the aaghaz, but one face among them drew more gazes than anybody else's. Naseeruddin Shah sat on one of the chairs, initially reading a book of Iqbal's poems, and just when I was about to brand him as a gaze-avoiding celebrity, he looked at me; my gaze wavered and heart fluttered. This may be coming directly from a star-struck head but I was amazed at how normal his demeanour was, almost like one of the curious audience members and it was far from pretentious. When half the Mehfil transpired without him being introduced, I discovered that he had chosen to remain a part of the audience and refused to be present as a celebrity guest or one of the speakers.
With that simple resolve of his, the Mehfil refrained from becoming a star-studded event and through the evening Manto remained the only celebrity or rather the celebration. Noted scriptwriter Javed Siddiqui opened the Mehfil with a short biography of Manto as most people know him for his controversial writings but few know him as a person. Manto always despised studies like most geniuses, and as irony would have it, the subject he failed most was Urdu because he would end up writing whatever he pleased as opposed to the questions asked in the examination. Conversation veered towards Partition and the short stories he wrote, five of which were charged with a case of obscenity and controversial content. A member of the audience added an interesting episode of his trial when Manto objected to the allegation by breaking down the book into paragraphs and paragraphs into words questioning if 'clothes' is an obscene word, if 'girl' is an obscene word.
Shama Zaidi, perhaps one of the most eminent script writers in Hindi cinema gave a peek into Manto's crucial years in Bombay and the film industry…memories that stayed with him till the very end. She had worked with him very closely and mentioned a few episodes of vain stars who had become brutal victims of Manto's razor sharp sarcasm. Naseeruddin Shah asked her some important questions on Manto's life as an alcoholic, begging to demystify some myths about his life. For instance, the fact that he was sent to an asylum to treat his alcoholism where he penned the masterpiece Toba Tek Singh. While it is true that he was sent to an asylum, Toba Tek Singh was written immediately after he went to Pakistan, is what Zaidi explained. Shah also asked her if Toba Tek Singh can be considered autobiographical of Manto's life, to which Zaidi replied in the affirmative.

It is difficult to now imagine that so much happened in one evening and my ears still long for those Urdu recitations of Manto's works that were rendered by the experts in their crisp Urdu. While Zohra Sehgal's granddaughter Ayesha Raza read an excerpt from Titwal ka Kutta, actress Sadia Siddiqui read out Manto's piece on his and Ashok Kumar's blooming friendship. The most interesting one according to me was Ismat Chughtai's chapter on her first meeting with Manto that appears in her book, Mere Dushman Mere Dost that was read by Sohail Warsi; another Urdu exponent who came armed with preciously tattered copies of Manto's works and a diary with a few poignant verses written in it.

To know Manto is to be prepared for shocks, surprises and unexpected twists. This was reflected in a strangely funny video clip that was played from a screen adaptation of Manto's popular short story, Kaali Shalwar, starring Sadia Siddiqui and Irrfan Khan. In the scene, both protagonists try to lure each other into bed, both being in the business of prostitution, and eventually both fail. The Mehfil concluded with the beautiful song Yeh na thi hamari kismat from Manto's only successful script – Mirza Ghalib, and while it played in the background, Manto was resurrected again and will be read by some more new visitors to his world.

Time itself has proved that the only relevance an author's work can have in order to influence readers is not that of time but of something beyond that, that which shines out of each of Manto's stories…humanity. It is strange how throughout the article I did not feel a need to mention his full name Saadat Hasan Manto assuming 'Manto' sums up everything about the man. I guess this is also something he foresaw in the following lines,

"We were born together and I suppose we will die together. But it may also come to pass that Saadat Hasan may die and Manto may not. The thought really bothers me because I have always done my best to keep our friendship."

Vidhi Salla is writer, blogger, movie buff and traveller. She  writes movie reviews and also contributes informative travel articles to websites. She gave up a lucrative corporate career to pursue creative writing, that she strongly believes is her calling.