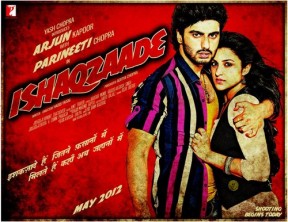 She wears altered waist coats of her politician father, swaps jhumkas for a gun, dances raunchily in front of her grandmother, is Tendulkar to her brothers, swears and rains abuses with passion on foes, drives an open jeep, is not afraid of anything or anyone between the heaven up there and the hell that Almore is and she wants to be an MLA. It is when she mentions the last that her brothers laugh. Her father laughs. And the man she foolishly falls for, also laughs. It is a ceiling she has not seen before. A ceiling that pushes back the surge within her because as a woman and a girl child, her job is to contain her temper, hold her tongue and marry the man her parents choose. The freedoms, big and small that she has are conditional. They depend on what she does with those freedoms. And when she strains against limits, unseen but non-negotiable, she loses it all.
***
Something many women in India's small towns, villages and even cities will recognise. Zoya… played with heart and soul and fire and a great hunger by the instantly unforgettable Parineeti Chopra (You don't notice her nose, you notice her..sorry, could not resist that) exists in bits and pieces in every woman who wants to soar despite the chains that hold her back. Chains of honour, religion, gender, role playing. No matter what ideas of self-hood a woman grows with, at some point, she hears it crash against that ceiling. What she does with the pieces is what makes a story interesting.
***
Habib Faisal's Ishaqzaade could have been such an interesting story if it had focussed right from the beginning on what it becomes in the end. A study of snuffed out lives hounded out of their dreams into dank, dark spaces with no way out. It begins however as a sketch of a violently divided Almore  where two political clans also fatally divided by religion are constantly sniping at each other. Bullets and abuses are hurled freely, blood is shed and posters of rivals are sprayed with pee. Then it becomes an unlikely love story when in this crude, revolting world, love blooms though not with the sensitivity of   Baz Lurhman's  Romeo and Juliet. Infact, it is not easy to figure why it does bloom at all because Parma (Arjun Kapoor in an assured debut though his body language is of a man heavier than he is) is not easy to love. Why does the spunky Zoya fall in love with a boy who looks like he smells bad, pees on her father's poster, puts a gun against her forehead and almost shoots her? And she sees nothing incongruous in his sudden interest in her considering the sensitive history between her and his family? In making hurried love in a rusting train compartment? What was she thinking? But then does love think at all? Who knows the answer to that one.
***
And then somewhere in the wee end of the second half,  the film becomes all about just how dangerous, falling in Ishq (maybe Vikram Bhatt should have swapped the title of his film with this one) is with the wrong man or woman. Wrong when he is, as he is repeatedly called in the film, a "kaafir," and she a, "Mussali." Gene deep they are. These hatreds for The Other.  And corrupted by unchecked violence and politics, they are not to be played around with, lightly.
***
It is at this point that you start feeling for the kids because before this, they were just stomping their feet, being foolish and messy. It is now when it all begins to make sense to them. And tenderness where there was only something elemental, begins to creep in. They soften. Become gentle with each other. It is then you worry for them. There is a telling scene where his family and hers, now united in their hate for the adventurism and free spirits of these two difficult children, plan to ambush them in an empty college. "Hum history se jaate hai..tum science se jao," someone says. Talking about the departments or wings of history and science on both sides of the building. It could also mean something else. Be it the history between their two communities or the genetic antagonism they have towards each other, the odds are stacked against Parma and Zoya.
***
And you remember wistfully the innocence of a QSQT where hate was something you reserved for yes, The Other, not your own. In the India of honour killings though, that distinction between family and enemy has been smudged with blood. What a great film it would have been if  the story had focussed on this rather than expending most of its running time in chasing the two clans as they chase each other on bikes and in jeeps, their guns naked like the loathing in their eyes.
***
Kapoor has screen presence and confidence and this could not have been an easy role to play for someone who has never faced a camera before. Parineeti, we already know from Ladies Vs Ricky Behl and now we will never forget her and for many reasons. Here is someone who is not  conscious of playing as she plays, who has no vanity but a certain truthfulness, a certain transparent honesty about her as she faces a character before a camera and brings it to life. Whether she is making faces or swearing or crying in murderous rage, she is all there, alive and vibrant and oozing heart-felt emotion from every pore. She is committed to not looking a certain way but to the idea of being. Of becoming a character we instantly believe in. How refreshing to see a face that smiles without being aware of which one of her profiles looks better.
***
Habib Faisal gave us such an unhurried slice of life with Do Dooni Chaar. Here, the narrative hurtles towards the climax without a breather as if in a panting hurry to get it all over with. Amit Trivedi's music sizzles in the title track and the beautifully shot Pareshan but fizzles out of memory soon after.
***
The movie lingers if only to remind you of how much more it could have been. But worry not. There is Aamir Khan and Satyamev Jayate to tell a similar story (maybe) sometime in the future and maybe then, we will all cry collectively and remember all the hounded lovers of  this hate drunk nation.