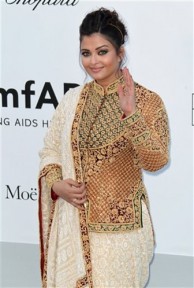 Pic courtesy: L'Oreal Paris
Now, will they stop? After she showed up at Cannes today, looking like a woman who can still turn heads without conforming to the yardstick of global superstardom, will they stop? But she can't win. Not Aishwarya Rai. When she was thin and beautiful, she was plastic and way too perfect for our liking. Now that she isn't, we have videos and gossip columns laughing at her to the sound of trumpeting elephants. What is this complex relationship between her and us? I have written about it for years, trying to understand the rage and loathing and hysteria she evokes when faceless Internet stalkers call her vicious names on sites, drag her virtually over coals for daring to dump a certain hero, insinuate the worst kind of things about her marital life and yet can't seem to move beyond her. She is on hoardings, on the back of buses and autorickshaws, websites and such is the curiosity about her baby that people have been morphing pictures of Ash and strange babies and floating them around.
***
Her weight had become a matter of national concern. Columnists wondered, how she would face the international press at Cannes with her double chin and baby pounds? Was she going to wear a saree? A gown? A curtain? Should she not disappear till she gets back into shape? For years, her detractors laughed at the claim that she was India's most famous export and now they were worried about the picture she would cut amongst svelte beauties sheathed in gowns that reveal more than they hide. Because she owes it to us to be Aishwarya Rai. Icy, distant, unattainable, impossibly perfect so that she can be hated. Not fat and motherly. Anyone can get to be that.
***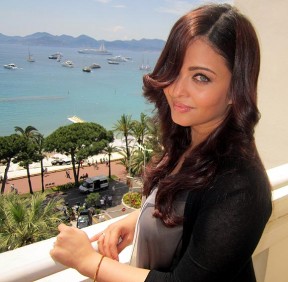 Within hours of her Cannes appearance, her  pictures made it to the Internet and though the comments by and large were positive, the stalkers were back with comments like, "Oh, she looks like an aunty now. Why could she have not stayed at home and looked after her baby?" The same kinds of comments were floated when she got married. Why was she out there still making movies, flaunting her cleavage in those gowns before her in-laws, looking so thrilled about life before the cameras? Why wasn't she at home? When was she going to get pregnant?
***
Slowly, the pattern of this noise that follows her everywhere is making sense. Yes, there is a pattern. What a very large section of people in India, hate to see in a woman, is her disregard for opinion. Especially negative. We like our women to listen. Conform. We like them cut down to a size that can fit into our idea of womanhood. A woman must never be too beautiful, too successful, too self-sufficient, too famous or she will become, too detached from our perceptions and impervious to our ability to reach out and hurt her with words, with opinions and judgements. Just as perception management has turned some male stars into golden hearted humans and truth spouting messiahs despite hit and run accidents, poaching Interludes and less than ethical behaviour, Ash has only her choices and her life to speak for her.
***
Even though, it is the norm to run down her acting abilities, she has acted with the best film makers. Though she was once isolated deliberately in the industry, even without giving aggressive statements or posturing or giving in to cliques, she survived and today has nothing to prove to anyone either personally or professionally. The most reassuring aspect of the circus of negativity that follows her everywhere is that she seems untouched by it and maybe that is the best answer you can give to a detractor, By being immune to their caustic jibes and living your life  as if you can't hear a thing. Or even if you do, you don't give a damn.
***
Not many women can afford to do that in this country. That even someone of Aishwarya Rai's status has had to face so much battering over  her beauty, her talent, her weight, her relationships indicates how much worse things must be for women without her clout. And it also just goes to show that at the end of a day, whether a woman is walking the red carpet at Cannes or coming back from  office or is taking care of her family at home, she is being watched and judged. And possibly learning that what matters is not how they talk, but how you walk.