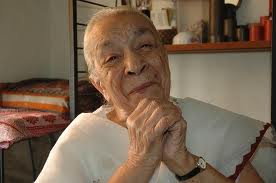 When mind triumphs over matter, you become Zohra Sehgal. How else do you explain that someone born in 1912 is still relevant to us? Still loved, adored and still smiling at life with a wink and a saucy grin after a lifetime of challenges in an age when people far younger and stronger than her give up on their dreams and their lives at the first sign of strife? I met her a few years ago during a  press interaction for a play she was touring Bangalore with and even though she sat next to Shabana Azmi, no one could tear their gaze off her. Her skin gleamed like old alabaster even though marked by deep imprints of time, pain, triumphs, tears,laughter. She was about 95 then and still the most feisty person in the room. And she owned the stage for over two hours..not missing a cue, a line, a heart beat.
***
This kind of a commitment to life and to craft is not accidental. It is the result of discipline and an iron- clad will and a determination to turn every set- back into a milestone. Imagine losing the vision in an eye at the age of one. Losing your mother as a child. Being brought up in purdah but daring to choose education and dance over marriage and convention.Travelling the world with Uday Shankar. Marrying a Hindu who was also eight years younger than her. Becoming a theatre actor in 1945! And not giving her passion up through marriage, motherhood, widowhood, old age.Today, she has reached a  point where decades have marched by, adding more and more dimensions to her life instead of taking them away. On the way to where she is today, she has dealt with the tragic suicide of her husband and cancer.
***
And when you see her on screen, big or small, or on stage, you see nothing else except a woman who fills up  every space that she inhabits. Who has a deep, nourishing kindness, real empathy, the knowledge of pain and how much it can hurt but also an understanding of what it takes to get past it and live fully, completely in the present moment as if just that one moment was an end in itself and nothing that happened before or will unfold after, matters.
***
And that is the only way to live. Because if we stay trapped in our tragedies, our own stories, we do not walk to what can be but stagnate in little pools of misery. We repeat our losses, our tragedies, the wrongs done to us by others, by fate, by circumstances and we waste the energy we could have used to build something new, in  destroying our own resources and our courage. Because in the end, those who triumph in life do so because they believe in their own capacity to get through whatever it is that life throws at them. Zohra Sehgal is an agnostic spirit but she does believe in what she calls is the "inner fire that pushed me through life."
***
Her stamina for challenges has been likened to an ocean and she has constantly celebrated every wave, every tide, every ebb and flow of life. Watching her all those years ago, I was struck by her energy. It  flowed out of every pore, every crease on her face, every wrinkle, her dancing eyes. She is such an imp, so full of mischief, so full of love and laughter that a moment spent in her presence is like standing under a cleansing waterfall. I understood two things that day. That we limit ourselves with our own permission. And that what is visible and obvious need not be our definitive truth. What we look like, what we have or do not have matters less than what we believe in. If we believe in our own strength, we will walk through fire and if we don't, we will fall at the first hurdle.
***
Sahibzadi Zohra Begum Mumtaz-ullah Khan Sehgal is a living example of zest in action. Like a dervish, she has danced to an inner song and will dance on as long as the music plays on. And there will be that signature wink. Just to underscore that nothing needs to be taken seriously afterall. Except joy.  Here is to 100 more years of a remarkable life.