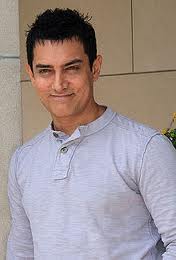 Watching Aamir Khan go down with a makeshift stage where he was standing to convey his intimacy with people unlike him was faintly ironical. More about that later but is it  incidental that everytime he has a film or as in this case,  a TV show, his persona undergoes a transformation? During the promotions of Rang De Basanti, he was seen throwing his weight behind the Narmada activists, during Taare Zamin Par,  he spoke passionately about sensitivity towards the psyche of childhood even though it was Amole Gupte who had spent eight years or more developing the script and then was not seen or heard during the promotions.
***
During Dhobi Ghaat, we saw the reclusive star project his  love story with wife Kiran Rao in magazines and television interviews because it is never just a product, a film or a concept, that Aamir Khan sells. He also sells the idea of Aamir Khan. Of the conscientious, perfectionist, unusual, down-to-earth, thinking actor who has more than just stardom on his mind. Clever. So while crudely vociferous superstars promote their films, fight in public to protect their bruised ego, spend their energy in maintaining and isolating camps, our man here, focusses on just one thing. Aamir Khan. He stays away from minor skirmishes because he never looks at short term gains. He wants not just superstardom. But immortality.
***
He does not just want your love. But your respect. Nothing wrong with that. Except that we never see the real him or the amount of preparation and thought that goes behind every statement and gesture he makes in public. So he was on that ill fated stage to attend the wedding of an auto driver's son. Just before the  launch of a TV show that projects him as the voice of the underprivileged. Never mind that he may have been paid an unheard of amount of money to do the show and to project the stories India needs to hear. But what are the promos about? Aamir Khan.
***
You see him nursing cups of tea, stroking his cat, singing to himself, discussing the need to speak the truth even if it hurts the heart. The promos have been shot in his home. How do we know that? A PR story in a newspaper told us. Just how angry his wife was when  the cameras were allowed in this house. Even though, interviews have been shot in his house earlier. But you do get the point, don't you? He wants you to know just how close he is to the show and the show to him. I have no doubt that the show is going to be a great watch but the fact that it is being sold to us as an extension of Aamir Khan is somehow not sitting well like that stage that took him down with it.
***
Truth has many layers and Khan has always been careful about revealing only what he wants you and me to know. Truth and lies are both important for an unruffled image.  We did not ask but it was he who told us not once just once but many times that he actually fell in love with his second wife after his divorce from the mother of his two children. You can also be sure that no one in the Indian media will ever ask him questions about one Jessica Hines. Not our concern either. It is his creative integrity that should concern us. Too bad that Amole Gupte was someone who chose to let Aamir walk away with his work. Maybe, he had no choice. Even the directors of his production Peepli Live had a few things to say about him but how much play time did they get in the media?
***
We  do not care about how many little people he passes by on his way to greatness. We are too busy admiring the fact that when Mr Khan commits himself to something, he gives it all of himself. He can gain weight, lose it, acquire the body, the eyebrows and mannerisms of a peasant, a student, a soldier, a revenge seeking, grief crazed monster with eight packs. We are too busy praising him for the fact that he does not compete with his peers. And that he always stands out no matter what he does. Ads, films or a TV show.
***
Satyamev Jayate will be a big hit. Both for the content that promises to be stirring and for the man who as always will prove one more time that even though a hurriedly made stage may fall once in a while, the man on it, will always come up smiling. With another game plan, strategy and campaign. Truth may not always win but the truth, according to Aamir Khan always does.
Reema Moudgil is the author of Perfect Eight (http://www.flipkart.com/perfect-eight-9380032870/p/itmdf87fpkhszfkb?pid=9789380032870&_l=A0vO9n9FWsBsMJKAKw47rw–&_r=dyRavyz2qKxOF7Yuc