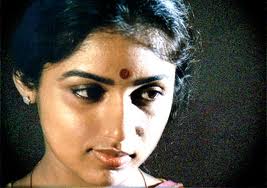 This is one of the most memorable interviews I did..and primarily because the actor in question was just herself and unaffected to the core. Though dated, the piece showcases a remarkable woman and a gifted performer.
You know, you are in the presence of a real actor when she walks into a room and suddenly the room looks too small because her presence is too big for it. Revathi's first tentative brush with theatre was one such moment. During the Ranga Shankara Theatre Festival a few years ago, she enacted or rather lived out a monologue based on a Chetan Datar story in a small, intimate room, kicking off the Other Voices initiative which sought to take theatre into a real life setting away from the more formal space of a large stage.
****
The moment she locked eyes with the audience, one felt a sense of anticipation that something special was about to unfold. And it did. Revathi narrated the story of a woman who is taking time off from life to stay at home, watch the heavens part and the  rain fall in sheets outside her window, enjoy a cup of tea, listen to her favourite ragas and reminisce about her sons. Especially the youngest one, who is her favourite.  And then a call comes which  shatters her neatly organized life and her equanimity.
****
Someone uses horribly vulgar language to accuse one of her sons of being gay. After the initial shock, she begins to hunt for the truth behind the allegation and finds it. Her favourite son has for years lived an alternate life. The realization is like a physical blow. There is pain and anger and revulsion but when the son himself takes her through the mind of a human-being who has always been discriminated against because he is different, her love for him becomes stronger than the notions of  morality. Even without the conventional paraphernalia of cinema that she has performed with for over 20 years, Revathi was still in command of her craft and conflicting emotions came alive effortlessly on a face we have never forgotten.
****
There is a certain normalcy about her that one rarely finds in actors. She is obviously in tune with life and has no time or inclination to get trapped in her own persona. She still thinks nothing of commuting in an auto and while giving an interview near a rehearsal room, hushes her voice because she does not want to disturb the other actors. For someone who has worn pancake like a second skin, she is remarkably unselfconscious about her appearance and gamely poses for pictures when a magazine photographer places her between bright lights and aims a camera at her face. Later she took time out of rehearsals to talk about her first brush with acting and the world of make-believe.
****
At the behest of director Bharati Raja, Revathi dipped her toes in the magic of cinema as a 17-year old.  But it was an encounter destined to blossom into  lasting love and thereafter Revathi applied herself to her craft like a diligent student.  Sitting comfortably on a flight of stairs, she attributed her first tactile encounter with theatre to Arundhati Nag's belief in her.  "I never believed I could memorise lines!'' she smiles but she did it anyway, even though the lights went off for a few seconds during her performance and almost wrecked the flow of the moment.
****
Acting for her was always about being rather than posturing. She  recalls how inexperienced she was in the ceremonies of vanity when she joined films. As a debutante, she did not even know how to wear a kajal or a lipstick and it was Bharati Raja who taught her to walk gracefully in a saree!  Not surprisingly then that once she was sated with  her acting career, creative unrest led her to film direction. She says, "The all woman crew in my first film, Mitr-My Friend created a lot of buzz but it was not intentional. ''
****
One recalls her sporadic appearances in Hindi films and she picks Dhoop in which she starred with Om Puri as one of her favourite roles in recent times. She has a lot to say about what she thinks was wrong with Nishabd but she won't dismiss Ram Gopal Varma's talent. "I admire him as a technician and I have known him from before he came into films,'' she smiles.
As for the future, Revathy confides that she is never satisfied with what is and is always striving to push herself towards new worlds. That explains why a girl who chanced into a film career is today  a national award winning actor and director. Someone who  lives and learns and never looks back because there is so much to look forward to.
Reema Moudgil is the author of Perfect Eight (http://www.flipkart.com/perfect-eight-9380032870/p/itmdf87fpkhszfkb?pid=9789380032870&_l=A0vO9n9FWsBsMJKAKw47rw–&_r=dyRavyz2qKxOF7YucnhfXw–&ref=4fe1efd1-de20-4a30-8eb8-ef81a99cb01f