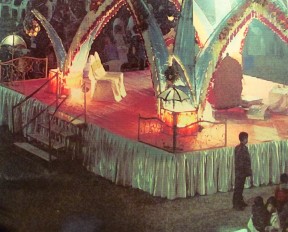 The big, fat Indian wedding, with its larger than life sets and high-decibel music, has been the muse for many Hindi films, the latest being the blockbuster Band Baaja Baarat which made overnight stars of Ranveer Singh and Anushka Sharma. In the hands of Baroda-based artist Vasudha Thozur, the same celebration finds a new twist. In a solo show titled The Anatomy of Celebration or The Party Plot, an exhibition of digital prints and videos that will be on at Latitude 28, Thozur turns the very idea of celebration into a critique of all that is commercial and crass.
"I have been living right next to a 'Party Plot' or a public space that hosts weddings parties in Baroda," says Thozur, "and have been a constant witness to the elaborate preparations that are so characteristic of our present day celebrations. The venue is invariably buzzing with the construction of temporary sets, glittering with massive arc lights and fireworks and resounding with music at potentially hazardous decibel levels. There are nearly 15 marriage halls in the lane that I live in." Over a period of few years, Thozur shot images of these festivities from her terrace, not wanting to personally visit the ceremonies, but has chosen not to show photographs as documentation but artfully create a mildly, hazy and distorted view of what she has observed from afar.
"Seeing is not a perfect art. There is always something that lies beneath," says Thozur. The questions that emerge then from Thozur's show are – Is this 'celebration'? Do the participants even know what they are celebrating? What is it that they experience while celebrating, and how does it enhance their lives, if at all?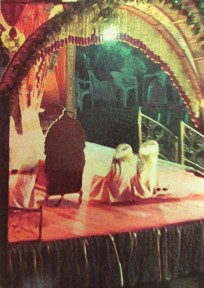 Thozur is speaking of celebration within a certain cultural and political context where cheap rations and cheap entertainment are historically known forms of state bribery, to obscure a crumbling or corrupt administrative system.  "I think it raises questions in the viewer's mind, which is the intent – that we investigate it together, and perhaps arrive at different answers. When celebration becomes a packaged commodity that one buys, one needs to at least understand what is happening. It creates an artificial divide between everyday life and enjoyment – work becomes drudgery and enjoyment a sort of hysterical release, and both are robbed of their power, our lives are given over to those who wish to organize it for us. No doubt there  are moments of true collective celebration, which sometimes need organizing, but when the structure takes over the impulse, it degenerate into rituals which are sometimes self-destructive – the decibel levels that I am talking about are definitely so."
Through this body of work, Thozur is making a comment on the economics of our society too. Marriages represent a lucrative enterprise, the temporary 'sets' that are erected are more and more elaborate and spectacular as the years pass, and create yet another architectural genre. The music is noisy and does not really touch anyone. "I have been brought up on Indian classical music," says Thozur who was born in Chennai, "and the music I hear at these wedding lose all their meaning because several such events happen or rather collide simultaneously in the same locality, giving rise to a new genre of music, one best described as phantasmagorical," she says. Thozur is quick to point out, though, that she is not taking a high moral ground, instead creating a connect between the real and the fantastical, the artist and the viewer.
All this is set against the background of an otherwise troubled political climate, and the stringent moral policing that has become a part of the nightlife of Baroda and Ahmedabad, make it even more inexplicable. Thozur has shot some very shaky video footage too from her terrace and during a walk along the highway at night. "The digital media is an unavoidable part of our lives, and therefore incidental as opposed to an artistic choice, at least in this case. I wondered what I could do with the footage. The content seemed more like weird wonderlands in haphazard sequence, with no obvious narrative; the handling of the camera was hopelessly inept. There emerged, however, from this set of dysfunctional relationships, the undeniable fascination of glowing nocturnal dreamscapes shot through with dazzling displays of lighting and fireworks," she says.
Thozur's show is a visual experience – with a darker edge.
The Anatomy of Celebration or The Party Plot by Vasudha Thozur will be on at Latitude 28, F-208, Lado Sarai, New Delhi till May 10, 11 .m. to 7 p.m.
Poonam Goel is a freelance journalist and has covered the arts for over 15 years. She contributes on visual arts for various newspapers, magazines and online media. More about her on Story Wallahs. Write to her @ poonamgoel2410@gmail.com