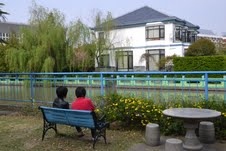 A new country. New faces. New culture. And endless stretch of empty time that was a wishful thought until a few months back is now a reality. Often I tried to find a sense of belonging in all these. Compared to my quest for a more purposeful life and years of  running around like a headless chicken, there is now an inexplicable feeling of nothingness.
Like today, soaking in the luxury of the all the time in the world, I sat by the lake, watching the weeping willows as they swayed ever so slightly in the crisp breeze. I almost clapped in excitement when I saw the ducklings finally jumping into the water after many failed attempts. I marvel in the beauty of the cherry blossoms and the roses that have painted the avenues pink, red and white. It has become my favourite pass time to see the old couple who comes everyday to fish, only to return home empty-handed most of the times. I suspect, it is more about their way of spending time with each other than fishing. And, then there was this sudden moment of realization. When was the last time I actually sat amidst the beauty of nature to admire it, without the urgency of the clock ticking away? When was the last time that I so carefully listened to the chirping of the birds without my mind darting in thousand directions? Probably when I was a student and was at home for a long vacation. I am not even sure about it.
Today, in this one perfect moment, I somehow felt at home. Memories came rushing back when as a child my joy knew no bounds at the sight of the first blooms after the winter spell. Running endlessly after the flitting butterflies in a vain attempt to catch time was one of my favourite games. As the gentle hint of rain in the breeze touched my cheeks, I thanked my stars for this day of endless time to pay gratitude to everything around me – a thing that I have forgotten to do long time back. There was a sense of belonging that was so familiar, so real. I belonged to this moment. And it belonged to me.
Namrata Gogoi is a media professional currently based in Shanghai, who is now exploring the role of a homemaker. She daydreams of travelling around the world almost everyday, and hopes to pen a book about her adventures in
the future.