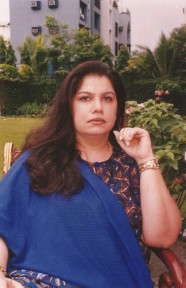 I did not know much about Mona Kapoor. One was infact  not supposed to know anything about her. She was not married to a star. She was not a star either. She was one of the many quiet, self-effacing girls who married once into film families and were never seen or heard again. Even an entire generation of star wives was kept away from the press. But then the unthinkable happened. Mona Kapoor's life  caught fire and started to burn right in the media and public gaze. Her husband of 12 years and the father of her two children fell in love with one of the top actresses of that time. Why was this story so unusual and so controversial? Because the said actress was someone Mona Kapoor had extended personal hospitality to and welcomed in her home to stay at the time of a crisis.
***
The press could not stop writing about the story. And like singer Shania Twain once said about her own life, "It is not the end of my marriage that shocked me but the nature in which it ended." How did Mona cope when one day she woke up to find that trust had been abused, a marriage sacrificed for another woman..someone who was in the gaze of the world, younger, more desirable? How does a woman recover from this level of violation? What does it do to her self-image? Does she ever trust anyone again? What does she tell her kids? Her friends? Or in this case, the media?
***
I always wonder how people involved in deceit and painful betrayals justify their actions to themselves. What are the excuses offered? Love? Vulnerability? Fate? Yes, marriages fall apart. People fall out of love with people they are supposed to be with for a lifetime. And fall in love with someone else. Who are we to judge but love is never the issue. Personal conduct is. Grace is. A little empathy for those you have left behind is. When we for instance, watch media bytes about a 40- something star and his 30- something girlfriend, do we wonder about his kids from his first marriage and the woman who was once married to him but is neither seen nor heard today? Grace is something that Mona Kapoor had in abundance. While her husband went on to have two children, spoke often to the media in glowing terms about his beautiful new wife, Mona Kapoor maintained her relationship with her in-laws, raised her kids away from the spotlight for most parts, never married again and never spoke ill of those who had metaphorically thrown her under the bus to get to a new sunset. She set up a studio and became a successful business woman. And was well-liked and deeply respected.
***
And just when her son was about to make his debut in a film, she passed away within weeks of a cancer alarm. Mona Kapoor represented all women who are considered dispensable but then rise from the ashes to create their own empires of goodwill that no amount of beauty, youth and success can give anyone. You can't buy respect and Mona Kapoor had earned it. It is unfair that so much was taken away from her. It is unfair that she never found lasting love again. That she did not live long  enough to enjoy her son's first brush with fame. Maybe, like someone said, she has closed her eyes to open them in a better world. Amen to that. Mona Kapoor, rest in peace. And in joy.