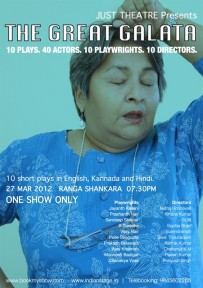 Note: This is a Press Release, not an authored article.
Bangalore Theatre comes together to celebrate World Theatre Day with THE GREAT GALATA
Date:  27th March 2012. ONE SHOW ONLY.
The Great Galata is a curated theatre event to celebrate theatre, theatre people, theatre spaces and theatre performances. It has been envisioned as a start-to- finish Theatre Project that will begin at 4 PM on 24th march and end at 9:45 PM on 27th March. The Great Galata, besides making a big noise will also create(start to finish) 10  new plays  for this project.
Playwrights will write new plays with a common idea in 24 hours.
Directors will put together a play from the written plays in 24 hours.
Actors will perform in the next 24.
Plays, actors, rehearsal spaces and order of performance will be allotted to directors by drawing lots.
The main challenge is that the teams will be drawn through lots.  No one knows who their team mates are till the lots are drawn.
Why: To celebrate World Theatre Day.  The Great Galata aims to bring together as many theatre people as possible.  This is possibly the first time we have Kannada, Hindi and English plays being written, directed, rehearsed and performed at the same time and place.  The idea is to be together and enjoy the process of creation together. And to see whether- besides making a  noise and having fun-it is possible to put up a professional play starting from scratch in 72 hours with professional playwrights, directors and actors.
What it is NOT: The Great Galata is NOT a competition nor is it an amateur contest.  All the participants of the festival are professionals of the highest calibre. They are celebrated writers, directors and actors with years of experience coming together to celebrate theatre and togetherness.  The one day festival aims to bring theatre people together not pit them against each other.  The Great Galata marks the coming together of as many theatre people as possible on stage. In the coming years, we hope to increase the scope of the festival to include many more practitioners of theatre.  We also aim to take replicate the festival in Chennai  in 2013.
Who: The Great Galata brings together some of the biggest names in Bangalore Theatre. We also have a representative from Chennai, from a group that performs extensively in Bangalore, besides a director and dramaturge from Germany with a very strong Bangalore connect as participants in the festival.
Playwrights:
Kannada: Jayanth Kaikini, Prakash Belawadi, B Suresha and Mounesh Badigar
English: Poile Sengupta, Vijay Nair, Ajay Krishnan and Prashanth Nair
Hindi: Sandeep Shikhar and Chanakya Vyas
Directors:
English: Kirtana Kumar, Karthik Kumar, Sophia Stepf and Pawan Kumar
Kannada: Surendranath,  SuVi, Natraj Honnavalli and  K M Chaitanya
Hindi: Pratyush Singh and Swar Thounaojam
Actors:
English:Arundhati Raja, Jagdish Raja, Rajshree Dutt, Sukhita Aiyer, Deepti Sudhindra, Anil Abraham, Sharanya Ramprakasha, Munira Sen, Sanjay Iyer, Rajeev Ravindranath, Ajith Hande, Ranji David, M D Pallavi, Anuja Ghosalkar, Anita Mithra and Jimmy Xavier
Kannada: Arundhati Nag, Sunetra, Lakshmi Bhagawatar, Bhavani, Rajshree, Shriya Pandit, Deepa Ravishankar, , Archana Shyam, Vinay, Baratha, Krishna, Harish Sowmyaji, Suman Jadugar, Keerthi Bhanu, Pandit, Sachin Gurjale
Hindi: Ashwini, Abhishek, Nandini Rao, Swetanshu Bora, Munish Sharma, Mamta, Arathi and Anshul Pathak.
The Great Galata is a not for profit venture and will begin at 4 PM on the 24th March evening at Ranga Shankara Café.  25th evening is the draw of lots where the playwrights, directors and actors will be present. Shri Girish Karnad will draw the lots.  26th March is full day rehearsals and 27th is show day.
Be there!