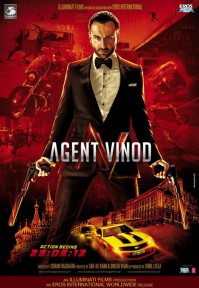 "Aajkal kisi ko wo toktaa nahin,
chaahe kuchh bhi kijiye roktaa nahin
ho rahi hai loot maar phat rahe hain bam
aasmaan pe hai Khudaa aur zameen pe ham
aajkal wo is taraf dekhtaa hai kam"
(God no longer chides anyone
No matter what we do..He just watches on..
all the  mayhem..all the bomb  blasts..
God is up there and we are down here
And these days..He looks down rarely..if at all)
****
Mukesh sings Sahir Ludhianvi's immortal lines from Phir Subah Hogi against the bustling backdrop of Delhi where a bomb may just go off within minutes..and for some of us, this moment alone is worth the price of a ticket in Agent Vinod . As is the RD Burman song, "O Meri Jaan," from The Train, another one of the many suspense thrillers Sriram Raghavan may have cut his cinematic teeth on while growing up. Remember Raghavan's last film  Johnny Gaddar where a murder was based on Amitabh Bachchan's 70′s misadventure Parwana? Agent Vinod refines the Gunmaster G-9 genre of Ravikant Nagaich's Suraksha (1979), that was a forerunner of the terror plot movies in India. He also pays a tongue-in-cheek tribute to Deepak Bahri's Agent Vinod (1977) where the cocky Mahendra Sandhu strutted a short-lived stardom. Sure,there are allusions to Bond, to a multitude of espionage genres in Hollywood but what makes the film work is its sensibility. Its humour is Indian. And the actors who play both their characters and also the stock reference points they are drawn from.
****
Kareena Kapoor's Iram  is a lot like Waheeda Rehman in Raj Khosla's CID or Hema Malini in Johny Mera Naam, (1970) though without the latter's wide-eyed innocence. There is the loyal friend who must be avenged. The bad guys in over-the-top get ups scattered across the globe. And a bad girl straight out of a Bond film. All caricaturish and hurtling in and out of well-lit, crisply edited frames. And the typical Raghavan touches. An old man in Morocco, singing Dost Dost Na Raha just before an assassination attempt. And the quirky one liners. This is as far as the spy thriller in India can go without looking foolish and stretching credibility.
****
Raghavan and Saif Ali Khan have worked before and very well in Ek Haseena Thi and infact Raghavan along with Vishal Bharadwaj (Omkara) and  Homi Adajania (Being Cyrus) reinvented Saif as a grey, edgy actor capable of cold, heart-stopping menace. Raghavan obviously 'gets' Saif. His brand of humour. His ability to switch from good cheer to ruthlessness in an instant. He plays Agent Vinod without any of the self-congratulatory mannerisms that Shahrukh Khan brought to the recent Don 2. Why the comparison? Because the heroes in both Don 2 and Agent Vinod play titular characters. Both films also play mind games with audience across exotic geography and both are tributes to the 70s when actors were more important than scripts. While the problem with Don 2 was the hero's preoccupation with himself, in Agent Vinod, Saif thankfully does not chew up the scenery intentionally. He stays restrained and convincingly cool except in that scene reminiscent of Anubhav Sinha's Dus where a bomb and a plane and a suicidal hero must reach some kind of a closure.
****
This is a well-travelled film and so we are taken from the menacing innards of what passes of as Afghanistan to the stunning Moscow to the busy market squares of Morocco to Somalia to Karachi and counting. Each place has set pieces that sometimes the mind cannot fully catch up with but the ride is nevertheless entertaining and invigorating. Those looking for "intelligence" in a movie like this obviously have trouble fathoming that the movie when measured against espionage capers in Hindi cinema is miles ahead of any thing that has been made before. It is not competing with Hollywood though the production values are no less. And it makes us wistfully wish that  our intelligence agencies were as quick on the uptake as they seem in the film.
Adil Hussain as Colonel stands out, as does Ravi Kishen. Kareena Kapoor cries beautifully and half-heartedly does the techno mujra and comes across as an actor who has seen the peaks of her career and knows even if she puts less than a 100 percent, she will get by. And she does.
****
The disappointing bits are the patchy  music by the tirelessly filching Preetam and the climax that should have been atleast 15 minutes shorter but
C.K. Muraleedharan's cinematography and Puja Surti's editing in the rest of the film make up for a lot. The film is like breathless train zipping past a feast of images across continents. Even if that is not your thing, this is a film worth going to just for the Sahir interlude. And for Sriram Raghavan who like Imtiaz Ali and Farhan Akhtar does not scoff at Bollywood's history but celebrates it and polishes it for a generation that has never heard of Inspector Eagle on radio or has no idea who Mahendra Sandhu was or that Mithun Chakraborty was once Gunmaster-G 9.