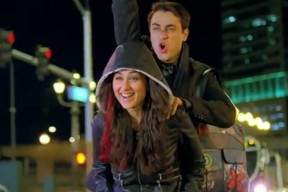 So faint strains of Along Came Polly and possibly Forces Of Nature and the memory of Salman Khan's "Shit, I love her" from Hum Aapke Hain Kaun and SRK's jubilant cry of Koi Mil Gaya (A Karan Johar film without a Kuch Kuch Hota Hai reference? Unlikely!) and a lot of slickly packaged moments turn Ek Main Aur Ekk Tu into a tolerable, occasionally inspired but mostly tepid film that has everything except a passionately beating heart.
So elements that work are a smashing leading lady with red highlights, a rather affable and earnest leading man, gentle, unobtrusive music by Amit Trivedi, evocative lyrics by Amitabh Bhattacharya, all the things you can do at Las Vegas when you are not at the casinos and an apartment with great art that looks right at the Hilton Hotel and a busy, charmingly shabby Catholic household in Mumbai. This household has some of the best and the only real moments of the film. There is a lovely, old granny who chides young people for changing in front of the telly from where Amitabh Bachchan can disapprovingly watch their state of undress and a dad who can ask his child questions about her sex life. Also laughter, empathy and overflowing love. Even the resident pet sniffs at the listless heroine in sympathy, as if assuring her that all will be well. It is also refreshing to see Ms Kapoor in household slippers and pyjamas, trying to look not too glamorous as she chats up the boy who has fallen in love with her. She is also effortlessly beautiful and that always helps.
Debutant director Shakun Batra's first film is stylish, well-intentioned, has moments that are crafted to delicately nuance the growing bond between strangers in the night who given the right triggers, can potentially fall in love. But it makes you feel..well, nothing. The strangers repeat the mood template of Jab We Met where an uptight failure meets a bubbling brook and begins to sing and dance and discover hidden resources of resilience and self-worth. Only this is not Ratlam and instead of chatting about lost love in a dirty hotel, they discuss his life in a Vegas spa over massages. They get drunk, mow down cars playfully, exchange life-changing butt jokes and dating tips that backfire in a bathroom (poor, poor Soniya Mehra). And like the protagonists of the recent Anjana Anjani, he is jobless and she is recovering from a heart-ache.
The biggest let down is the apologetic existential angst the film is constructed around. Unlike Dil Chahta Hai or even Zindagi Na Milegi Dobara where parental influence (subtly and convincingly pervasive) was something that a boy had to shake off before finding his own truth and becoming a man, here the parents, played well enough by Ratna Pathak Shah (Obviously asked to reference the Sarabhai Vs Sarabhai character) and Boman Irani, are excessively starched, almost cartoonish. They are overstylised overtures to parents in Hindi cinema who are too busy or too rich to care for the inner lives of their kids.
These parents speak to Rahul (Imran Khan) from a haze of mannerisms and over a duty chart about the correct hair style, the correct bow tie, marriage and career prospects, the number of times food should be chewed and so on. The jetsetting couple browbeating their son over his average achievements just don't ring true.
Remember the imperious Pran and the stylishly detached Sonia Sahni in Raj Kapoor's Bobby? The rebellion of their repressed son when it came had resonated with an entire generation in the 70s but here it is just an outburst about chop sticks and other assorted things over a stylish dinner with a group of actors trying to look and sound prosperous and superficial while a cougar trying to reach out for our hero's leg under the table, is jabbed with a fork.  The coming of age when it comes, is symbolically celebrated by letting a neck tie fly away with the wind. Profound.  
There is something about the film that does not connect deeply with the audience or engage them emotionally though you grin a few times and enjoy the cleverly shot songs, the rather nice sequence in St Xavier's where Kareena's Riana recalls her first crush, her first kiss and tells Rahul that he is the kind of friend she would like to discuss all her dysfunctional relationships with.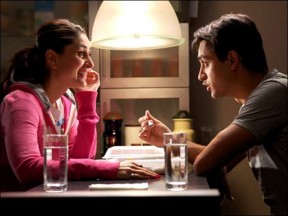 Kareena is a delight to watch. Easy going and comfortable in her skin and confident enough to know that as an actor, she has found her centre. She is also unaffected and natural which is a rare thing for an actor in her prime. Imran wears tight clothes, has obviously worked hard in detailing his body language and the two chug along, pleasantly and with warmth but there are really no sparks. Maybe that is just as well, considering the story ends the way it does. Maybe, the unpredictable end is the best thing about the film. Or maybe, a love story with real love would have been more satisfying. Any film is a subjective experience and so for some of us,  the end will be enough and for others, it will leave behind a nagging sense of incompletion. Or maybe, just a shrug and a little yawn. 
Reema Moudgil is the author of Perfect Eight (http://www.flipkart.com/b/books/perfect-eight-reema-moudgil-book-9380032870?affid=unboxedwri