Note: This is a press release, not an article and the name of the author is only to indicate who uploaded it.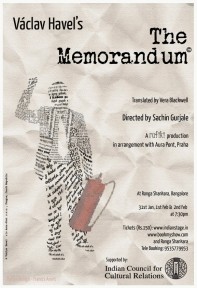 rafiki, the Bangalore based theatre group, is doing a run of The Memorandum, as a tribute to playwright Václav Havel. The three shows will play at Ranga Shankara on January 31st, February 1st and 2nd at 7:30 pm. The play opened to enthusiastic audiences last year in July. The play is directed by Sachin Gurjale and features Niren Saldanha, Kanchan Bhattacharyya, Pritham Kumar, Lekha Naidu, Ashish D'Abreo, Anshul Pathak, Vinod Ravindran, Rebecca Spurgeon and Deepika Arwind.
Please call 95357 79953 or write to warafiki@yahoo.com for details and reservations. Online booking is also available on http://www.indianstage.inand http://www.bookmyshow.com.  
About Václav Havel
  Václav Havel was known the world over for his essays, poems and plays, and later as an outspoken political dissident against Russian communist forces, and most famously as the first president of the Czech Republic. He passed away at his country home in Hrádeček on 18th December 2011 after a prolonged illness. An internationally renowned statesman and champion of human rights, Václav Havel is among the most important East European dissident writers of the Cold War period. His relentless political activism and avant-garde plays established him as a leading voice of protest against the repressive communist government of Czechoslovakia during the 1960′s, 1970′s, and 1980′s. A frequent political prisoner whose writings were banned in his native country, Havel resisted totalitarianism in influential essays, speeches, and popular underground plays.
After being forced to leave school at the age of 15 for political reasons, Havel spent five years as a laboratory assistant before foraying into the world of theatre and literary politics. He wrote clever and politically risky plays in the absurdist tradition that quickly won him an international reputation. The Garden Party (1963) and The Memorandum (1965), two of his early plays which won him acclaim revealed an early obsession with "language" and its power to control and interfere with clear thought. His equally well known Vanek trilogy in the 1970's – Audience, Private View and Protest - has the protagonist, Vanek, as a dissent writer who witnesses the degrading forces of corruption, false ideology, and socioeconomic coercion and is said to be loosely based on the author himself. "The ultimate aim of Havel's plays," as his translator of many plays, Vera Blackwell wrote, "is the improvement of man's lot through the improvement of human institutions."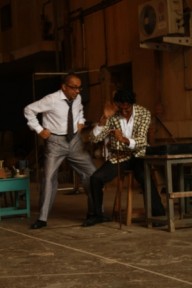 The Memorandum is one of Havel's most famous plays, winning the Obie awards (Off Broadway Theatre Awards, New York) in 1967-68. At the basest level The Memorandum is a farcical play about bureaucracy, and the futility of working in a system where rules are seemingly designed to dampen individuality and the human spirit. Mr. Gross is a man of authority in an office, and one day he finds a memo on his desk that reads like gibberish. On investigation, he realizes that a new synthetic language called "Ptydepe" is being enforced in the organization to improve office communication and productivity! He is against this artificial imposition of course, and he vows to see its end. What ensues is absurd, hilarious and tragic all at the same time. Almost anyone who has worked in an office and asked themselves the question, "What the hell am I doing here?" will relate to the situation played out in The Memorandum. But on other levels it is a vicious satire on the use of language to enforce conformity. Many critics have also observed that it had its roots in Havel's experience of communist oppression in Czechoslovakia.  
The Director
Sachin Gurjale, the director, has been working with rafiki as an actor and theatre facilitator for children since 2004. He has acted in several productions like "Woza Albert!", "The Island", "Sizwe Bansi is Dead", "Woyzeck"and "Ms. Meena". "The Memorandum" is his directorial work .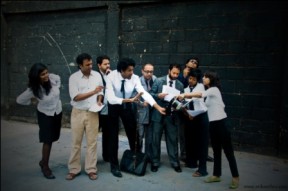 The cast
 The cast consists of a talented set of nine actors. They are – Niren Saldanha, Kanchan Bhattacharyya, Pritham Kumar, Lekha Naidu, Ashish D'Abreo, Anshul Pathak, Vinod Ravindran, Rebecca Spurgeon and Deepika Arwind.
 About rafiki
 rafiki, a Bangalore based theatre organisation, has been working in the field of arts and arts education for the past 15 years. rafiki in Kiswahili, a language spoken by the Swahili tribe in East Africa, simply means 'friend'.  The collective was born in 1996 when three friends decided to create work that was not only entertaining but also thought provoking. In 2003 rafiki was registered as a Public Charitable Trust with a stated mission to celebrate, explore and professionalise theatre for the transformation of self and society. Today rafiki works with a special focus on children and young adults.
Over the years, apart from nurturing long-term relationships with schools, colleges and communities, rafiki has also produced and participated in over 25 theatre productions that have toured across the country. rafiki's consistent focus is using theatre in education, and has worked with more than 30 educational institutions in Bangalore in the last 14 years.   
 Director Sachin Gurjale on why the play is being staged..  
I first read this play about 4-5 years ago and though I didn't 'get' it completely then, I remember it making me distinctly uncomfortable. And there was this gnawing feeling that made me keep going back to it. Since then, I've seen different meanings in it but the decision to stage it was instinctive. The rhythm of the play is I think, what got me. It's like a slow circular beat in the head and though you may resist it, you have no choice but to dance withit.  I've always been terrified of directing but I felt like having a go. The responsibility seemed so great (in contrast to being an actor). The first few weeks was really tough with me close to becoming a nervous wreck. But after the first month, I saw a shape emerging and developed a little more faith in the process, the actors and in myself. To find the balance between allowing a collective creative idea to emerge and being the one who will steer the vision was the challenge and primary learning for me.  And seeing it coming together on stage for the first time was a real thrill!  
Working on this play allowed us to discover just how big a figure Vaclav Havel was. He was a rare sensitive man and an unrelenting voice for the oppressed anywhere in the world.