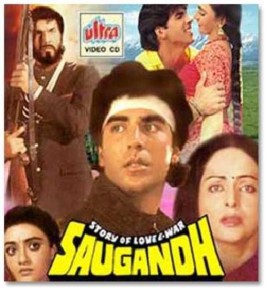 Some believe 80's to be the worst period in the history of Indian cinema. I beg to differ – but only a wee bit. My early film viewing experience is mostly spread across late 80s- early 90s so I could safely say I've had the best (or worst) of both the decades.
The 80s had indeed reached the nadir of the trash that Hindi film industry could possibly offer. But the point I'm trying to make here is that the trend carried on well into the 90s, and continues even today, the multiplex 'revolution' notwithstanding. And it has also never been all that bad always, either. Aamir and Salman Khan debuted as commercial leads in '88 and '89, respectively (though both had been around for some time), and both the films packed quite a bit of punch, nearly as popular today as they were then. Shyam Benegal gave us Kalyug and Aarohanin the early years of the decade. Govind Nihalani came into the scene with a bang, and brought out those wonderful gems like Akrosh, Vijeta and Ardh Satya. Ketan Mehta gave us a fantastic film called Mirch Masala, and a fantastic actor by the name of Aamir Khan (Holi). Basu Chatterjee, as usual, was busy with his smaller but by no means inconsequential work (Shaukeen, Hamari Bahu Alka, Kirayedar, Lakhon ki Baat). And of course,  Hrishida was doing what he did best (Khubsoorat, Jhooti, Bemisaal, Naram Garam, Kissi se Na Kehna). And those were also the heydays for Gulzar-R D Burman collaborations (Namkeen, Masoom, Ijazat, Angoor).
With the onset of the 90s came a new crop of actors/directors. The age of 'action' heroes. Enter Akshay Kumar, Ajay Devgan, and Sunil Shetty. Kumar debuted with Saugandh, and Shetty with Balwaan, both must-see films for the camp film enthusiast. In comparison, Devgan's Phool Aur Kaante was more bearable, and at some level, interesting. These three greats then deluged us with those never before action classics and "violent love stories." Sunil Shetty's Balwaan, (they should have really considered him for The Incredible Hulk and saved on the cost of all that CGI to 'create' the giant) Anth (truly a cult classic, so many of my friends love it!), Takkar, Gaddar, Raghuveer, and of course, Gopi Kishan(two Sunil Shettys!). And our very own desi Bruce Lee Akki Baba was omnipresent with his somersaults and high kicks and 'real' stunts: Saugandh, Mr. Bond (Akki as, need I say who? Are you reading this, Mr Craig?) Kayda Kanoon, Sainik, Ashaant, Jai Kishen(two Akkis: one thief and the other, a blind Lee who avenges the death of their father)  and Paandav.
And how can we forget Mr Devgan? His punches and kicks were by no means any less conspicuous: Jigar (if you have seen Bloodsport and love Van Damme, I beg of you, grab a disc TODAY and see this), Platform, Shaktiman, Gundaraj, Haqeeqat, Vijaypath(Driver's son becomes blind while saving master's kid, kid donates eyes to him before dying, driver's son vows to wear dark glasses all day (and night) till he 'sees' the killer and….revenge!). Imagine the sparks when the three of them came together in various permutations and combinations : Hum Hain Bemisaal, Suhaag, Mohra, Dilwale(sample this:  Rami Reddy throws a sword at Devgan who dodges it, and Shetty kicks it: the sword changes direction, heads straight towards Reddy, and gets lodged firmly in his belly….and who said Hindi films are not original?).
Another shining star of the decade was Sunny Deol, our desi Stallone who 'ripped the world apart' (Ghayal). Sadly, one of his best films marked his downfall. Probably he got tired of the sensitive guy of Sunny, Betaab and Arjun, and decided to spend the rest of his life in ripping the world and digging out hand pumps (Gadar) and screaming at the top of his voice, which incidentally, even won him two  National Awards (Ghayal and Damini).
And then there were The Others: Sumit Saigal (Bahar Aane Tak, Nyay Anyay), Hemant Birje (Ajooba Kudrat Ka, Aaj Ka Samson), Ronit Roy (who gave us gems like Jaan Tere Naam, Bomb Blast, 15th August – finally turning over a new leaf with Udaan), and The Great Avinash Wadhwan (Ayee Milan Ki Raat, Balmaa, Geet, Meera ka Mohan). Govinda, on the other hand, was at the pinnacle of his career with Bhabhi, Aankhen, Saajan Chale Sasural, Raja Babu, Dulara, Khuddar, Ekka Raja Rani, Coolie No. 1, Hero No. 1, Aunty No.1, Anari No. 1, …pant,pant,pant!
So, what's worse, eh, Mawaali with "Jhopdi me charpai" or Raja Babu with "Sarkailo Khatiya?" Jokes apart, the banal and the idiotic has always been and will always be an integral part of Hindi film viewing experience. As far as the theaters are concerned, the penetration of multiplexes in small towns or even in the metros is to a large extent overestimated – a large part of the audience still watches films in the same torn and tattered formats.
Amborish Roychoudhury is a film enthusiast and a film buff  who lives within this outer shell of a finance  professional. He is  extremely passionate about films, comics, old Hindi film music, detective fiction, technology and the like – He worships many deities but works for the devil! Another Blog that  he write occasionally is http://amborish.posterous.com/ or just go to amborish.com