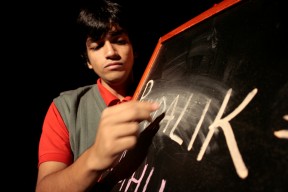 Note: This is a press release and not an article and the author's name is to only indicate who has uploaded it.
Play: Five Grains of Sugar
Written by Manav Kaul
Directed by Nimi Ravindran
Translated by : Arshia Sattar.
Lighting Design: Sujay Saple
Sound: Bharavi.
Original Music:  Sandeep Vasishta
Date: 7th and 8th February 2012 at Ranga Shankara at 7:30 PM
9th: at 7:00 PM at The School of Ancient Wisdom
10th: 7:30 PM at Lekhana, Bangalore's first lit fest at NGMA

Synopsis:  Five Grains of Sugar is an award winning play written by Manav Kaul. It tells the tale of Rajkumar, an 'ordinary man' from an 'ordinary town' living an 'ordinary life'. With a mother who loves  bloody and gory films, an uncle who is a failed poet,  an old Gandhian friend who constantly recreates his single meeting with the Mahatma, a class mate who is a style guru and  an invisible long distance friend  being the only  characters that pepper his life. He goes through his everyday life with idyllic charm and is surrounded by characters who are as irrepressible.  Rajkumar's is a universal journey filled with delightful events and speckled with life-changing experiences.  The play looks at the invariable presence of art in the banality that is life, and the choices we make when pushed into a corner.
Playwright: Manav Kaul is one of the most important contemporary voices writing for the stage in Hindi. With plays like Shakkar Ke Paanch Daane, Bali aur Shambu, Peele Scooterwala, Ilhaam, Laal Pencil and Red Sparrow he has been instrumental in reviving interest in Hindi theatre. He has been a writer in residence at Ledig House in the USA and in South Korea most recently.

Translator: Dr. Arshia  Sattar is a well known writer and  translator and has translated Valmiki's Ramayana and Kathasaritasagar  into English (Penguin). Her latest book Lost Loves, is a series of essay's on Rama and the Ramayan.
Director: Nimi Ravindran is a writer and a theatre director who runs her own theatre company-Just Theatre. She has directed seven plays including Shakespeare's Merchant of Venice and Manav Kaul's Five Grains of Sugar. Other Just Theatre productions include Henrik Ibsen's Hedda Gabler, Manav Kaul's Park and Ajay Krishnan's Butter and Mashed Banana. She has worked as a journalist at India Today for eight years writing on art and culture and  conducts arts and theatre appreciation courses  and workshops for both adults and children.