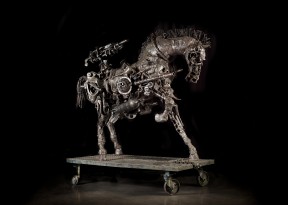 First the 21 minute walk from where the car drops you till you are inside the display area, and then the information pamphlet that holds a list of 98 exhibitors and 13 public art projects spread over 12,000 sq m of area and just one single day to absorb all that the India Art Fair brings to Delhi in its fourth edition is simply not enough. Hectic activity seems to be on everywhere. Gallerists are engaged in hush-hush business parleys, the glamorous are being furiously clicked by media, a crowd has gathered near the entry for a curated walk, but then there are things that are unsaid publicly, and therefore, far more interesting than any of these. And here are some of such nuggets from Day 1 of India Art Fair.
Price Of Being Subodh
A tall bartan-laden installation by Indian art's golden boy Subodh Gupta at the Hauser & Wirth booth is positioned strategically right at the entry of India Art Fair. The UK based gallery, which is also making its debut this time, has a new work by Gupta and one by his equally successful artist-wife Bharti Kher along with that of several European artists like Louise Bourgeois and Martin Creed. Sara Harrison, director of Hauser & Wirth sternly refuses to reveal the price tag of Gupta's installation titled Unique that is attracting both visitors and collectors to the gallery, but I bump into Italian collector Romano Ravasio who cannot seem to take his eyes off this particular work made in fibreglass, stonedust, jute rope and covered with Gupta's trademark utensils. "Gupta is a great artist," Ravasio gushes, "I'm told the price is over 300,000 euros (approx Rs 2 crore). I'm most certainly interested in it." Whether the work will get picked up to become another of Gupta's record sale remains to be seen. But I get the information I am looking for and the fair begins on a good note.
Not Missing Anish Kapoor
Rumours of Anish Kapoor and Damien Hirst, the big daddies from UK, zooming on the India Art Fair have been doing the rounds, but Lisson Gallery, which had shown Kapoor's work during the last fair, is certainly not missing the presence of its star artist. Unlike in its previous outing at the fair, the gallery is not showing his work either. Lisson has chosen to exhibit instead, large conceptual photographs by Marina Abramovic, known as the grandmother of 'performance art'. "I know there were expectations we would bring Anish's work again this time, but we wanted to do something totally different and refreshing. I am surprised to see how many people in India are familiar with Marina's work. It was surely a risk to go with a new name but the risk has paid off," says a delighted Ellie Harrison-Read of Lisson Gallery.  Apart from Abramovic's photographs, that explore the relationship between the performer and audience, the limits of the body and the possibilities of the mind, it is the artist's video tiled The Onion, which is truly a work only a master-performer can achieve. The focus is a tight close up of the artist chewing to pieces an onion, as she talks of her quest for true love.
Toilet Trouble
The Robert Bowman gallery booth looks like a scene straight out of Venetian palace. It is difficult to take one's eye off the life-size marble statues of women depicting the four different seasons by Carlo Nicoli, also the costliest work in the booth at Rs 2 crore. The gallery has also introduced the work of South African sculptor Willie Bester this time, the Trojan Horse sculpture, made from found scrap metal and car parts. Inspired by the Greek myth of soldiers hiding in a seemingly innocent giant horse, Bester has used the work as a symbol of the Athlone massacre where South African Apartheid forces hid in a railway service van to ambush anti apartheid protesters and gunned down the general population. The work may be eye-catching, but the gallerist isn't too pleased with the venue. "Yes it's all very bright and well spaced out, but the approach to the place is so difficult," says the gallery representative, "and the toilets are filthy. All our guests are complaining." Now that's one grouse that needs to be taken care of.
Give Me Some Light
The khaki-wearing constables are standing and staring. No, it's not a scantily dressed fashionista, though there are plenty to be spotted at the venue even in this cold Delhi weather, but Suchitra Galhot's installation that is made up of video boxes fitted with long metal protrusions. "Yeh kya hai Madamji (what is this, ma'm), asks one of the guys. "Yeh art hai bhaiya (this is art)," I explain patiently simplifying as much as I can, "the person in the video is using her 'wrong' hand to do every day work and the work is about how there is nothing like right or wrong." The group moves away but I am not certain if I have shed any light on 'art'. For the better initiated, Gahlot's work Discomfort is a video installation – a series of short films that document people using their "wrong" hand to execute everyday things. The experience then lends to utter discomfort that gets projected almost like extensions of pain in the form of rod-like nerves.
Talk To Me
When a man walks up to you wearing a tee that says Talk to Me! I am a living work of Art by Preeti Chandrakant, you assume he is part of some performance. What you get to know, after a brief, informal conversation with the artist, is that the man himself is a work of art and can be sold and bought. No, don't get me wrong. There's no human trade happening here. What Chandrakant, who calls herself an "immaterialist artist", wishes to do is make you believe that "everyone is a potential work of art". There are six such live works of art that are floating around at the fair venue, and each can be bought, sold and displayed. "I have worked on these living pieces of art over several years. Their thinking has been made more precise, their hearing sharper, their seeing more aware, their tasting has been refined…" says Chandrakant, convinced that her work is "pushing the boundaries of materiality in art". "This is the most important work of my life," she says. And what can you do after you buy one of these? You can ask them to attend your party, sit on a stool in your drawing room, you can show them off as any other work of art." Bizzare? Maybe. Ahead of her times? Most certainly.
Watch this space for more on India Art Fair.