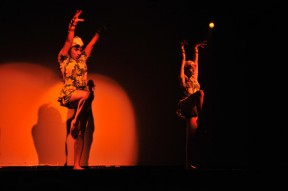 When Pooja Sood, director, Khoj, claimed a week ago that Khojlive – an evening of performance art – would be the most exciting collateral event during India Art Fair, even she would not have anticipated the crowd that turned out at blue FROG last evening. In fact, the venue organisers had to close the entry, though it was to be free, halfway through the six-hour-long programme and even those flashing VIP passes were left fretting at the entrance. But for those lucky ones who were already inside, the evening turned out to be a treat.
 The event was spread across several corners of the venue. On the terrace, Neha Choksi recreated a scene from a typical party with actors who, though silent, spoke a thousand words with their actions. As the audience walked around the protagonists who drank, ate, mimed and even fainted in sheer abandon, the scene became a frozen tableaux of partying. "Time has stopped. It is a still life that expresses the eroticism of passing time, the impotence of silence," explains Choksi, whose work considers how to focus presence through reduction and erasure, what is left out and what is left in.
 On the other end of the terrace, Diya Naidu's performative piece titled Nadir was a delightful synchronisation of fluid body movements and classical dance expressions. As Naidu moved across lithely across the stage, exploring ideas of isolation and the inescapable fact of bondage within separation, there was a pin-drop silence with only the deeply disturbing musical score reverberating under a starlit sky. Articulated through the body, the movements were created from memories of deep emotional states of a woman pleading with fate, God and death.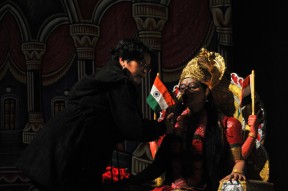 If performance could be defined as simply as 'live art', then the 22-minute act by Miss Potty and Madame Dotty (no, these are not the two young girls' real names), would certainly certify. The audience went through a range of emotions as the duo joined the invisible 'dots' of a woman's life. They laughed when the artists fumbled over trying to hold on to a 'dot', winced when the act turned dark and sombre and sighed when they could relate to how women are asked to conform to social norms. "With marriage considered the acme of a woman's life, Don't be Dotty humorously joins the dots – or doesn't – to form a 'picture-perfect' vision of life," said Divya, one of the two performers.
 In the courtyard below, artist Pushpamala N. sat on a throne decked up like a regal Mother India. Enacted with poet Mamta Sagar, the piece titled Motherland explored the idea of freedom and captivity through the work of the first Kannada woman writer and nationalist, Nanjangud Thirumalamba. This was one performance heavily inundated with language and speech, as Sagar questioned Mother India if she really represented the nation.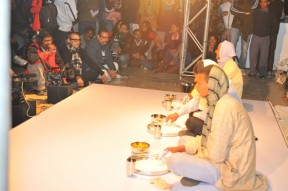 On the opposite side of this highly theatrical stage set up was another bizarre sight. Six mannequins dressed in garments made from waste material stood motionless in the dark. Created by artist Vivan Sundaram, who recently showed these works as part of a show titled Gagawaka: Making Strange, the figures were positioned in a straight line, almost in attention to an impending command. The audience was forced to wonder if they would soon move. "Is 'waiting' part of the enactment? We, voyeur-viewers (jaded exhibition-goers, excited fashion-gazers), take in the silhouette, examine some material detail, build up a narrative. Inside the glass box and outside we participate perchance in a performance act," says Sundaram.
 The show stealer, however, was Subodh Gupta's piece titled Spirit Eaters. Gupta is known as the bartan-man and his large size installations made of steel utensils have broken record prices every now and then. The utensils surface once again, only this time they are placed in front of three men, and loaded with the local food of Bihar – dahi-chooda, aloo-gobhi, poori and jalebi. They are after all, kanthababas, a group of paid, professional eaters in Bihar who rapidly consume vast amounts of food for the appeasement of the souls of ancestors and elders. But they also negotiate with their host before they can eat to their heart's fill. As negotiations on the price at which they will consume food carries on in a simultaneously vulgar and amusing manner, the final act of eating is both repulsive and awe-inspiring. "I have always wanted to present specific cultural practices, especially of my state, and this performance is inspired by my childhood experience of watching them eat during such death rituals," says Gupta.
 You can love it or hate it, but you certainly cannot ignore performance art anymore.
Poonam Goel is a freelance journalist and has covered the arts for over 15 years. She contributes on visual arts for various newspapers, magazines and online media. More about her on Story Wallahs. Write to her @ poonamgoel2410@gmail.com