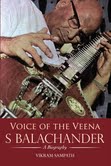 Note-This is a press release and not an article and the name of the author is only to indicate who uploaded it.
Author Vikram Sampath's latest ( and third) book – 'Voice of the Veena: S Balachander, a biography' is the official biography of the renowned Veena Maestro Padmabhushan S Balachander and will be launched in Bangalore on Tuesday January 24th, 2012 at 6:00 pm by His Excellency,  the Governor of Karnataka Dr. H.R. Bharadwaj  at the Banquet Hall,  Raj Bhavan.
About The Book
Of all the stars in the Carnatic music firmament from the 1930s through the 1980s, there was one star that glimmered a bit more than the rest. The irrepressible genius, S Balachander, stormed into the prim Madras music scene with a panache, eccentricity, charisma and verve that no contemporary of his could match.
The vainika began his music career at a time when stalwart vocalists ruled the roost and instrumentalists played second fiddle to them. But being an independent-minded and self-taught artiste, Balachander carved a unique niche for himself as a veena soloist, breaking free from the conventional stranglehold of past masters. He boldly changed the grammar of instrumental music, contemporized the veena and created a legacy known as the Balachander bani, or style. Fame was no stranger to the multi-talented artist. He had already attained international acclaim as a chess prodigy, and had displayed his flair for the kanjira, tabla, harmonium and sitar. Little known to most is the colossal contribution he made to Tamil cinema. He produced, directed, acted, sang and composed music for films, ushering in a technologically savvy era for the fledgling industry.
However, it was the dizzying heights of the veena that earned him the epithet, 'Veena Balachander.' He took the veena Westwards and tried to break the Hindustani-Carnatic divide within India. He also holds the record for the maximum number of LP records by a Carnatic artiste.But for all his accomplishments, Balachander's iconoclastic and brash ways earned him the ire of the Carnatic music fraternity. He was quick to pick quarrels with fellow musicians in his lifelong quest for perfection and truth. He was the perennial sentinel of classicism and fought courageously for what he considered a just cause. The veena maestro finally died of a cardiac arrest in 1990.
So was Balachander a beloved genius or a much-maligned maverick? Vikram Sampath's book attempts to recreate the towering personality that he was —a lot of this researched from his elaborate personal diaries, extensive interviews with his surviving contemporaries and family members. While his death created a void in the Carnatic realm, Balachander's memory lives on in the minds of the connoisseurs and music lovers.  As the maestro would have smugly said: 'Veena is Balachander, Balachander is Veena.'