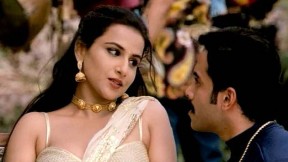 It is fitting that an overview of this year's most memorable films should begin with a conversation about The Dirty Picture. This film is a triumph because of three people. Director Milan Luthria. Dialogue writer Rajat Arora and Vidya Balan. Earlier this year, a strident PR campaign pegged Rani Mukherjee's foul mouthed scribe in No One Killed Jessica as the performance of the year. Spoken too soon and totally disrespectful of the quietly powerful angst lived by the other player in the story. Balan as Sabrina Lal.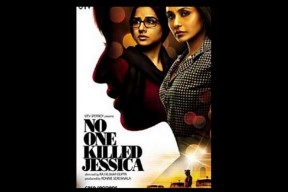 Made to hide behind baggy T-shirts and to underplay even her dialogue delivery so that Mukherjee could walk away with the film thanks to a custom designed wardrobe, shocking dialogue and a signature song created just for her, Balan would have smiled inwardly because she knew what was coming at the end of the year. A role that was going to blow all contenders out of the water and show fellow actors what it is to become the skin and the life blood of a role and not just its wardrobe. Balan in The Dirty Picture reminds you of actors who just had to make eye contact with the camera to steam up its lens.
Used to as we are now to curiously non sensual performers who put their starved abs rather than real performance in even catch phrases like Sheela Ki Jawani, here is a woman who licks her lips like she were savouring a forbidden fruit and turns her body with all the extra kilos on it, into an instrument of seduction. We can argue if the film titillates and objectifies women even as it pretends to decode what happens to the soul of a woman whose body is her livelihood, her weapon of defiance and her downfall. But we cannot argue with Luthria's vision, Rajat Arora's whistle inducing, sometimes risque, sometimes profound dialogue and with Balan who is just unstoppable as a woman unafraid to be a dirty fantasy but sensitive enough to flinch, scream and cry to the high heavens when in pain.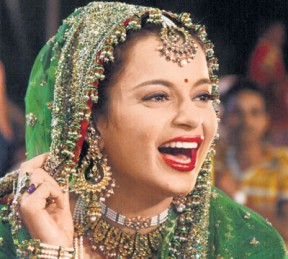 If she does not sweep all the awards in the season to come, all won't be right with the world. Sorry Ms Mukherjee. After Jab We Met, mofussil India made another splash with the delightful Tanu Weds Manu while Zoya Akhtar in Zindagi Na Milegi Dobara celebrated the urban India where the young live their dreams and even in something as banal as a foreign holiday, find great purpose and metaphors for life.
Ra. One regardless of the crores it made or did not will be remembered as a creative failure and an opportunity lost. Salman Khan on the other hand kept churning out inanities like Ready and Bodyguard on the wing of a collective prayer of his loyal fan base and is cheating fate unaware of the law of the averages.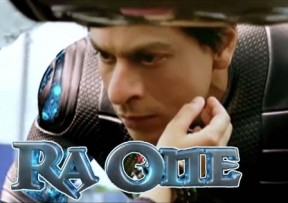 Aarakshan despite a good heart somehow failed to say what it intended to and then there was Imtiaz Ali's Rockstar which along with Vidya Balan in The Dirty Picture, gave us the performance of the year in Ranbir Kapoor's wide eyed Janardhan and junooni Jordan.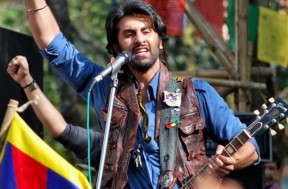 This really is a film about your heart and mine and what we feel about love rather than about someone up there with a story of his own. Another contender for the best actor award before Balan raced ahead was Priyanka Chopra in Vishal Bhardwaj's Saat Khoon Maaf where she became seven different stages of degeneration as she loses parts of herself to the men she kills. In a year, particularly interesting for women actors, there was also Mahie Gill playing a murder co-conspirator in Not A Love Story and a manipulative seductress in Saheb Bibi Aur Gangster. And then there was Katrina Kaif after a refreshing turn in Zindagi Na Milegi Dobara, failing to bring a dull Mere Brother Ki Dulhan to life with a stock vocabulary of joie-de-vivre.
One of the biggest disappointments of this year was Pankaj Kapoor's Mausam which tried to straddle too many realities and fell in no man's land. It never really became a love story because the political contexts chased it into a corner. Then there was Delhi Belly that evoked extreme reactions because of its occasionally unaesthetic and tasteless commentary on bowel movements and seamy urban realities. Farhan Akhtar's Don 2 had the gloss and sleekness of an international thriller but misplaced the story somewhere along with the warmth.  Onir's I Am and Amole Gupte's Stanley Ka Dibba shook us and hurt us in places we did not know existed in our jaded cinematic souls.
This was a year of mixed trends, diverse genres and interesting surprises. The only constant was change as cliches were chucked out of the ticket window and spaces were cleared for new ideas.
The year is about to end and for now, Ms Balan rules.
Reema Moudgil is the author of Perfect Eight (http://www.flipkart.com/b/books/perfect-eight-reema-moudgil-book-9380032870?affid=unboxedwri )
This story was carried in TLF, the magazine.