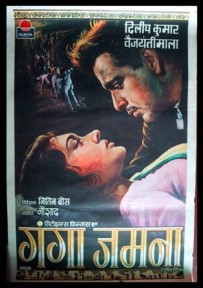 I learnt at five just what Hindi cinema means to middle class India when I heard my father talk about Dilip Kumar's death scene in Ganga Jamuna."Tabahi macha di," (he was devastating) he said.
Films were a part of everything we lived through in Patiala. Terrorism, joy and grief. Happiness meant a scooter ride to the late night  rerun of Leader at Capital or being picked up from school early to watch Vidhata in Phul. My parents loved cinema and critiqued it but without malice and snobbery. No movie was too bad for us.
From Chala Murari Hero Banne to Do Hawaldar (starring Asrani and Jagdeep!), we were game for anything. But vulgarity, the kind that had Amitabh Bachchan and Sridevi singing, "Bicchu Lad Gaya" in Inquilab, was unacceptable. We had fiery arguments about who was better in Shakti. AB or Dilip Saab. And about  Laila Majnu which my mother liked because of Rishi Kapoor's realistically parched lips and sunburnt soul and my father disliked for its sentimentality.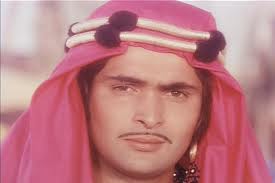 Hindi films continue to add flavour to the lives of millions of Indians even today. Nagesh Kukunoor's Dor conveyed this perfectly.We first see a young bride Meera, dancing to the tune of You are my Soniya in a stifling Rajasthani haveli. The moment, her disapproving in-laws appear, the smiles are hastily wiped, the music is hushed, a long veil pulled down to hide her face. After she is widowed, all colour, including a poster of Main Hoon Na is removed from her room.
Months later, Meera overhears faint strains of You are my Soniya and can't resist a little jig in a lonely street. Her healing is complete when she celebrates her dead husband's birthday by sneaking off to watch Subhash Ghai's Hero. She laughs, cries and sings through the film and then lightheartedly dances in a desert to the tune of Kajrare Kajrare in celebration of what life can be even in aridness. 
This is what young Hindi film critics spouting European and Hollywood masters fail to connect with. They do not get that Hindi cinema is bigger than the sum of its loud booming cliches, florid songs and dances, cathartic fights, exaggerated grief and operatic romances. Hindi films provide  a refuge to those who need  to find a song or a phrase to live by. Sure, there is dross in the gold but there is a lot to celebrate.
This cinema has given us matchless riches of music by masters like Naushad, Jaidev, Madan Mohan, Roshan and the Burmans and now Rahman among countless others. It made Urdu poetry accessible to our untutored ear through the verses of Sahir, Kaifi, Nida Faazli and many others. It gave us giants like K Asif and Chiaroscuro masters like Bimal Roy and the joyful profundity of Hrishikesh Mukherjee.
Guru Dutt, V Shantaram, Raj Kapoor, Benegal, Nihalani..the all time greats come from all genres but hindi cinema's biggest achievement is its ability to inspire joy and it is no coincidence that the much reviled song and dance sequences are now inspiring film makers like Danny Boyle too.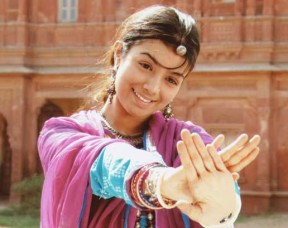 Today it is raining genre busting films with unlikely protagonists like the rajma chawal burping Delhi patriarch of Khosla Ka Ghosla, the dancing widow of Dor, the Goon gone Gandhi in Lage Raho Munnabhai,  the young martyrs of Rang De Basanti,  a deaf and mute Iqbal and the hockey players in Chak De! India who are stridently feminist without knowing it.
As an accidental film critic, I am determined to write not as cynic but as a lover of Hindi cinema. I know that Hindi cinema's  logic and magic cannot be measured by international award juries or the acquired intelligence of new age critics.
It works and fails at a subliminal level beyond the reach of a critic's pen.  Hindi cinema is about Shaam Ka Dhuan (the evening mist), about Gulabi Ankhen (pink rimmed eyes) and the never say die spirit of Aaj Phir Jeene Ki Tamanna Hai. Its about Sahir's  idealism in Pyasa,  Dilip Kumar's slowly dying soul in Devdas, Nutan's silk and steel  Bandini, Madhubala's heart broken Anarkali, Meena Kumari's famished for love Choti Bahu among myriad other faces, songs, moments that have become a part of us forever.  International acclaim does not really count.  The show reels will spool on with or without it.