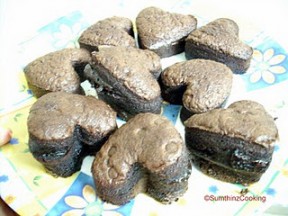 Doesn't that sound heart warmingly nice? Let me really not keep you from this awesomeness. Just one little thing – once you read this, you must make this. If you do, your life will start making complete sense, the Milky Way will align in magical ways to make your dreams come true. And nothing has made me more happy than to see guests bite into one of these.
Because it's chocolate and more chocolate. Like a double cocoa-chocolate shot making its way down your arteries and veins and sorting all the creases out, untying all the knots.
Here's what you need right now!
Refined flour/maida – 1/2 cup and some for dusting
Plain chocolate – 125 gms
Butter – 135 gms
Ghee – 1 tbsp for greasing
Eggs – 4 large
Powdered sugar – 75 gms or 6 tbsp
Cocoa powder – 1 heaping tbsp
Baking powder – 1/2 tsp
Now that you have the ingredients ready…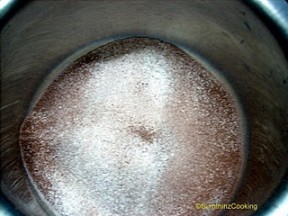 Preheat your oven to 180 degree C. Meanwhile in a mixing bowl, sieve together cocoa, refined flour and the baking powder.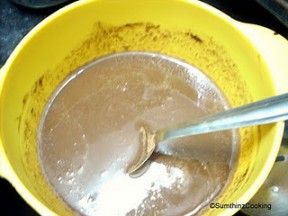 Double boil (place this container inside another one and fill the outside container with water – allow water to boil and let the contents of the inside bowl melt without burning. Or microwave melt plain chocolate and butter together. Make sure you break up chocolate into bits so it melts quick. Make sure this liquid is not lumpy. It should be so smooth that you cannot help licking your spoon, feeling guilty and then going back to making this decadence.
Aah, this is my favourite pic. Look at those lovely swirls of chocolate in the sugar-eggs mixture we just whipped up. Nice and fun! Those swirls of colour are, by the way, the chocolate-butter mixture we had double-boiled/microwave-melted. Blend in too.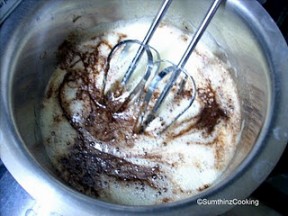 This lovely richness will occur after you sift in the flour-cocoa-baking powder mixture into the sugar-egg and butter-chocolate blend. Nice? Nice. Blend well. Do not overdo it – this is NOT a cake. Just make sure everything is blended well and no lumps remain.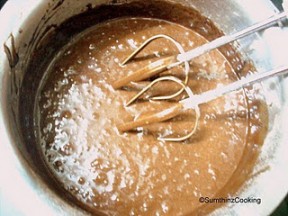 This is my mould. So deal is, if you do not have heart shaped moulds, just change the name to melting chocolate squares/rounds/muffins etc. Whatever suits you. What's in a shape and name? Grease these beauties with ghee and dust very lightly with flour. Shake off excess. Why ghee, you ask? Because ghee doesn't run, like butter does, and it doesn't get easily absorbed with the batter. So it acts like how I want it to – for greasing.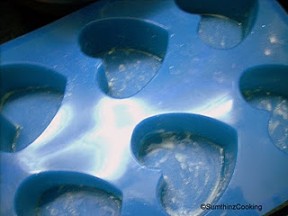 Here you are. What are those little bits on the batter? Chocolate chips.  DO NOT ADD any other chips to it – this is chocolate and any other topping is blasphemy. Now toss it into the oven for seven to eight minutes. Not more, not less. Mine is a convection oven which works faster than microwaves – I am sure you know your oven well enough by now to predict how much time it will take to do the thing right. Stay in the range of seven-eight minutes though.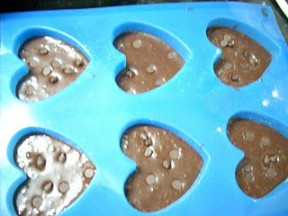 Oh my God, oh my God, look at them! Now look carefully. Notice some hearts that have popped up with love? Those are the ones I baked for 8.05 minutes. Beat that. They are that sensitive – hearts after all. So do not play with the time. The hearts will be just done and will be all molten and gooey inside when you bite into one. Of course, be wise and give them five minutes of cooling time.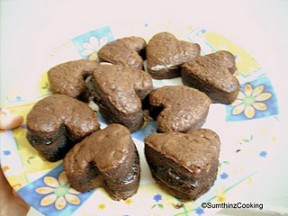 And I do not know how long they stay, frankly. At my place, they get over in about 10 hours, with a great deal of restraint. In case you are serving them an hour after you actually bake them, pop them in the oven for about 15 seconds so they are just mildly warm. Serve.
Reema Prasanna is a personal and corporate baking coach from Mumbai, blogs about her experiments in the kitchen, records recipes from India, and in another parallel dimension, she is also a Search Engine Marketing Professional, fiction writer and maniacal utensil & kitchen tool collector.