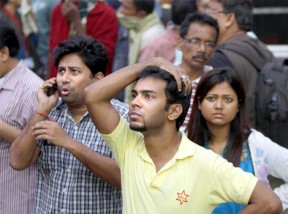 I am an Indian based out of Singapore and this is a short chronicle of my feelings about my home since I left it to make a living in a foreign country in January 2006.  My husband and I moved to Singapore in pursuit of our personal dreams and aspirations around six years back.  Our only regret was that we had to leave India. We were "in love" with our country. Literally. And still are. In Singapore, we would often tear up if we chanced upon the national anthem playing somewhere. We would often discuss how we would like to go back at the first feasible opportunity.
At that time, some of our friends who had left the country in the late 90′s or early 2000 made decisions to go back. They didn't want to miss out on the "India Shining" feeling. I remember distinctly that they spoke about the feeling.  The spirit of revival, of confidence, of growth, of a new and better tomorrow, of positivity. They felt they needed to be in their own country so that they "don't miss out."
On the other hand, we felt deprived. We were "missing out." And yet, there was a hidden happiness…a sense of pride. India would change the world – just you wait and watch!
A few months into the year, in July 2006, the Mumbai train blasts happened. Seven blasts in row, with explosives detonated from pressure cookers kept in trains on the Western Suburb lines. 209 people died and over 700 were injured. I remember how we felt. Shock and horror. A sense of disbelief.  And also a sense of guilt. I remember my friend Aparna coming up to my desk and saying – "Don't you feel you should have been there….somehow?" Call it NRI guilt or whatever. It was business as usual, the next day. The Sensex actually rebounded and foreign investors also retained confidence with the Sensex up by almost three  per cent by the end of the next day's trade. Very good. Inspite of everything, we would make it. Terrorism or whatever, bring it on.
Two years later, on 26 November 2008, the terrorists made 10 coordinated attacks on Mumbai.  Again 164 people died in the most gruesome way. In terms of sheer audacity, it equalled the 9/11 attempt at making a statement.  The only terrorist caught alive in this incident, Ajmal Kasab, was not convicted till 2010 inspite of huge public outrage. Yet, on November 29, a day after the incident, the Sensex opened 0.73 per cent higher than the previous day. Investors remained very confident of India's future.
Feelings? Anger, shock, disbelief, sadness. Everything except despondency. It passed.  Mumbai was resilient. India was resilient. So were we against all odds.   We slid into 2010. The year that changed everything for India. The "scam year." Many scams came into light – each one more horrendous than the last.
The scam that shamed us the most underscored the Commonwealth Games.  Rs 8000 crore were misappropriated and footbridges collapsed, treadmills were overinvoiced at Rs 10 lakh – the shame was endless.
Feelings? I found myself justifying, denying or explaining the situation to many people here, even without being asked – as if I carried the guilt of it, as if I was responsible for the corrupt politicians and their misdeeds. So were all Indians corrupt, or cheats or liars or opportunists? Were there any principles at all? Were we all defenseless?
Several other scams grabbed international headlines. The 2G scam was the most prominent amongst them. The scale of misplaced funds to the tune of USD 39 billion dollars. This was also the scam where the government completely lost its credibility to its own people and to outsiders.
The year 2010 was also the year when the confidence of the world in India started to shake. Inflation rates were a record high in 2010, touching almost 16 per cent.  Food inflation in India touched 22  per cent.  The flow of FDI to India started to slow down. The situation continues to remain grim. In a recent Global Investors report, global investors cited access to finance, macro-economic instability, access to qualified staff, political risk and corruption as major constraints to cross border investments in developing countries in the next three years. India has become a shining example of falling from grace.
In 2011, the Anna Hazare movement in India was more a show of public uprising against corruption. My mom had a very simple explanation for supporting the cause. She said – "Beta, its just a way of us protesting against the prices and the plight of the common man. He is so sick of it but has no space to show his dissatisfaction."
Feelings? Hope. Yes, maybe something will come out of it. However, we are so skeptical of anything that we don't know where this will go.
Most recently, the furore over FDI in retail happened in the Parliament.  Again, most felt that the government was launching a desperate salvo to redeem its position. The point is that the talks broke down, the Parliament was in anarchy and there has been no consensus.  In a final blow, on December 10, 2011, the finance minister announced that the decision to allow 51 per cent FDI stood "suspended".
Foreign investment in Indian equities has slumped in 2011 to new lows, with India's market regulators putting the figure for 2011 so far at a net $530 m,  compared with $28.9 bn during the same period last year. The Indian rupee is at an all time low vis-a-vis the dollar and is expected to slide further. All this in an already inflated and heated economy.  However, this write-up is not about the numbers because there are always views and counterviews. Also numbers released today are denied tomorrow.  It about what we feel reading the papers every day. In the last three months, I have not seen anything that puts us back on the 2006 pedestal. Whatever is there, seems more like a good window dressing job. Hey, someone there just lost my trust. Feelings?  Skeptical.  Low. The world, put your money elsewhere…I don't know where my country is headed.
As the world continues to look at emerging economies for growth, for revivals and miracles, we are slipping. I look around. There are others who started at the same place as us but are doing better. Brazil, China. And the next billion from Indonesia, Philippines, Turkey, Egypt, Africas. They all have corruption issues but India fares badly because it has slipped. In one corruption list we have fallen to the 95th position out of 183 countries. The other large democracies are all above us – Brazil, China, Indonesia.
As we look at emerging countries of the world, we see that most of them are corrupt. It's a fall out of greed, poverty, prolonged deprivation and survival instinct. It doesn't go easy, especially in places where there are millions of mouths to feed. Yet, how are they climbing the charts? And beating us? The one thing that keeps them going is consistently decent governance. Inspite of the corruption, it works. Most countries that make it  despite corruption, identify some key macro economic variables and manage those well.
Variables like  consistent monetary policy, good image management in the world, some strong leadership ideas in certain cases. Its not rocket science. Just the basics. I will always be "in love" with my country, like millions of others. But in the last six years, it's reputation has greatly suffered. India has fallen from grace. One of the most rapid degenerations ever. I feel amazed at how quickly things changed and the reasons for our downfall stemmed from within – a complete lack of strong governance and leadership. As we go into 2012, I wish we could get the ebullience of 2006 back, the conviction, and the positivity…when we thought India would change the world.  I want someone to tell me on my next trip to India that I am really missing out on something huge.
Nandini Das Ghoshal is the co-founder of Insights & More, a consumer insights boutique based out of Singapore. A Economics graduate and MBA by training, she has worn several hats in her career – as a marketeer, a consultant, a case writer and now she follows her passion of combining entrepreneurship with studying consumers at a deeper level for better business decisions. She loves to write – mostly related to her work but also on current trends and issues. She is a proud mom of two kids aged nine and four.