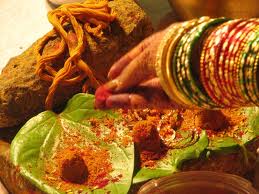 I have nothing against weddings. They can be emotional and funny, colourful and sweet. By virtue of being a tam-brahm, I have had the privilege to watch tam-brahm weddings from close quarters. Hell, I even had one of those. They can be entertaining. Well, most times.
Except when they happen in Delhi. In mid-April. And you are expected to wear a sari. Ok, scratch that, you don't need to wear a sari. Anything that is suitably sweat-inducing is a good enough choice of attire. Of course the male of the species get away easily. They can choose to roam around wearing a veshti and angavastram and get positive vibes directed to them via the cluster of maamis, who would freeze a woman/girl wearing a wrap around and top, April, May or June.
Coming back to the main point, I attended one wedding recently and saw confusion written plainly across a lot of faces. Yes, it was an inter-caste marriage. So, here is some insider information for those who are either getting married to a tam-brahm or are getting someone married to a tam brahm, based on observations made during said ceremony:
Kashi – Yatra:
Do not panic when the bridegroom says he is going on Kashi – Yatra. He is not really going anywhere. He is going to be coming right back in after brief chat with future father in law.Let us not get into minor details as to why bother walking all the way in hot sun only to come back.It is all about symbolism and etcetera.
The Thaali/ Taali:
Not to be confused with clapping or with a plateful of assorted delicacies. The thaali is something like a mangal-sutra.It is essentially a yellow thread (turmeric zindabad!) with a small golden locket like thing which the bridegroom ties around the bride's neck. Simple? Not really, because of the three knots that you are supposed to tie, only one is tied by the bridegroom. The remaining two are done up by the boy's sister/s. Go figure.I guess it has got something to do with weddings being not about individuals but about families. I think, I do not know, ok? Don't hold it against me.
Ketti-Melam:
The waving of forefinger in the air by multiple people simultaneously might signify that a batsman is out most times, but in our weddings, they are to signal the ketti-melam to begin. Ok, again I show the sad lack of knowledge I have about my culture, but I am not sure if the ketti-melam are the people or are the instruments. Anyway, once the forefingers begin to wag, the musicians seated in one corner of the wedding hall (with the nadaswaram and mridangam) start playing their stuff. The songs are all fixed. I have attended weddings in a variety of places, but I have never heard the songs changed. This is also the cue for cluster of maamis to sing along. Usually preceded by "you sing… no no, you sing … no no, you sing …"
Banana Leaf:
Food is served on banana leaves. You will not be given plates to keep on top of them. Banana leaves are very hygienic. Only, how you can control rasam and other such liquid concoctions within area limit is an art that you might have to get genetically embedded. Rice is the main dish. It is the only dish. You might get multiple varieties of it. But, rice is it. Savvy? The kheer will be served before the curd rice. I have personally never understood the logic for the same. Oh and, you really are not supposed to start eating before the rice is served. No matter what tempting morsel is placed in front of you before that.
Taamboolam:
When a bag is pushed into your hands as you are leaving the ceremony, do not say no. Smile graciously and accept it. In all probability it will contain a coconut, some betel leaves, supari and bakshanam(traditional savouries and sweets).That is of course unless you have managed to seriously piss off some maami by eating before the rice was served.
All right children, class over. Till the next wedding.
Uma Iyer is a writer, a mother and a freelance consultant for marketing communication to several organisations. She was raised in Mumbai and currently lives in Delhi. Her retirement plan includes two dogs, many books and a shack by the sea.