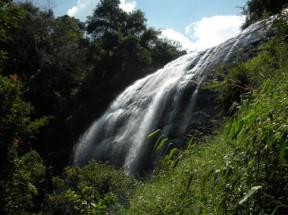 Tired of working long hours, running behind schedules, endless traffic woes and never ending cups of coffee? Looking for a quick escape from under the boulders of boredom? From the daily rigmarole? The answer to these perennial questions is the concept of 'home stays' in beautiful hill stations. Bored of the same old hotels and touristy rituals, we decided to indulge ourselves this year with a weekend break at a home stay. And with our bags packed, my husband and I decided to travel to Coorg, a destination soaked in rolling mists, lush forests, coffee and spice plantations and breathtaking scenic views.
Dubbed as the Scotland of India, Coorg or Kodagu is a beautiful hill station set amid valleys, forests and mountains. Coorg is situated in the Western Ghats and is about 250 kilometers from Bangalore. Our journey started from Mysore, where a pre-paid taxi was waiting at the station to take us to our home stay, Kabbe Holidays.
There are a number of home stays here and Coorg has been voted as one of the three best home stay hotspots in India. If you are looking for local homemade food,  a walk in the plantations and the finest hospitality, home stays in Coorg are your best bet.
After a long, winding journey, our chosen home stay was a welcome respite.  Kabbe Holidays is much loved for its proximity to nature and is located in a coffee estate.  The owners have opened their home to families, nature lovers and fatigued city dwellers and here they pamper them with warm hospitality and delicious food.
Our weekend was replete with trekking, a swim in the waterfalls, meandering walks in the plantations and mouth watering local cuisine. Waking up to hot cups of masala tea or steaming hot coffee and a sumptuous breakfast was pure nirvana. The friendly host and cook laid out a veritable feast for lunch and dinner – from fluffy rotis to delectable Coorgi curries and other local specialties.
The highlight of our stay was the total absence of time bound schedules, televisions and mobile phones. Instead the predominant entity here was nature at its best. Coorg fulfills every nature lover's desire to mingle with nature, romance the mountains, feel the tingle of wafting breeze, watch leaves flutter and dance and hear bird songs.
Mornings in Coorg were fresh and crisp and rejuvenated us with a new energy to explore and enjoy new terrains. Charmed by the nooks and corners around our 'home,' we spent leisurely hours exploring intimate spaces where one could commune with nature.
Of course, we did squeeze in a bit of sightseeing to quench our thirsty souls. Tearing ourselves away from the joy of doing nothing, we visited Madikeri, the capital of the Kodagu district. Local hotspots like the Rajah's seat, waterfalls, and local gardens found place on our guide's to-do list. Lovely spices, coffee and honey from Madikeri rounded off our weekend perfectly.
Topping every traveller's list is Bylakuppe, the largest Tibetan settlement located in Kushalanagar. This settlement was set up in 1960 and holds several monasteries and temples of all major Indo-Tibet Buddhist lineages. The major attraction at Bylakuppe is the famed Golden Temple, a treasure trove of the rich cultural heritage of Tibetans. The local Tibetan market beckoned us with beautiful handicrafts, artifacts, jewellery and souvenirs and we sampled a feast of many Tibetan specialties like momos, thukpas, etc.
Of course, all good things must come to an end, and so did our little weekend retreat in Coorg, a magical place where the old and the new met seamlessly. We wandered to our hearts' content and finally reluctantly made our way back to our old selves as the time of departure inched closer. And though we are back, Coorg remains an unforgettable memory and a sanctuary of restful beauty, serenity and unforgettable memories.
Mansi S Mehta is a chartered accountant by profession. She also freelances as a copy editor and writer and has also worked as a freelance soft skills trainer. Her other interests include social work and volunteering for various charitable causes. She also runs a clothes collection drive with a few friends, and has  initiated a small effort to help address the critical clothing needs of the underprivileged.