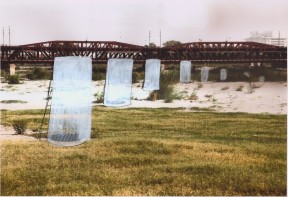 Most of us living in the city of Delhi have perhaps not even seen the Yamuna river, let alone touch it. The most abundant imagery that comes to mind when you think of the river is of junk, waste-pickers, slum dwellers along with sand dredgers and vegetable farmers. For others, it is merely a site of pilgrimage and of rituals connected to birth and death. It is only recently that the river is being cleaned up under great pressure from the city elite, not for sustaining its ecological value, but to help the high value real estate market that has expanded on both sides of the river. What will however flow even then is treated sewage, not fresh water. The river may be cleaned, but it will not be the river it is or meant to be. It is nature as a commodity, and as part of a global commerce.
This view is the starting point for the Indo-German collaborative public art project titled Yamuna-Elbe Project that hopes to create a 'river experience' about the Yamuna in Delhi. Mounted as part of 'Year of Germany in India' and presented by the City of Hamburg along with Max Mueller Bhavan, New Delhi, the multi-disciplinary project will kickstart on November 9 in the capital.
Co-curated by Ravi Agarwal, a well-acclaimed Indian artist and a practicing environmentalist from Delhi and Till Krause, a well known land artist from Hamburg who also runs an art space, Galerie für Landschaftskunst, this collaborative project is centered on the idea of creating ecological and sustainable rivers in cities. The project also has several outreach programmes as it has invited schools, youth and citizens of Delhi to visit the river, it will also include inter-school debates, photography competitions, writing workshops, river walks, most of which will be held at the river site.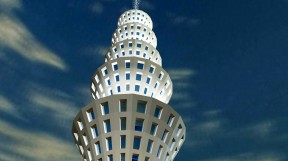 Says co-curator Ravi Agarwal: "We need to rethink ecology and rivers in the 21st century where questions about human sustainability and futures have become key. Art is the framework which allows diverse ideas and imaginations to co-exist and helps in repositioning ourselves in relation to nature. The river is not only 'polluted' or 'clean', but is a beautiful landscape of the city, with many layers of aesthetic, social and political meanings. The project will be an eco-friendly project with the use of solar energy for power requirements and electrically operated vans for transport to site and usage of recyclable material for production of artworks."
Artists whose work will be showcased along the Yamuna in Delhi are Atul Bhalla, Asim Waqif, Gigi Scaria and Sheba Chhachhi. German artists participating in the event are Nana Petzet, Jochen Laempert, Michael Clegg and Martin Guttmann and Ines Lechleitner. The art works will consist of multimedia, interactive or peformative on-site installations, dealing with the discourse around the river, with most artworks being installed along the river Yamuna.
Delhi-based Atul Bhalla, for instance, has explored the physical, historical, spiritual and political significance of water to the urban environment and population of the city. In this project, he will engage local villagers to make 'Kuins' (small wells) connected to the river water table, made from reeds and local grass. Each well will be covered with a small translucent tent with LED supported text projection. As viewers enter the tents, they will be faced with a question about themselves, the river and the city.
Asim Waqif, another Delhi-based artist, makes his work from the remnants of the pontoon bridge at Raj Ghat, which lies abandoned on the Geeta Colony banks of the river. The artist will make a giant island using the pontoons as floats. On this he will install a large bamboo and fabric structure which will act like a beacon. He says: "The goddess Yamuna is fed up with human apathy towards water and ecology. She is angry that modern civilisation has turned a source of water into a sewage canal. She feels insulted that devotees offering flowers to pay obeisance also chuck the polythene packet that contains the offerings into its waters. She is also sad. Sad that very few people ever sit by its banks, sad that there are hardly any boats that ply her waters; Yamuna is sad because she feels ignored."
Through his metaphorical work, Waqif makes Yamuna launch a glitzy new-age campaign to lodge her protest with the citizens of Delhi. A floating light-installation on the river made of submerged metal ropes with PET bottles as floats will entice people to look at the river in new ways. Each bottle will have a LED with its own battery. The installation will take on varying forms everyday amidst great fanfare and ritual.
Gigi Scaria's work draws the viewer's attention towards the painful truths of migrancy and displacement. His particular position is to investigate how city structures, social constructs and the view of location is translated in social prejudice and class attitude. Titled The Fountain of Purification, Scaria is creating a drinking water fountain, which will use contaminated water from the Yamuna. The water in the four-floored fountain will go through a cleansing process before it reaches the next level of the structure before finally emerging on the final level as 'pure' drinking water.  He says: "This water will again be channelized to the ground and made available for the public. This fountain can be considered as one of the pragmatic ways for people to get interested in recycling and waste water management.  The fountain will also function as an interesting public sculpture with astonishing architectural possibilities."
Sheba Chhachhi, a Delhi based installation artist who works with multiple media and found objects, has titled her work The Crossing where the audience will cross the river in specially altered local boats, which are equipped with video projection. As the boat moves from the ghat to the opposite shore, the video shows the future vision of Yamuna.
Amongst the outreach programmes, film screenings at the Max Mueller Bhawan, river walks by historian Sohail Hashmi and environmentalist Vimlendu Jha, on-site inter-school debate competitions will also be held.
What's more, two evening concerts – a performance on nature sounds by Suchet Malhotra using percussion/world instruments and a classical music performance by vocalist Vidya Shah – will be held to complete the river experience.
For further details on the Yamuna-Elbe project, log in to www.yamuna-elbe.org
Poonam Goel is a freelance journalist and has covered the arts for over 15 years. She contributes on visual arts for various newspapers, magazines and online media. More about her on Story Wallahs. Write to her @ poonamgoel2410@gmail.com