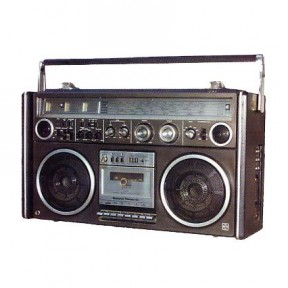 My mom's radio used to be tucked into a small corner of the kitchen, where it sat in the midst of the fruits basket and the bamboo plants. It was a small thing, seemingly useless and archaic. It operated using a small dial that would always be tuned in to the same number and had a large antenna which stuck straight up through the mess surrounding it. It was a cheap item, bought in a spur-of-the- moment trip to an Indian hardware store.
Every Saturday, at 8:30 am exactly, my eyes would open. Sleep-ridden and disoriented, I would lie in bed trying to figure out what had brought me out of my dream. Every time, I would find the answer to be a combination of the savory smell of the trademark weekend food for my family, idli, and the sharp sound of an Indian "oldie" music playing from the old radio. The songs always sounded the same – boring, with the same tune repeated over and over again in not-so-dulcet tones.
Every so often, either my mom or dad would begin belting out the lyrics, often to each other, with each line punctuated by laughter. I would slip out of bed, stumble into the bathroom and brush my teeth before going downstairs and taking my seat at the breakfast table where, if I was lucky, the idli was ready and waiting for me in a large bowl.
I do not remember when these traditions stopped. I remember, one weekend, my brother and I ran down the stairs and asked if we could have pancakes instead.
One day, my father accidentally moved the dial and nobody remembered what station number the station my mom wanted was. My mother spent hours fiddling the dial, trying to find it. Then, one day, the radio stopped.
It was moved to the garage, where other forgotten memories presided. In its place today is a TV and in place of the idli is grapefruit with pancakes. Every so often, though, I am awakened by the imagined smell of idli-sambar in the mornings and the memory of a shrill voice singing a 50′s classic and I smile.
Anjali Agarwalla is a student in New York. Growing up in one of the cultural hubs of America has made her enjoy not only writing and reading, but also art, dancing and music. She is a trained Kathak dancer.