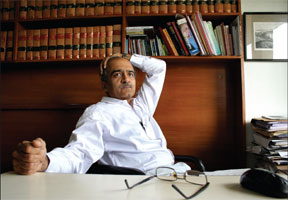 The brutal beating of senior advocate Prashant Bhushan in a Supreme Court chamber for his comments on Kashmir has established one thing that the art of graceful disagreement is truly lost. Even something as apolitical as hindi film music on YouTube attracts hate mongers stewing in rabid nationalism,regionalism or religion and politics. A popular website specialises in provoking its readers to post obscenities and gender based abuse. Reality shows thrive on rudeness and lack of decorum. No one switches off Emosanal Attyachar on Bindass till the irate girlfriend or boyfriend has confronted the cheating partner and displayed camera friendly hysteria. Everyone wants to witness public disagreements, street fights and the lukewarm ratings of Big Boss went through the roof last year when a certain Dolly Bindra indulged in verbal pyrotechnics.
Even on social networking sites like Facebook and Twitter, fist fights are common. As when Salman Rushdie and Taslima Nasrin indulged in a kindergarten scuffle over what could have been a lunch box if they were younger.
Disagreement or disapproval in India could also result in rape, an acid attack, Sri Ram Sene goons taking Sita's daughters by the hair and beating them at a Mangalore pub, parents killing their rebelliously-in-love sons and daughters, dismissal and arrest of conscientious police officers like Sanjeev Bhatt and in some  instances, even murder of whistleblowers like Shehla Masood. The dismissively cavalier manner in which the American mainstream media has covered the Occupy Wall Street movement demonstrates that you don't always have to come with guns and tanks and turn a protest venue into a Tiananmen Square. You can defang it by laughing at it, mocking it, bleaching it of all serious intent.
What happened with Prashant Bhushan demonstrates the increasing lack of perspective and tolerance in public life where if a view-point is divergent from yours, you must attack the person who is advocating it, or painting it, or filming it. So hound MF Husain from India, burn posters of films about lesbians, ban books, call for bandhs, orchestrate smear campaign against a Teesta Setalvad for not letting go the memory of the Gujarat riots, beat up kids for holding hands on Valentine's Day, shoot a toll booth guy for daring to do his job, kill a celebrity bartender for refusing a drink, chop up your wife if you suspect her of infidelity, cut off a dalit's nose and parade a woman naked if she fits into your idea of a witch.
Disagreement is really about respect. About knowing that we can disagree without debasing each other's humanity and yet all forms of violence, physical, verbal, State sponsored, red, green or saffron, stem from a fundamental disrespect for those who do not agree with us. Even film and book reviews today get hurtful and personal and on television channels, there is an excess of aggressive opinions and little insight.
That the people who beat up Bhushan actually tweeted about it proudly shows the extent of dysfunction in the way we perceive nationhood. As if by beating, abusing those who do not agree with us, we can achieve a nation we can be proud of and acquit ourselves better as patriots. After having milked religion as a defining political force in the early 90s during a rathyatra that ended in violence and tragedy, a senior BJP leader is back on another rath, this time to piggyback upon the anti-corruption wave. This time, when it ends, there will hopefully be nothing to destroy with pick axes, hammers,  hatred and vicious sloganeering. Thank God for small mercies.
Reema Moudgil is the author of  Perfect Eight (http://www.flipkart.com/b/books/perfect-eight-reema-moudgil-book-9380032870?affid=unboxedwri )