Ambition has no gender. Fulfilment in life and work is not a gender specific pursuit and yet somehow, marriage, family and professional success often become chemically disparate when it comes to women in India. Are Indian women really free to be ambitious? Can they truly be unbound as they break open boxes, knock at glass ceilings and live their lives beyond definitions of what is possible and what isn't?
Gita Aravamudan, veteran journalist, writer and author of Voices in My Blood and Disappearing Daughters: The Tragedy of Female Foeticide (both books make searing comments on the many challenges faced by women in India), in her recent book  Unbound: Indian Women @ Work, tries to understand how working women are negotiating freedom and responsibility, fulfilment and unexpressed angst at their work places.
Says Gita,"The seed of the idea for Unbound: Indian Women @ Work, came after I wrote my last book Disappearing Daughters: The Tragedy of Female Foeticide. Disappearing Daughters was a very difficult and traumatic book to write. Again and again men and women across the country told me they were killing off female foetuses because girls were economic burdens. They had no doubt in their minds that boys were more valuable than girls. And the bigger shocker was that these were urban, educated middle-class people. Sex selective abortion was beyond the reach of the illiterate rural poor. Getting rid of daughters before they were even born was a conscious decision taken in middle-class educated families.  The skewed sex ratios clearly showed that the cities were the worst affected."
Continues she,"After I recovered from the trauma of writing that book, I was looking for a way to disprove this warped perception. I wanted to drive home the point that an educated woman could earn as much or more than her male counterpart. And that she often is the economic pivot of her family.  So I decided to write Unbound which I hoped would give our society a new perspective on women."
In the book, Gita has picked women across many demographics and age groups. Women like 60 something Sukanya Mohan who after retiring as a teacher began to tutor online and is today teaching among other subjects,  spoken Hindi to Americans, to a CEO, to kids and works from 4:30 AM to 8.30 AM everyday and has also has scripts for animation CDs to her credit.
From powerful CEOs to free-spirited DJs to women who are equals when it comes to earning for their families but a vulnerable gender when they commute at odd hours. IT professionals and late shift workers like Pratibha Shrikanth Murthy in Bangalore and Jyothi Kumari in Pune who were raped and killed on their way to work. Or Saumya Vishwanathan, a 24-year-old, Delhi based producer with Headlines Today who was found dead with a bullet wound in her head on her way back home after work.
Or Jigeesha Ghosh who was also killed while returning home after a night shift. It is not just physical dangers that women at work may have to  face but prejudices or road blocks as when a young woman develops a passion for bartending and wants to pursue it but is viewed as an anomaly. Or women chefs who can't think of having babies if they want to pursue their pressured careers. Or actor Shefali Zariwala who went on from an ordinary middle-existence to the high-octane world of music videos and could never shake off the image of a girl wearing  low-cut jeans and a painted pout.
So how did Gita choose her case studies? Says Gita," To make the book authentic, I decided to use real women with their real names.  I started looking for educated, urban professional women in the age group of 25 to 40. My cross-city, cross-profession rough survey brought in a large list of potential candidates. I made a rough questionnaire and circulated it.  I made a short list in which I tried to include women from various professional, social and domestic backgrounds."
She continues,"And then finally I started my travels. Compiling the stories, analyzing and arranging them and understanding the pattern they presented took another year. I had to change the names of just a couple of women who were victims of sexual or dowry harassment. I also spoke to  Meena Ganesh and Kiran Mazumdar Shaw who had reached the pinnacle of their careers and could serve as beacons of hope for the many struggling to achieve simpler goals. Not all the women in my book are unbound."
About her own journey as a thought activist and writer, her personal challenges and triumphs, Gita says, "The pioneering American feminist writer Rebecca West wrote in 1913, 'I myself have never been able to find out precisely what feminism is. I only know that people call me a feminist whenever I express sentiments that differentiate me from a doormat.' And that I think is true of most of us especially in India.  In the 1970s when I was just embarking on my journalistic career, the feminist movement was at its peak in the US.  But in India it was still nascent and it also had a different agenda.  It was not the sex object image women were fighting here but the doormat one.  And no, I did not burn my bra!"
Continues she, "Actually in many parts of India at that time, wearing a bra was a sign of liberation!  Women were still fighting with their conservative families to be allowed to wear bras!  But seriously the Indian feminist movement focussed more on basic issues like poverty, illiteracy and social discrimination which had pushed women down to the bottom of the heap over generations. Early on in my career I decided that I would always give a gender perspective to my writing because my writing was the only voice I had to raise my feminist concerns.  Since I wrote for the main stream press I felt it was important to get this perspective in place."
In the preface of Unbound (http://www.flipkart.com/books/014310277x), Gita writes, "The unbinding of middle-class Indian women happened almost parallel with my own career as a woman journalist. It did not happen overnight. Nor did it happen with dramatic force.The unbinding was a slow almost unnoticed process whose impact built up over two generations. In a way I was privileged. As a woman I lived through some of these times myself and as a journalist I documented the milestones."
So what has changed since she first started writing? Gita answers, "Over the years I've seen more and more girls going to school, I've seen very good laws coming into place and most importantly I've found the work place becoming more sensitive to a working woman's needs.  From a situation where a woman could get sacked if she got married or pregnant we have reached a situation where our maternity leave laws are better than in a so-called progressive country like the USA. Similarly we have very progressive and comprehensive laws which address almost every aspect of a woman's life.  Unfortunately like all other legislation this too is often misused or underused."
Adds she, "Women all over the world face discrimination.  It is in no way peculiar to our country.  Our advantage is that we are a democracy and all said and done, our rights are actually respected.  Most importantly the law is on our side.  We need to take advantage of all these positive factors and unbind ourselves."
And what did she want Unbound to achieve when she began to write it? "The goal of the book was to reach out to all women. Professionals as well as home makers. And their men and tell them that women are achievers. They often give pivotal economic support to their families. They deserve not just to be born but to live and flourish."
And the discoveries she made while writing the book?  She shares,"I was excited to find some very definite patterns emerging. For example I found that there is a feminine pattern of achievement which is very different from the traditional masculine one.  I found that the work life balance comes naturally to women and they don't have to strive hard to achieve it. Discrimination continues to exist and will perhaps never go away but women have learned to hone their special skill sets better and deal with this in their own way."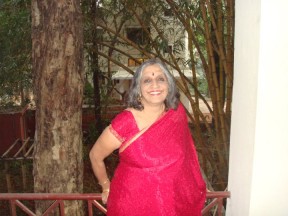 The feedback to the book has been rewarding and thought-provoking too.  Gita says, "I am extremely happy with the feed back especially from working women. One of my young professional friends said, "Unbound is like chicken soup for the working woman's soul!"  Quite a few working women have told me that they felt that the book had comprehensively dealt with all the issues that affect them. And the brick bats have come in too! Some reviewers felt that by focussing on the literate urban population of working women I had left most working women out of its ambit. Others felt that that the picture I presented was too rosy as in many parts of India, girls still didn't even go to school. I do understand where these comments are coming from as I myself am totally aware of all these gaps. But my book has a specific purpose and a message. To convey that I chose to portray the achievers. Unbound is meant to show what women can achieve if they are given an opportunity."
To the women who are struggling to seamlessly blend work and personal life, Gita has this message, "Keep the long term goal in view.  Today may be a struggle with small children and no support at home or too much pressure from the office. But this too shall pass like other things. Find your own path of achievement and take it at your own pace. You will finally achieve what you set out to achieve. "
Reema Moudgil is the author of  Perfect Eight (http://www.flipkart.com/b/books/perfect-eight-reema-moudgil-book-9380032870?affid=unboxedwri )