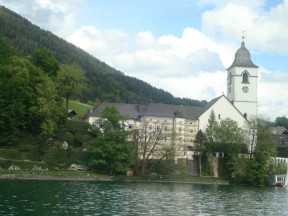 It has been all of one month since I arrived in Stuttgart and I can already claim to have visited four neighbouring countries. It's as if I have wheels attached to my soles which do not allow me to spend a single weekend at home.
The trip to Vienna and Salzburg was one of these very many trips that my friends and I embarked upon. In order to cover two major cities we decided to plan the trip over three days instead of the usual two. The plan was to drive down from Stuttgart to Vienna, spend a night there, do some sight-seeing the next day and leave for Salzburg in the evening. It was decided that Salzburg would get the privilege of two full days as we had heard so much about it. Ín hindsight, I feel this was one of the wisest decisions.
So, on Thursday evening we loaded our newly acquired,  shiny Renault Megane with loads of junk food, wine and three solidly packed rucksacks. Despite the fact that we were a couple of hours behind schedule (which meant that we would reach Vienna not before two in the night) and that we did not have a hostel reservation for one of our friends, all of us were in very high spirits. Loud Hindi music, an odometer which constantly read 200 km/hr, mouthfuls of potato chips and road signs which informed us just how many kilometers München was from us (the word München reminding us of how much we were munching) are some of the memories of the journey. Somewhere in the middle of the night we stopped to binge on turkey sandwiches at a highway restaurant and then rallied on.
As expected, we entered Vienna at around 2 am and headed straight to our hostel which sported a corny signboard: 'Step Inn'. Once inside our rooms,  the warm and comfortable bunk beds invited us to crash and we all did just that.  Our first stop in the morning was the Schönbrunn Palace which is one of the most important cultural monuments in Austria. The palace was owned by the Habsburg dynasty and houses some of the oldest articles belonging to the erstwhile inhabitants.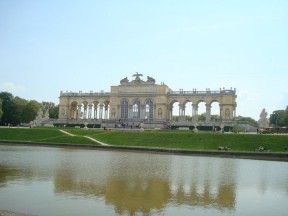 The captivating story of the arrogant Sisi and the lovelorn Franz Josef can be imagined scene by scene inside the palace. It was here that Franz Josef worked diligently, several hours a day, on matters of the state and yet remained unpopular and it was also here that Empress Maria Theresa, his great grandmother, allowed only her favourite daughter to get married for love while the rest of the 13 royal offsprings were married off for political and monetary gains.
The mysteries shrouding the Habsburg dynasty are deep and dark. The Mayerling incident (the murder-suicide of Prince Rudolf, Sisi's only son and his lover Baroness Mary Vetsera) or the apparent rift between Franz Josef and his beautiful and vanity stricken wife Sisi or her fateful assassination are just a few of the many stories still narrated in hushed tones.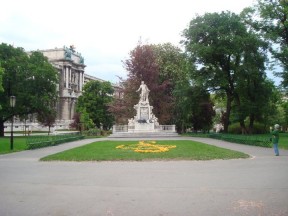 After spending considerable time at the palace, we realized that the best way to soak up the rest of Vienna was to take a walk along the city center. As we traversed the city, we saw the Hofburg Palace, St. Stephen's Cathedral, the Opera House and many many gardens. The hansom cabs replete with liveried drivers and well groomed horses could be spotted here and there. They added to the old world charm of the city along with the numerous sculptures dotting it. We were drawn to the Opera House like children drawn to candy as we were told that an opera was being telecast live on a screen outside. Families with picnic baskets and tourists like us crowded the cobbled stone courtyard outside the Opera house.
Although we could catch only the first 10 minutes as we had to leave for Salzburg, the experience gave me goose bumps. I can only imagine how magnificent the interiors of the Opera House would be and how heart-rending an actual opera can be. The crassly named chocolate delicacies –the Mozart Balls also turned out to be a pleasant surprise as they not only tasted good but also contributed to the theatrical setting of the evening.
So, we were back on the road again and this time the drive was not a very long one. It had been a long day and all of us were giving in to the exhaustion. We reached Salzburg well in time and like experienced gypsies, settled quickly into our new dwelling. The next day promised a whole bunch of new adventures and as we dreamt of the sights and sounds that we were going to experience, all of us drifted off into our own personal dreamlands.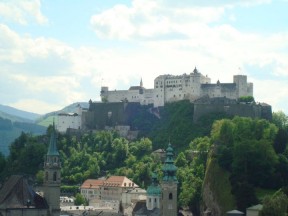 The following morning was again bright and sunny and so we decided to trek to the famous fortress, Hohensalzburg Festung which towers upon the entire city of Salzburg. Oh, the sights that were bestowed upon us were breathtaking! It was as if we had walked into a painting. The hues and the colours all around were marvellous. There in the lap of Mother Nature we saw the bluest of blues and the greenest of greens. There were different hues of red, orange, yellow and maroon in the form of tiny blossoms sprinkled on the green grass.
The city below as if not wishing to be left far behind in the play of colours, showed off pretty white houses with bright blue rooftops and domes. Fluffy white clouds sailed merrily across the sky and colourful birds hopped around.  Everything looked sparkling and squeaky clean. I was almost afraid of dirtying it by walking through. There in that moment I wished that I had magical powers which would help me capture and replay this moment again and again. I wished I could piece by piece rebuild this memory sometime in the future.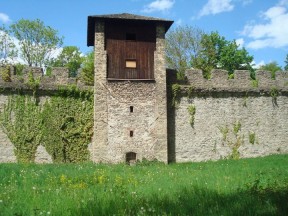 Then we walked all the way up to the Festung. The last 500 meters to the entrance were very steep, almost at a 70 degree angle. Despite the fact that I claim to be athletic and fit, I found the climb difficult as I hauled myself over the make-belief finish line. To make up for the torture that we'd inflicted on ourselves, we treated ourselves to home made ice creams and pretzels inside the fortress. While exploring the fortress, we stumbled upon a Mozart concert booking counter and got tickets for the Festung concert in the evening. Having loitered around in the grand fortress to our heart's content, we headed back to the city center to catch the Sound of Music tour.
When I was little, my mother decided during a  summer vacation to shower me with a few treasured classics. I remember devouring books like David Copperfield, Heidi, Oliver Twist, Black Beauty, Great Expectations and more. The bonanza also included movies which were played on our fancy Philips VCR (my father's proud acquisition from Sri Lanka). The Sound of Music instantly became one of my favourites as it had all the ingredients to capture a 10-year-old-girl's imagination.
And 17 years later, I found myself standing in the very same city which served as a backdrop for this magical movie and my excitement knew no bounds. As we hurried to the bus station, we knew for a fact that we were going to be late. As soon as we laid our eyes on the line of colourful Panorama tour buses, we sprinted to cover the last couple of meters and jumped into the first bus after a rather bewildered bus conductor let us in without even checking our passes. The tour bus began its journey and within 15 minutes, we realized the mistake we had committed. Instead of boarding the Sound of Music tour bus, we had boarded the 'Lakes and Mountains' tour and were now headed towards the small town of St. Wolfgang at the foot of the Schafberg mountain. You cannot fathom the intensity of my disappointment in that moment.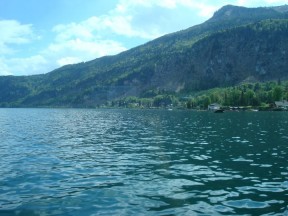 But later, as we cruised amidst the lush green hills of Salzburg, I couldn't help but feel good. The lakes and hills of Austria are beautiful and it is impossible to remain glum for long while travelling through these natural wonders. Unknowingly, as a part of our 'new' tour, we were automatically signed up for a boat trip to the hamlet of St. Wolfgang. Our tiny cruise boat boasted an in house-bar and a live traditional music band. We could see the crystal clear water of the Lake Wolfgangsee change colours right in front of our eyes. From the very deep indigo blue to a shade of moss green, every hue had a different effect on us. Our boat docked at St. Wolfgang after a very enchanting half-an-hour. Reluctantly we alighted and followed our tour guide into the little hamlet.
St. Wolfgang is a tiny village with a population of roughly 2500. As luck would have it, we were visiting at an auspicious time (May 1) as the locales were celebrating the onset of summer. Our perpetually hungry group of four instantly spotted the food stalls. Fish in all forms was being served all around by gaily dressed young women and men. We sunk our teeth in the smoked fish, fried fish, fish with mashed potatoes.
Satiated and upbeat, we reached the old town in Salzburg as the clock struck six and without bothering to freshen up, headed towards the concert hall where a three course meal awaited us. It was quite a conundrum, so much to eat and such little time and capacity. Nevertheless, we again forked spoonfuls of baked chicken and vegetables into our ever willing mouths and washed it all down with fresh orange juice followed by chocolate mousse with vanilla ice cream. It was no surprise that when we walked into the concert hall, we felt like stuffed turkeys. The concert was a fine one indeed even though we were ignorant of the melodies being played.
We descended from our perch at 10 pm and enjoyed a quiet stroll in the city center. It had been a glorious day and we all went to bed with big smiles. The famous Salt Mines of Salzburg awaited us the next day. We drove down to the Hallein Salt mines to experience a once roaring business which brought in a whole lot of revenue to the countries of Austria and Germany. We were given over-sized miner gear to ensure that our experience was as close to reality as possible. Squeezing our way through narrow passages we entered the salt mines and participated in the 90 minute guided tour (aided by informative movies being projected on the walls of the mine). It was a chilling experience because the mines were dark and damp. Moreover, showing us the bodies of long dead miners stuck in crevices did not help (so what if the bodies were artificial and made of PoP, they still were scary!).  Amusing though were the slides which were apparently used by the miners to slide down into deeper entrenchments.
On our way back to Stuttgart, we could not help thanking our lucky stars for being born in easier times. Life has not dealt us a rough hand and yet we crib about our jobs day in and day out without realizing what luxury it is to be able to sit in air-conditioned offices, sipping hot coffee and working on intelligent machines which reduce our manual labour to half.
My vacation in Austria is one which will be etched in my memory for years to come. Maybe someday I will come again and visit the magical cities of Vienna and Salzburg but the memories of my first road trip in Europe and the first taste of Austria will always linger in some corner of my head.
Preeti Sharma is an MBA from Symbiosis Institute of Management Studies and dabbles with creative writing. As she stepped into the hectic and mundane routine of corporate life, her writing became her  stress buster. Her insatiable wanderlust and need for change prompt her to travel as much as possible and she is at present, travelling across Europe and trying to pen down as many memories as possible.