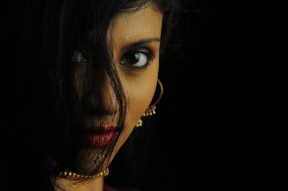 Iti Mrinalini (The Unfinished Letter) is a movie that takes you on a turbulent journey and lets you distinguish the myriad colors of relationships through the lens of an actress, a lover, a friend and a longing mother. What I loved about Iti Mrinalini besides the remarkable performances of the legendary Aparna Sen and the gifted Konkona Sen Sharma,  possibly the only actress in the industry who can naturally slip into an emotion,  is the engaging  flow of the story. Mrinalini is the protagonist whose life and emotions move you in different ways and carry you away in a world where you cry, empathise and become one with the protagonist.
The brilliance of poetry and literature and the classic depiction of love can only be found in cinema that does not age with time but stays meaningful in all ages and inebriates your soul with its richness.  As Mrinalini (played by Konkona), an innocent girl and a budding actress who has suffered the painful loss of her first lover (a Naxalite)  ascends the upward spiral of success, she faces lot of emotional upheavals, betrayals, break-downs and loses her innocence, but not her goodness and compassion. Her clandestine affair with her director takes you through the usual destructive emotions of an extramarital affair. In her journey, she meets a friend who is her last ray of hope and the only reason to live and then comes a tragedy which threatens to push her over the brink. Aparna Sen plays Mrinalini in her fading years.
The dialogues "bhalo basha onek rokom hoye" (love has various facets and is not limited to one) and the songs "Aei aakasher aamar mukti, aloe, aloe" (this expanse of the sky is where I shall be liberated … in the light…. in the light), the cinematography (by late Somak Mukherjee) capturing the sands, bobbing  boats and the banks of Hoogly all mesmerize.
This is the first film where Aparna Sen and Konkona Sen Sharma have come together as actors though Konkona has been directed by Sen most memorably in Mr and Mrs Iyer. As always Sen's direction is nuanced, subtle and delicate like a poem and richly textured like a tapestry. It is no surprise that she expertly documents loneliness because we all well remember 36 Chowringhee Lane as a masterful depiction of an Anglo-Indian spinster's isolation in Kolkata.
This  movie is also a visual treat and also an uplifting experience because it travels through a night and a lifetime of pain and heartbreak and then unveils a morning of hope. The vanity of the make-believe world of cinema, the loss of self and the love and the ensuing hurt all teach you enduring life lessons and touch you deeply. The supporting cast of Rajat Kapoor, Priyanshu Chatterjee,  Koushik Sen, Suzanne Bernert offer able support. A highlight is a poem by Sunil Gangopadhyay (Smritir Shohor) that has been for the first time used as a song. I recommend  this brilliant portrayal of life and literature at least once to all the lovers of good cinema.
Shreeja Mohatta Jhawar is a partner in Think Unlike Events where she  organises creative and life-style transforming workshops. She is also a freelance writer, web and graphics designer as well as a social activist who runs 'Kritagya,' a group aiming to serve old and destitute people.