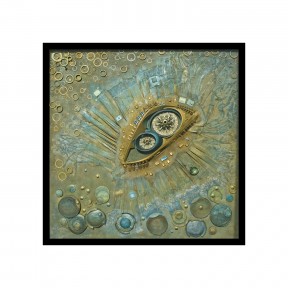 Next time you look at a damaged CD, a mangled video tape or even an obsolete walkman, show some respect. Or at least, that is what NID alumnus and artist Haribaabu Naatesan will compel you to do, especially after you have been to his latest art outing at Art Positive in New Delhi.
Electronic waste material and how they can be recycled to create work of art is what this show, intriguingly titled WTF (What's in The Factory), is all about. Dismantled cellphones, out-of-date video tapes, phone dials, broken zips, buckles, springs, discarded CPUs, monitors, hard disks have all somehow managed to find a place in Naatesan's art, which is a fine assimilation of craft and design, old and new, heart and hand.
Says Naatesan, a BSc in Visual Communication Design from College of Fine Arts, Chennai and a post grad in Animation Film Design from NID, Ahmedabad: "Ever wondered what happens to obsolete walkmans and out-of date video tapes? To blunt saw-blades and dead cell phones? To ancient floppy discs and fused light bulbs? What happens to what we generally call 'scrap'? Just because they have out-lived their use, do they deserve to be forgotten away in attics, thrown into trash? Or, just piled up in one corner of a scrap yard?"
It was while at NID that the 35-year-old artist found the space to express his unique style and his ideas got wings there. Collecting 'useless' things became his passion and unimaginable objects his media, and the output turned out to be unique mixed media work. "Broken things seemed to just call out to me to take care of them. After seeing what I manage to create out of junk, my friends offer all their junk to me. Now my house is always full of such objects," says Naatesan who also buys junk from weekly local markets.
Though he showed his artwork for the first time at NID itself, and won great appreciation, Naatesan then chose to enter the corporate world as the Head of the animation team at a music channel in Chennai. Soon, he shifted base to Mumbai, where he also currently lives, as the Graphic Head for a television production house. While he admits "being quite successful" in the corporate sector, a growing restlessness could not be suppressed anymore and he quit his job in 2009 to pursue the world of art full-time.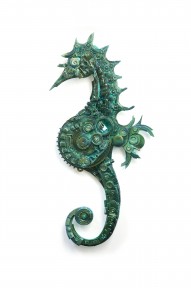 The process of creating his work was tedious, the pain excruciating. For, to gather the material, collect junk and treat it exceptionally the way he did took time. With a few pieces taking form, he started reaching out to various platforms for showcasing his work. The response was mixed. Some did not respond to the idea behind his work. It was too different, too niche, too non-commercial for them. Some understood and appreciated his form of art but thought it was "bad Vaastu" to keep so many damaged objects at home.
"But I don't agree. In that case, a piece of furniture is also a dead tree. I look at my art as a way of breathing life into lifeless things." But as they say, nothing can stop you when your time has come. Naatesan's  first solo exhibition at a Mumbai gallery in 2009 stunned the audience, he was soon picked up by Bajaj Capital Art House as its first fellowship awardee in 2010 and is now ready to show his new body of work at Art Positive.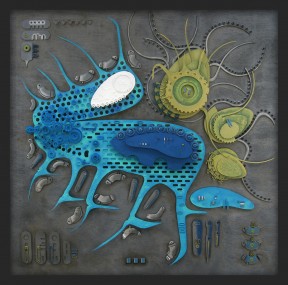 He says: "My work is 'design in art' and vice versa. I call it design, because this work of art involves a process of recycling electronic wastes, and art because these materials have been given a chance for Mukti. When objects die, that is, when they are no more used for the purpose they were born for, they lie waiting restlessly. Their souls gather dust. They call out from the attic, lofts, scrap shops, sometimes from piles of rusted iron. But some objects are made for a higher purpose. They refuse to live a boring death. And this is Mukti."
Whether you look at his work from the viewpoint of appreciating his concern for recycling waste, or as an artistic ode to the eternal cycle of life, it is certainly going to change the way you feel about what goes into your bin next time.
WTF (What's In The Factory)  is on at Art Positive, F-213/B, Old MB Road,  Lado Sarai, New Delhi till September 15, 2011, 11 a.m. to 7 p.m.
Poonam Goel is a freelance journalist and has covered the arts for over 15 years. She contributes on visual arts for various newspapers, magazines and online media. More about her on Story Wallahs. Write to her @ poonamgoel2410@gmail.com