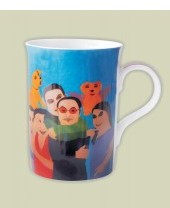 Purists may yet dismiss the emerging trend in art practice, namely use of technology, acceptance of new media and a growing market for artefacts, as 'dumbing down' of traditional art forms, but this trend has undoubtedly spurred the process of demystifying visual arts and bringing it within the reach of the common man.
The trend can be assessed at several levels. Art has begun to move out of the hallowed precincts of galleries and museums, which usually attracts mostly collectors and the more informed art viewer, and is making inroads into the consciousness of a larger public.  At a recently concluded workshop at Khoj Studios, for instance, one saw an overwhelming number of youngsters negotiating art through their I-Phones and Smart phones during a curated walk in the bylanes of Khirkee village.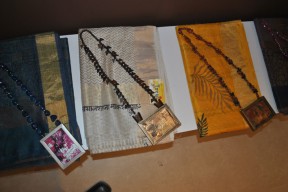 At the same time, technology has helped create new and revisit older art forms and this has taken art appreciation to a new level. By using technology and its various dimensions, younger artists are now able to formulate a visual language more in sync with their current realities. They find it more creatively gratifying to work with material that they find/create on their own, they are not embarrassed to break away from the two-dimensional art theories they have been fed in art schools and most importantly, they are willing to take market risks. In fact, whether its is video art or new media installations by younger artists, or the more mainstream but often neglected sculptures by seniors, they are all finding space in today's art market.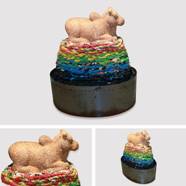 A point in case is the forthcoming auction of sculptures and installations by online auction house Saffronart. Featuring lots by artists like S. Dhanapal, Himmat Shah, Anish Kapoor, Krishen Khanna, Adeela Suleman, Dhruva Mistry and Mithu Sen, this is supposed to be India's first public auction of sculptures and installations.
According to a Saffronart spokesperson, this is a new format of auctions, with no print catalogue or preview events and a short burst of online-only marketing, which highlights the comfort and confidence that both young buyers and experienced collectors have with technology and newer art forms today.
Coming to another vital aspect of art's changing face, which is about art collectibles in  a more "affordable" pricing, two events have highlighted the fact that art lovers are not only looking at paintings when they think of buying art.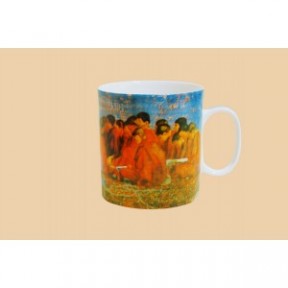 First, Gallery Art Positive has recently opened an artefacts store within its gallery premises in Lado Sarai with stuff like lamp shades, shirts, saris, jewellery, mugs, and chairs embellished with art created by artists like Seema Kohli, Alka Raghuvanshi, Yusuf  Arakkal and Siddharth in their signature styles. In an affordable range of Rs 5000 to Rs 1,00,000, this indeed is a chance for  many more people to have art in their homes.
The second event is an upcoming show of porcelain, silver and gold rimmed mugs imprinted with works of artists like Raja Ravi Varma, Jamini Roy, FN Souza, Ramkinkar Baij. S. H Raza, Jehangir Sabavala, Arpita Singh, Paramjit Singh, Thota Vaikuntam, Paresh Maity, Nayanaa Kanodia and Farhad Hussain among others. Curated by Garima Jain, this show comes in a range of differently contoured mugs to add variety and versatility to this unique 10,000 mugs collection. Priced at Rs 500, each design is produced in a limited edition of 100 pieces, making it an affordable yet fine piece of art.
So, aren't we glad, art is no longer about the multi-lakh painting on the wall alone?
Saffronart's 24-hour auction will start on Wednesday, August 24, 2011 at 8.00 pm (India Time), or 10.30 am (US Eastern Time) on www.saffronart.com
Visit Art Positive artefacts store at F-213/B, Old MB Road, Lado Sarai, New Delhi- 110030. 11 a.m to 7 p.m. (Tel- 011- 41602545/,46604128)
Art Mugs: The Master Collection is being presented by People For Animals and can be seen at The Lalit, Barakhamba Avenue, Connaught Place, New Delhi on August 19, 2011 from 7 p.m. onwards
Poonam Goel is a freelance journalist and has covered the arts for over 15 years. She contributes on visual arts for various newspapers, magazines and online media. More about her on Story Wallahs. Write to her @ poonamgoel2410@gmail.com