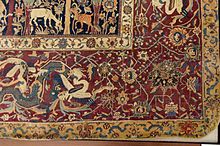 Simi Chachi made the best lotus root saag, hakh, and rajmah in Srinagar. Her kahwa was redolent with cardamom and rich with thin almond slivers. She was popular all over Kashmir – not just for her saag or kahwa. she was most famous for her unique and rare hand-woven carpets.
She weaved the most exquisite carpets one had ever seen! She would dream as she weaved. Simi Chachi would dream of silky white, snow mountains with green pine trees and lo! Her carpet would come alive with those beautiful landscapes. Chinar trees with sparrows, houseboats with walnut wood carvings, the Moghul gardens – she had woven them all.
Soon she was popular with tourists and they all wanted to take a carpet made by Simi Chachi back home as a souvenir.
"Chachi, your carpets are the best. Then why do you charge your customers so little? Look at Aarif's carpets. They are not even hand-made, he uses machines. Still he charges more than twice of what you do," mocked Majid, her neighbour.
Simi Chachi was dumbfounded. She had never thought about the money. She only knew how to weave her dreams!
But then she thought to herself.
May be Majid is right. May be I should start charging more for my carpets. That's it! From now on I will only weave if I am paid more than Aarif.
The next day, it was business as usual. Tourists crowded Simi Chachi's carpet workshop like bees on a beehive. But something unusual happened. As Simi Chachi began to weave, the carpet that emerged was just a plain black expanse.
"Perhaps the threads are not working well together. Let me try again," said Simi Chachi to one of the tourists.
But carpet after carpet turned out to be black. Nothing beautiful. Nothing exquisite. She tried hard but the thoughts about making more money clouded her beautiful imagination.
No one came to buy her carpets anymore.
One evening, Simi Chachi walked by Dal lake and stood there staring at the colourful shikaras bobbing up and down. Soon she was distracted by the laughter of a child. She looked around and saw the child simply staring at the lake and laughing away. Her parents were busy bargaining with a shikara owner. But the child was in her own world, happy!
Simi Chachi went home and stared at her black carpets. Images of the laughing child flooded back to her mind. Chachi smiled her widest smile. She started weaving again and it turned out to be the most beautiful carpet she had ever woven!
Vaishali Shroff is a freelance writer and editor and runs a reading club (www.eikthirani.wordpress.com) for children in Pune. Her work has been published in over 10 titles of the Chicken Soup India Series and her children's stories can be read at smories (http://www.smories.com/author/vaishali-shroff/).