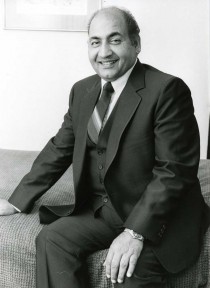 I remember the morning after Mohammed Rafi's death in 1980. It was my turn to read the news in the school assembly and I remember preparing instead a small tribute to the singer and ending with the lines, "Jab Kabhi Bhi Sunoge Geet Mere, Sang Sang Tum Bhi Gungunaoge." I realised the meaning of  these words sometime in 2009, when I interviewed a young singer in the studios of WorldSpace India.
 Someone who had built a career out of his adoration for the singer. He had learnt his gayaki from Rafi Saab's songs and was in Bangalore at the invitation of an organisation that called itself Rafi Ke Deewane, if memory serves me right. I was struck by the passion displayed by this singer who had never met Rafi Saab, was probably a child when he had passed away and yet, over the years had collected a treasure of anecdotes about the man. How he loved tea, so rich and so thick, that you had to eat it, not drink it and how he would never share it with anyone.
 He sang one Rafi song after another and recalled a moment that clearly meant a lot to him. The moment when Rafi Saab's family came to an event where he was singing only for a short while but stayed till the end because he reminded them so much of the master himself.
I did not honestly think that the voice I was hearing was in any manner even close to Rafi Saab's range but the fact that someone was this affected by the man decades after his death, moved me immensely. And made me realise just how the work you do never goes to waste. And has a resonance far beyond your years. In his final years though, Mohammed Rafi was no longer central to the trends in Hindi film music and yet he would come up with songs now and then to remind the world that he was around and could outswim the best. His songs in Hum Kisi Se Kam Nahin, Sargam, The Burning Train, Aap To Aise Na The, Abdullah, Asha, Zamane Ko Dikahna Hai set to rest forever the debate that his voice belonged to a different era.
His last song, Shaam Phir Kyun Udaas Hai Dost…Tu Kahin Aas Paas Hai dost, poignantly anticipated the continuing influence he would have on many generations of singers  from Anwar to Mohammed Aziz to Shabbir Kumar to Sonu Nigam who cut his teeth on fame, singing the cover versions of Rafi songs for Gulshan Kumar.
There are many Rafis to celebrate and to mourn. The Rafi who like a Sufi peer sang Hoke Mayus Tere Dar Se Sawali Na Gaya at a dargah in Laila Majnu and implored his beloved to appear before him with some killer Sahir lines, "Qaza Zalim Sahi..Yeh Zulm Woh Bhi Kar Nahin Sakti, Jahan Main Qais Zinda Hai Toh Laila Mar Nahin Sakti" and "Main Tere Husn Ka Sadqa Utaaroon Saamne Aa Ja..Tu Mere Saamne Aa Ja."
And the Rafi who could pack the sensuality of a monsoon night in the breathy, whispered passion of Aaja Re Aa Zara Aa (Love in Tokyo), and Aaj Ki Raat Yeh Kaisi Raat (Aman), and Meri Duniya Mein Tum Aayin (Heer Ranjha) and Tumse Kahoon Ek Baat (Dastak) and Door Reh Kar Na Karo Baat (Amanat).
And the Rafi, whose voice could fill up a valley with Khoya Khoya Chand (Kaala Bazaar), Kaun Hai Jo Sapnon Mein Aaya (Jhuk Gaya Aasman) and Aaj Mausam (Loafer) and Tu Kahan (Tere Ghar Ke Saamne).
The Rafi who could move you to tears because he knew how to live the pain he was singing in songs like Main Yeh Soch Kar (Haqeeqat) and Tere Bin Soone (Meri Soorat Teri Ankhen) or fill you with what can only be called as 'Virakti,' a sense of detachment from the world and its fevered illusions with songs like, Aaj Purani Raahon Se (Aadmi) and Mann Re Tu Kahe Na Dheer Dhare (Chitralekha).
The Rafi who could morph into a bhakt lost in the sweetness of bhajans like Sukh Ke Sab Saathi (Gopi), Mann Tarpat Hari Darshan Ko Aaj (Baiju Bawra).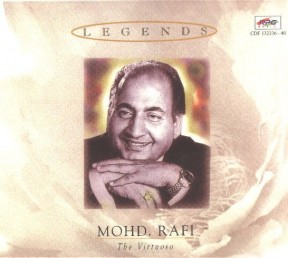 The Rafi, who was a joy that could not be contained in songs like Naache Mann Mora (Meri Soorat Teri Ankhen), Madhuban Mein Radhika Nache Re (Kohinoor), Gulabi Anken (The Train), Aaja Aaja (Teesri Manzil) and Yahoo (Junglee). Rafi, the sublime romantic in Tum Ek Baar (Baabar), Maine Rakha Hai Mohabbat (Shabnam), Likhe Jo Khat Tujhe (Kanyadaan), Tum Ne Mujhe (Teesri Manzil),  Tum Jo Mil Gaye Ho (Hanste Zakhm), and Yeh Jo Chilman Hai (Mehboob Ki Mehndi).
Rafi of the timeless Qawalis (Barsaat Ki Raat, Amar Akbar Anthony and counting). Rafi of memories that we will take to our graves because his voice is not a thing to be summed up in words. It comes from a place of deep joy and profound pathos. It is a voice you internalise before you can fully appreciate it. A deeply religious man, Rafi never took his success more seriously than his craft. The only indulgence he allowed himself, or so says film lore, is that he loved playing carom,  badminton and flying kites. And there was that favourite cup of slowly brewed tea, ofcourse.
Fans of Kishore Kumar and Mohammed Rafi may feud about who was the greater singer on online forums but even bigger than the musical riches, is the legacy of Rafi, the human being. On Thursday, July  31,1980, when Mohammed Rafi died of a heart attack, hours after recording that painfully prophetic song from Aas Paas, more than 10,000 people thronged his funeral procession. Even though in 2010, his tomb was demolished to make way for new burials, his place in our memories is inviolable. Just like the music he left behind.
Reema Moudgil is the author of  Perfect Eight (http://www.flipkart.com/b/books/perfect-eight-reema-moudgil-book-9380032870?affid=unboxedwri )