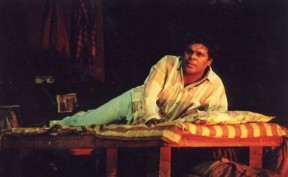 Ashish Vidyarthi does not like the easy way out, either in life or his work. A few weeks back, in Bangalore's hallowed Ranga Shankara auditorium, he was pacing the stage restlessly before his solo performance in Nadira Babbar's acclaimed Dayashankar Ki Diary.
 When asked for an interview, he was unwilling at first and understandably so because I had not seen the play and was not going to be able to, that evening. He good-naturedly requested again, "If you see the play, you will know what to ask..I am asking you because I am so proud to be a part of it. I want to share that excitement with everyone." We did however manage to sit down and chat for a while though it became clear that he has tasted enough of today's short-cut journalism to put up with more. 
 Ashish Vidyarthi was born in 1962 to gifted parents who obviously passed on their love for the arts to him. His mother was Reba Vidyarthi, a respected  Kathak dancer and father Govind Vidyarthi was a theatre personality. The love of acting claimed him very early and he threw himself into learning the craft through workshops, plays, reading, watching, living every nuance of it.
 He also became one of the 18 amongst hundreds who got into the National School Of Drama after almost making it to the Mass Communication course in  Jamia Millia. In retrospect that was the beginning of a long journey that is still unfolding. A journey, he was meant for.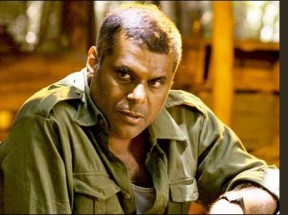 Ashish had a few breaks in television but it was Vidhu Vinod Chopra who gave him a cameo in 1942-A Love Story. Then came Mahesh Bhatt's Najayaz but his real break-through came in Govind Nihalini's Drohkaal. Nihalani called him and in his head, Ashish was already playing the role that would fetch him a National Award for the best supporting actor. That was the real beginning of a career that today spans many industries, languages, theatre and cinema. From working in Tamil, Kannada, Bangla, Assamese, Telugu, Malyalam and Hindi films  to playing the naive Dayashankar on stage comes easily to an actor who instinctively gives all that he has to every part he gets.
 Ashish has enormous presence as an actor and very few roles he has been given, have done him justice.  He says, "I want the creative journey to be interesting. I want to be able to sink my teeth into my work but most of the time, one comes across slots one must fit into. That you do to earn a livelihood and to not just survive but to live well. That is your profession but then there is passion that needs a different kind of sustenance."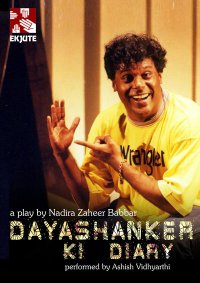 While playing Dayashankar, Ashish plumbs the depths of a protagonist who too hungers for a life bigger than his reality. He plays with staggering pathos, this small town dreamer who aspired to be an actor but ends up as a clerk trapped in his own dream world and free falling into  a psychological abyss. The intensity and pain he conveys through the smallest of gestures, make you aware that this level of detailing is not possible always in cinematic roles.
 So does that mean, theatre is the only place where a hungry actor can find fulfilment?  Ashish refuses to be pigeon-holed into a simplistic answer. He says, "That is a stereotypical way of looking at things and at me. Whether it is cinema or theatre, I look for work where I can reinvent myself, open myself up, deconstruct myself. With Dayashankar Ki Diary, I was able to do that. But I look for work that subliminally challenges the actor in me and does not put me in a predetermined frame."
 You remind him that though cinema creates empires, theatre creates only a legacy and whether he consciously is creating one by choosing plays that break new ground.
 He shakes his head, "Not consciously, no. I am just excited to do work like this. I am still excited about my work, whatever I do. But not everything you do makes you proud. That's why I am here. When I play this role, I discover how hungry I am to grow, for discovery. There is this fire that is lit when you play a role like this and I love it. That is what an actor lives for."
Like he writes in his blog, http://www.thesouthreports.com/profiles/blogs/the-design-of-life, "Over the years, I am  now consistently present to a design, a design for me and for others around me. And I realize each day, I am actually just a conduit to fulfill, what I am to fulfill."
And whether that is a big part in small design or a small part in a big one, Ashish Vidyarthi plays it the way only he can. 
Reema Moudgil is the author of  Perfect Eight (http://www.flipkart.com/b/books/perfect-eight-reema-moudgil-book-9380032870?affid=unboxedwri )