WordPress database error: [Table 'arcriamc_wrd2.Marshall' doesn't exist]
SHOW FULL COLUMNS FROM `Marshall`
WordPress database error: [Table 'arcriamc_wrd2.Marshall' doesn't exist]
SHOW FULL COLUMNS FROM `Marshall`
Monideepa Sahu is as softspoken as sunshine on a winter day. Mellow and sedate. But in her imagination, there crouches a child that dreams, weaves stories laughingly and creates pretend friends like Rishabh the rat and Shashee the spider who prance around in Venkat Thatha's "wonderful, musty, dusty, rare herbs shop. Until, that is, they stumble upon a magical powder and find themselves transformed into human children."
And no,  the magic does not end here. The two "kids" do not just learn to "use soap"  but even save their home and the entire city  from an evil money lending and property dealing Shark!
There is more. King Kempe Gowda's  treasure. Ajji's herbal pesticide attack. Tangled webs,  "friendly cockroaches, cheeky mosquitoes, a very Big Bandicoot and a platoon of plucky rodents who set out to prove that no problem is too big even for the smallest of creatures." We are ofcourse talking about Monideepa's first attempt at children's fiction, Riddle of the Seventh Stone (http://www.flipkart.com/b/books/riddle-seventh-stone-monideepa-sahu-book-8189884808). A book that is great fun for the adults too.
That sense of fun is precious for her because she worked for a long time as a bank manager and then decided to chuck it all to have a "whale of a time, writing her first book." She has also written short stories for young readers for Puffin and Scholastic and her adult fiction has been published in international literary collections from Marshall Cavendish (Singapore), Tranquebar, Central Michigan University, Northeastern Illinois University etc. And in her own words, she is, "inspired by the bugs and spiders that share her home."
 She spoke to Unboxed Writers recently about her book.
 
The initial idea? How did you flesh it out?
Stories pop up inside my head when I least expect them.  My mind made the initial random connections for Riddle of the Seventh Stone some years ago, when I was researching a feature story for a newspaper. The editor expected a detailed story on the silk merchants and jewellers of Bangalore's original commercial district. What I found there was a fascinating universe.
I stumbled upon a quaint old shop specialising in herbs. The dimly-lit, dingy place dating back to well over a century, seemed caught in a time warp. Cobwebs festooned the heavy teakwood beams supporting the ceiling. Turbaned and bejewelled portraits of ancestors peered down at us from the walls. A spider dangled down dangerously close to the shopkeeper's head as he shared his recollections with me.  A rat peeped at me from a corner, and then scurried off to take care of important business behind a row of shelves.
The characters for my book were all here, beckoning me to weave a story around them. In the course of freewheeling conversations with long term residents of the area, I learnt much about local life. I discovered old temples, churches and mosques. A lawyer offered us sizzling gulab jamuns and extolled the virtues of the local street food vendors. A visit to a century old home opened new vistas. The old matriarch shared tales of local life, temple chariot festivals, the early morning flower market which winds up by dawn, stories of people from diverse communities and religions living together in harmony.
Strolling through the bustling by-lanes, I discovered an antiques shop and a row of stalls specialising in ropes of every possible variety.  One end of Avenue Road led straight to KR Market and the stone gateway of Bangalore Fort. When my son joined Bangalore Medical College, he showed me around the Victoria Hospital complex which stands right next to the fort gate.
I took in all the details, the sights, noises and smells (stink mostly), and they went into fleshing out the story. This world was as fascinating as any enchanted dreamland in a blockbuster fantasy.  I wanted to bring to life adventures, a dash of magic, danger, challenges and miracles, and make it happen right here in my own city.
 What has been the most rewarding part of the journey as a writer? What have you learnt?  
It takes time to write and polish stories. When a draft seems ready, or when I find myself stuck and stumbling, I keep it aside and return to it after some time. The distancing helps, and a sense of perspective prevails as the bits and pieces start falling in place. Some years ago, when a story seemed viable after several such rewrites, I presented it to fellow writers in on-line workshops for their objective, no-hold-barred feedback. In return, I critiqued their stories.
Through this process, I learnt just about everything I know about crafting fiction; making each word count, bringing characters and scenes to life, knowing just how much detail to put in to build up a story. The most important thing I learnt was self-discipline.
Apart from honing one's creative talents, there have been great intangible rewards from exchanging writings and critiques with writers from all over the planet. In the course of critiquing, I grew friendly with a professor of electrophysics of Sri-Lankan-British descent who shuttles between Bangkok and London and writes brilliant fiction. Then there's the friend of Prussian descent who quit his job and sold his employees' bonus shares in Microsoft to buy a ranch in the backwoods so he could get space to write; the retired journalist who spends her days in a nursing home for seniors in Montana and writes novels; the Singapore-based journalist from India who writes amazing stories, and more. It's my special list of fabulous people. We've learnt a lot from each other. And we're still dreamers.
What have you acquired or discarded while writing for kids?
I write for both kids and adults, and enjoy doing both in equal measure. When writing for young people, I never underestimate them or talk down. My stories for children are meant for kids aged 10 plus. By that age, they are very sophisticated. I start with a story idea and flesh it out with complexities and nuances. I don't write differently for young people. Basically, the difference lies in themes and in the age group and primary concerns of the main characters in a story.
What have I acquired or discarded? I continue to play with new ideas and discard tried and tested formulas and stereotypes.
Who are your favourite children's authors and also otherwise?
My list of favourite children's authors starts with Mark Twain, and it's a long, long list. Huckleberry Finn is a first-rate example of the ideals I strive for. It's an exciting adventure with child protagonists and told from a child's point of view. When I first read it at the age of 10, I loved it. And yet, it's a book which children and adults can read and re-read with equal pleasure. Multiple layers of meaning lend great depth and complexity to this enduring classic.
I won't attempt to list my favourite writers. There are so many. As for recent reads, Anosh Irani's Dahanu Road stayed with me. I'm now reading and enjoying Payal Dhar's Satin; a stitch in time.
What would you say to writers looking for a publishing breakthrough?
Take inspiration from Robert Bruce. Most writers I know (including me), have banged our heads sore on the closed doors of publishers. It's tough, especially for first timers, to get anyone to even take a serious look at our precious manuscripts. But if we consistently write what we believe in, if we work tirelessly to make our writing the best it can be, then some day we may get a break.
An excerpt from the Riddle of the Seventh Stone by Monideepa Sahu, published by Young Zubaan, 2010. www.zubaanbooks.com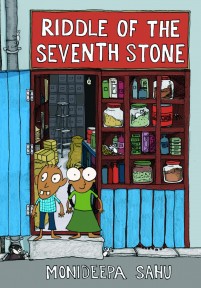 A wooden chariot towered above the crowd assembled on the roadside. It rumbled past the quaint Rice Memorial Church and headed straight toward Venkat's shop.  Rishabh recognized the chariot of the Goddess Annamma, who came once a year from her temple near Anand Rao Circle to bless devotees on Avenue Road. The crowd created a ruckus, beating drums, cymbals, and gongs. Trumpets boomed and conches let out deep whistles. Firecrackers exploded at intervals. The women's silk sarees shimmered as they walked. Flashes of magenta, yellow, maroon, sea green, and turquoise blue glittered with delicate gold brocade. Strings of fragrant jasmine swung on their long black hair. Some people tossed rice, flowers, and coins on to the wayside. Others danced and chanted in a frenzy of devotion.
The focal point of this melee was the wooden chariot, somewhat higher than a two-storied building. Colourful figures of birds, flowers, elephants, gods, and demons were carved all over it. People took turns pulling it along on its creaking wooden wheels. The Goddess Annamma sat inside the chariot in royal splendour. The priests chanted holy mantras.
"I can tell you all about temple chariot festivals," announced Shashee.
Rishabh and Deepak were too excited by the procession to bother with Shashee, but Leela was interested. "Tell us, Shashee," she said.
"The most famous of all Hindu chariot festivals," began Shashee, "is the great Rath Yatra of Lord Jagannath of Puri. The gigantic chariot of the 12th century temple of Puri needs hundreds of devotees to move it. The journey takes several days. My grandfather's uncle had his cobweb on the great chariot. He told me all about it when I was young."
… While Shashee was talking, Rishabh noticed a tall, shifty-eyed man enter the shop. He was sure he had seen this fellow before. Rishabh followed him into the shop in case old Venkat needed help.
As the crowd outside chanted to the crescendo of drums and gongs, one of the chariot's wheels must have hit a rut. The whole thing tilted dangerously, sending people screaming and running. Rishabh watched through the shop door with horror. The heavy chariot would smash everything in sight. The women wailed, and everyone shoved desperately to get away. A stampede was about to start. "It's an evil omen," cried the priests from a safe distance.
Shashee stared at the tottering chariot. She took a deep breath, bent her knees, and braced herself to make an ace arachnid leap. Could she do it with this clumsy human body? The chariot would fall any minute, crushing everyone around it. She just had to do something. Now!
Reema Moudgil is the author of Perfect Eight. (http://www.flipkart.com/perfect-eight-reema-moudgil-book-9380032870) .